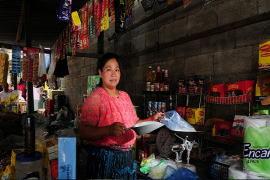 Unleashing Women's Productive Potential to Drive Growth: Institutional Reforms, Economic Empowerment, and Women's Informal Enterprises
June 12, 2014
Washington, D.C.
Join a lunchtime discussion with the Gender & Development and Investment Climate teams of the World Bank Group.
EVENT DETAILS
When:

12:45-2:00 p.m. ET

Where:

MC4-800, World Bank Headquarters

CONTACT:

Maureen Itepu

mitepu@worldbank.org
Although women account for more than half the world's population, their contribution to overall economic growth lags behind that of men in most countries. Occupational job segregation and sexual division of labor remain pervasive, and women perform the vast majority of unpaid care work. This session will review the constraints women face in fulfilling their potential and enhancing their contribution to aggregate output and economic growth. It will address how women in developing countries engage in the informal economy despite constraints and highlight promising interventions to mitigate legal constraints in Cote D'Ivoire and the Democratic Republic of Congo. Closing productivity gaps is vital not only to empowering women but also to tackling poverty and boosting shared prosperity, the World Bank Group's twin corporate goals.
Speakers:
Kalpana Kochhar
Deputy Director in the IMF Strategy, Policy, & Review Department
Marty Chen
Lecturer in Public Policy, Harvard Kennedy School and International Coordinator, WIEGO Network
Sarah Iqbal
Program Coordinator, Women, Business and the Law, World Bank Group
Chair:

Jeni Klugman
Director, World Bank Group Gender & Development