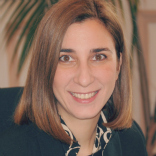 Ruxandra Burdescu
World Bank Representative for Uruguay
Ruxandra Burdescu, a Romanian national, has over 13 years of experience in the areas of development, public sector and governance.

Burdescu joined the Bank's Public Sector unit of Poverty Reduction and Economic Management (PREM) in the Latin America and Caribbean region in 2002, and subsequently worked in the Africa Region's Regional Integration Department. She has also contributed to anti-corruption and governance project in several regions.

Prior to joining the World Bank, Burdescu worked in legal practice in Romania, and was an Assistant Professor in at the School of Business and Economics and at the Law School at the University of Craiova in Romania.

She holds a JD and PhD in law from the University of Craiova in Romania, and a Masters degree in International Studies and PhD (ABD) from the American University of USA. She authored several publications on international law, commercial law, anti-corruption and governance.
AREAS OF EXPERTISE
Anti-Corruption
Public Sector & Governance
Law and Justice