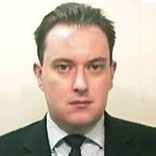 Piers Merrick
Country Officer, Timor-Leste, Papua New Guinea and Pacific, East Asia and Pacific
Since April 2009, Piers Merrick held the position of Country Officer in the World Bank unit that manages programs in Papua New Guinea, Timor-Leste and ten other Pacific countries. Based in Washington DC, he is the Desk Officer with specific responsibility for Tuvalu, the Republic of the Marshall Islands, the Federated States of Micronesia and the Republic of Palau. Merrick helped manage Tuvalu's successful application for a World Bank membership in 2010, and is currently working to establish the World Bank's programs in all four island countries.

Merrick started working with the Bank in 2001. Prior to his current assignment, he worked in the office of the Vice President of the East Asia and Pacific Region, and in the unit managing the World Bank's programs in Southeast Asia where he worked on health sector reform in Cambodia. Merrick was a member of the World Bank team that helped develop the global response to Avian and Human Pandemic Influenza and has worked with a wide range of donors on aid effectiveness issues.

He holds a Bachelor's degree in Psychology from London Metropolitan University, and a Master's Degree in Public Policy and Management from the School of Oriental and African Studies. Mr. Merrick holds New Zealand and British nationality.