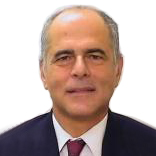 Luis Constantino
Country manager of the World Bank in Timor-Leste., East Asia and Pacific
Luis Constantino is a Portuguese national and has been with the World Bank since 1991. In January 2011, he was appointed Country Manager of the World Bank in Timor-Leste.
As a Country Manager, Constantino's top priorities are: managing the multifaceted strategic dialogue with the Government on a broad range of policy and implementation issues; managing the country office as an effective and results oriented unit; and strengthening donors and partners coordination in Timor-Leste and further enhancing the aid effectiveness agenda.
In 2005 he was selected Sector Manager for Sustainable Development Department in the Middle East and North Africa Region. In this role he consolidated the agriculture and rural development program, mobilized social staff around the implementation of the social strategy, and ensured quality support to the reform efforts of Bank clients.
Prior to joining the bank he worked with a range of organizations including the University of British Columbia, the Food and Agriculture Organization and the Canadian International Development Agency. At the World Bank he started as a forestry economist.
Constantino Holds a PhD in Natural Resources Economics from the University of British Columbia.