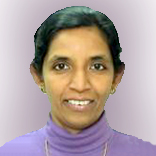 Kumari Vinodhani Navaratne
Senior Health Specialist, South Asia
Kumari joined the Colombo office of the World Bank in July 2003. Since joining, Kumari has worked extensively in the health sector
Sri Lanka
to support disease specific projects at the initial stages and later on health system strengthening health sector projects supported by the World Bank from design to implementation and completion stages. Some of the projects that she was closely coordinated were the National HIV Prevention Project, the Health Sector Development Project, the Avian Influenza Prevention and Control Project. The current projects she is involved with are the Japan Social Development Fund supported Local Level Nutrition Interventions Project in the Northern Province and the recently approved Second Health Sector Development Project. Kumari has been part of the team working on sector analysis reports and surveys in the areas of Reproductive Health, Nutrition, Health and decentralization, Non Communicable Diseases, Private Health Sector review and the Health expenditure analysis.
From 2009 to 2012, Kumari managed Pakistan's Third Partnership for Polio Eradication Project. Currently, she also manages the road safety component in the health project in Karnataka State in India and works collaboratively for addressing road safety in Sri Lanka and India.
Prior to joining the Bank in 2003, Kumari worked as a Lecturer of Community Medicine at the Faculty of Medicine, University of Ruhuna in Southern Sri Lanka. Prior to this, she worked at the hospitals in Central and Eastern provinces of Sri Lanka.
Kumari has a MD in Community Medicine and an MSc in Community Medicine from the University of Colombo, Sri Lanka; a Bachelor of Medicine and Bachelor of Surgery (MBBS) degree from the North Colombo Medical College, Ragama, Sri Lanka; and a Bio Science degree from Purdue University, West Lafayette, Indiana, USA.