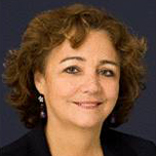 Isabel Guerrero
Vice President, South Asia
Isabel Guerrero became the World Bank's vice president for the South Asia Region on July 1, 2008. She has held management positions in various countries and regions since joining the Bank in 1982.
Guerrero became a manager in 1994, heading the Macroeconomics Division of the Economic Development Institute (now WBI). She has worked as a country director for Bolivia, Ecuador, Paraguay and Peru (1997–2002); Colombia and Mexico (2002–2007); and India (2007-2008). Guerrero has extensive experience in managing significant change in complex organizational environments, promoting new ways of doing business and innovative development solutions. As a country director, she worked in close partnership with IFC, bilateral donors, and other multilaterals to leverage opportunities for greater development impact.

During the early years of her career in the Bank, Guerrero worked as a country economist for the Philippines, Myanmar, Morocco, and the Central Asian Republics, focusing primarily on macroeconomics, trade, and poverty.

A national of Chile, Guerrero holds a M.Sc. degree in economics from the London School of Economics and Political Science (1981) and is a psychoanalyst trained at the Washington Psychoanalytic Institute. She also holds a degree from Instituto Psicológico Peruano.