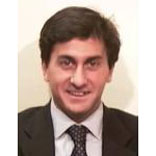 Antonio Nucifora
Lead Economist, Tunisia, Middle East & North Africa
Antonio Nucifora, an Italian national, is the World Bank's Lead Economist for Tunisia in the North Africa and Middle East Region, based in Tunis.

Nucifora joined the World Bank in 2002 through the Young Professionals Program. He was appointed to his current position, as the main economist for Tunisia in October 2010. Based in Tunis since just before the January 2011 revolution, Nucifora oversees the Bank's macro-economic monitoring work and policy advice to the government in support of the transition. Immediately following the revolution, he led a large multi-donor team to prepare a high-profile Tunisia Governance and Opportunity Development Policy Lending operation which supports the Interim Government in the introduction of emblematic governance reforms, in line with the aspiration of the Tunisian people following the revolution.

Prior to joining the Bank, Nucifora was a Visiting Professor at the University of Catania, Italy, from 1998 to 2002.

Since joining the Bank, he has worked with the Agriculture and Rural Development unit and the Poverty Reduction and Economic Management Network, focusing initially on the Central and Eastern European countries, and then on Sub-Saharan Africa, until he took up his current role in Tunisia.

In his most recent assignment prior to Tunisia, Nucifora was the Senior Country Economist for Malawi and Mozambique. He worked with government of Malawi to pilot a national drought-insurance contract in the international weather derivatives market. In Mozambique he was very active in the donor harmonization structure, working to simplify and improve the effectiveness of the donor-coordination system and ensure a greater focus on policy dialogue.

Nucifora holds a Doctor of Philosophy from the University of Oxford, and a Masters in Economics from the London School of Economics (LSE). At LSE he also received his Bachelor degree in economics and international trade and development.


AREAS OF EXPERTISE
Public Sector & Governance
Agriculture & Rural Development