Zanzibar has long attracted visitors to its white sandy beaches, turquoise Indian Ocean waters, and African-Arab Swahili heritage sites. But recently a different kind of tourist has been frequenting Zanzibar's historic Stone Town, and all because of the island's growing reputation as a regional center for geospatial activity.
Zanzibar's newfound fame comes from its embrace of Unmanned Aerial Vehicles (UAVs, aka drones) to generate the imagery it needed for a new base map of its islands. With a population of only 1.4 million, the administration of the Zanzibar Isles has been trying to work out how to unlock the islands' land values in order to drive growth and investment. Key to this is the digitization and registration of assets in houses and land.
But although Zanzibar set a target of registering 50 percent of land parcels by 2015, the figure of registered parcels of land sits at only 5 percent.
"The challenge for the Zanzibar government's small Geographic Information System team has primarily been cost, as well as the complexity involved in acquiring and managing the satellite data, which is often obscured by clouds," said Edward Anderson, Task Team Leader for the Zanzibar Mapping Initiative (ZMI), which is supported by the World Bank Tanzania's Geospatial and Innovation Team.
The last time Zanzibar paid for imagery from manned flights, in 2004, it cost millions of dollars. "The Commission for Lands therefore sought an innovative approach to accelerating the land digitization and asset mapping process," Anderson added.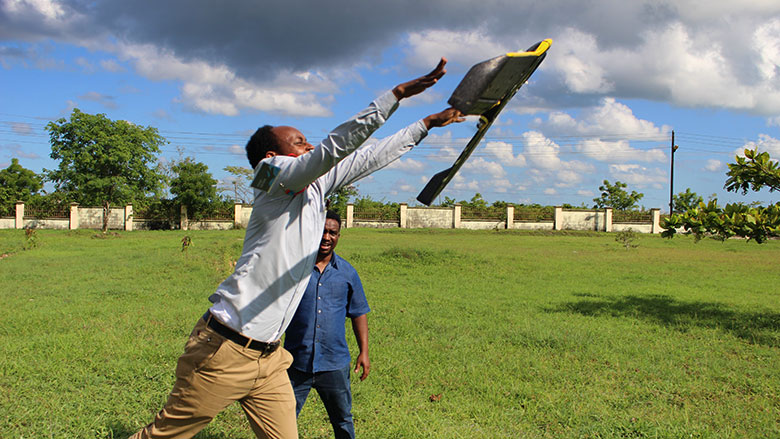 Government of Ethiopia delegates launch eBee drone during practical workshop on UAV mapping. Photo: Darragh Coward / World Bank
Drones are cheaper
Drones—or UAVs—are a new type of remote sensing platform that is inexpensive, easy to use, and flexible. They provide new options regarding where and when images can be taken, and how detailed they can be. As the technology behind them evolves, it is revolutionizing spatial data acquisition and geographic analysis. This paradigm shift offers new uses for drones, and calls for new sets of skills to be developed, as well as new best practices, new regulations, policies, ethics—and more.
Enter, the Drones for Development Study Tour!
Aiming to be a pioneer in the East Africa region for this shift in geospatial mapping, the Bank's ZMI team has developed a study tour in Zanzibar to help show the project's best practices to interested parties, and to run through the institutional and technical requirements necessary for developing a comprehensive strategy for UAV mapping.
ZMI received a key World Bank award for innovation in the Bank's financial year 2016/17. This attracted the attention of the Sustainable Land Management Project II (SLMP-2) Bank team in Ethiopia, which also won the award and which wanted to look at using UAVs for land administration and watershed planning.