Dhankuta, a municipality in Eastern Nepal, was declared as the 'cleanest city' in Nepal this year. Thanks to its excellent solid waste management initiatives, it bagged the top spot in an annual contest sponsored by the Government of Nepal's Solid Waste Management Technical Support Center (SWMTC). But there is more to it than simple management – this is actually a triumph of the people who worked to make their city cleaner, one idea at a time.
A Worm's-Eye View
Dhankuta residents have adopted an eco-friendly method of upcycling waste – vermicomposting, or producing manure with the help of earthworms – is now commonplace. The municipality has trained over 200 residents in the method.
One of the first residents trained, Yashoda Shakya from Zero Point, is now a local expert. The pleasant-faced homemaker is often kept busy with her responsibilities inside her home and out, as a member of various cleanliness and management committees. But she makes it a point to take time out to segregate the waste produced by her household, and cut up the bio-degradable waste into tiny pieces.
"This makes it more palatable for the earthworms," she explains, "We must also avoid putting in waste that is oily, hot or sour." Shakya precisely follows every step of the process – preparing a bed for earthworms out of sawdust or cotton clothes; spreading finely layered bio-degradable waste over the bed, placing earthworms, and then securing the bin with a jute sack. Within three to six months, the bin produces rich black manure that Shakya spreads over her kitchen garden. Even the water drained from the bin is used as manure for flowers.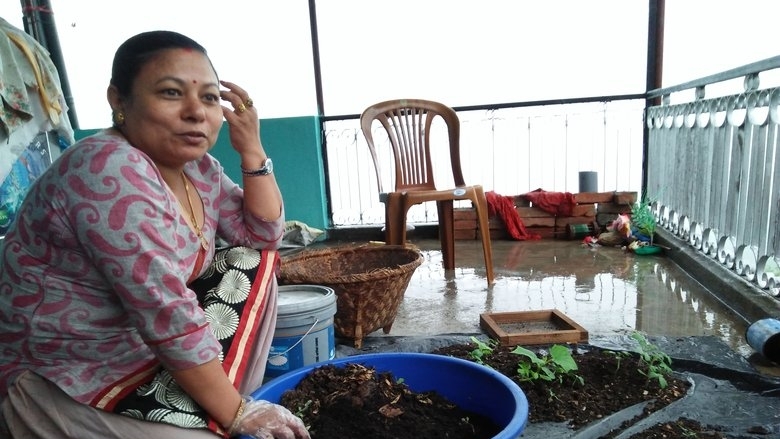 Her garden in the third floor produces organic onions, garlic, chili, coriander, spinach and tomatoes that her family enjoys throughout the year. "I started this because I love nature, and the idea of managing waste efficiently appeals to me," she says. "I have reaped multiple benefits. Not only is my house clean, but I use the compost for my thriving kitchen garden and even earn good money from it."
The money is earned through earthworms, which she raises with great care. She sold 15 kilos worth last year to the municipality – at a decent rate of NRs. 3,000 (USD 30) per kilo. "If each household, especially in city areas, managed their waste in this manner, imagine how clean our streets would be !" she says with the beautiful smile that never seems to leave her face.
While the process might seem cumbersome to some, Shakya hastens to assure that it is easy. "All I need is a bin and maybe 15 minutes each day to tend to it," she says. She also recounts an incident her trainer told them, "Our trainer was on a visit to States, to learn more about this process. When she visited a house and queried where the earthworms were kept, she was astonished to learn that they were right under the couch she was sitting in, in the drawing room! This just proves how odor-free and mess-free this process is."
Shakya's family is fully involved in the process – her husband helps her sort through waste, while her mother-in-law patiently shreds paper into bits as she sits outside in the courtyard. "They are really helpful, but it's actually so easy and useful that I don't mind doing it by myself !" she ends the conversation by turning back to the curry she's making, seasoned with a generous bunch of coriander plucked fresh from her garden.
Nepali First
Meanwhile, in Ward Number 5, the Mathlo Kopche Tole Lane Committee (TLO) got together to test something innovative.

"We wanted to attract tourists and promote our culture," explains Govinda Rai, President of the TLO.

The committee decided to paint all houses a uniform orange.

"The color orange signifies that Dhankuta is famous for its juicy oranges," Rai explains. "This also unifies all of us in a single bond, reminding us that we are all Nepali first before anything else," says Komal Rai, Vice President of the Dhankuta Bazar Management Committee.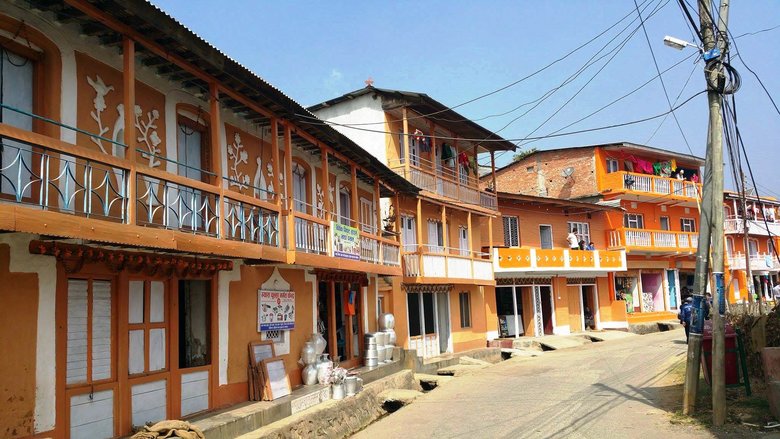 A Man with a Mission

One of the prime forces behind the change in Dhankuta is Upendra Khanal, Head of the Environment Division at the Municipality.
"Not too long ago locals felt that waste management was singularly the municipality's duty, and that they were entitled to discard waste as they wanted. Now they realize that that cleanliness benefits everyone," he says.

He then lists his challenges.

"The biggest challenge is achieving behavioral change at the household level. Once people hold themselves to account for the waste they produce, then half the battle is won," he says.

Khanal points to the challenge of sustaining the waste management system, considering that it is expensive and logistically tricky. The municipality collected NRs. 14 Lakh in user fees for solid waste management from households over the last nine months. Till last year, a big chunk of municipal expenses was borne by the World Bank funded Output Based Aid for Solid Waste Management. The program provided subsidies against waste management targets. The municipality now generates a portion of its own revenues, but is actively looking for other ways to ensure long-term sustainability.

As the population increases, so will the amount of waste. Dhankuta's 10 ton of waste per day might seem meager compared to Kathmandu's 457 metric tons of solid waste per day (CBS data, 2013), but Khanal is aware that the number will multiply quickly, and steps need to be taken beforehand.

Khanal also sees the need to build better infrastructure around the landfill, ensure extra amenities to people living nearby, procure a specially designed garbage truck, upgrade to a more advanced waste treatment facility, and provide additional training for the disposal of hazardous waste.

Even when talking of an issue generally considered technical and dry, Khanal's eyes shine with joy and pride. He believes in practicing what he preaches – meaning that up to 70 percent of the energy requirements of his household are met by biogas alone. He also practices vermicomposting, and the vegetables in his kitchen garden are a sight to behold. Last year, he even demonstrated the possibility of managing solid waste to generate energy to the then Prime Minister KP Oli through a television program, and was lauded for his efforts. "We have not met all our goals," he says frankly, "but we're getting there, we have definitely made a promising beginning."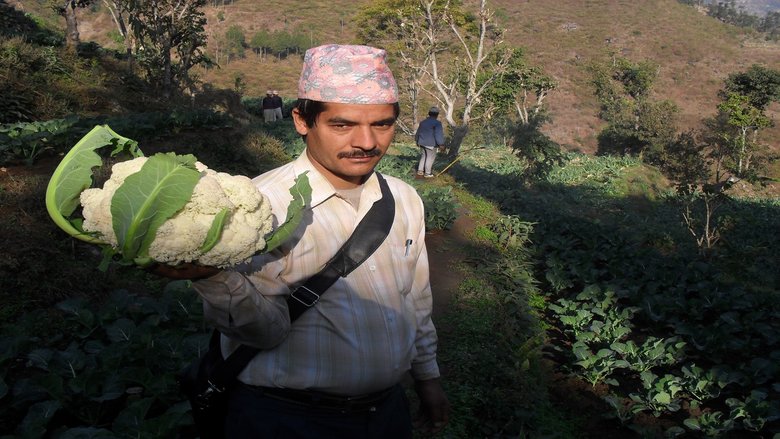 Yet, he does not expect the changes to take root overnight.
"It's difficult to let go of old habits," he says, "No one wants extra work. But once people understand that they have everything to gain, everyone will chip in."
Giving an example of change, Khanal says, "The residents of an inaccessible place called Todke wanted to dispose of their waste correctly, so we encouraged them to build a simple local waste management system. Within a year, mothers noticed that their children were not falling ill as often as they were earlier. This is the subtle but significant transformation we hope to bring about."
Last Updated: Nov 10, 2017