During an evening game drive in Uganda's Queen Elizabeth National Park, you might be lucky enough to spot a lioness both hunt and kill a buffalo. It is an exciting couple of minutes, never knowing who is going to win—the hungry lioness or the buffalo with the horns. In the northern section of the park, 400km south-west of Kampala, buffalos were safe from lion until three lions crossed from the Ishasha wilderness camp eight years ago, and began to dominate hunting grounds around the Kasenyi crater lake.
Uganda is one of a handful of African countries with the "Big Five"—lion, leopard, elephant, black rhinoceros, and the African buffalo. These species are mercifully regarded as among the most difficult of Africa's wild animals to track or find on foot.
In 2012, Uganda's Tourism Ministry conducted a World Bank-supported survey of the 1.3 million foreigners who visited Uganda that year. It found that most "visitors" came from other African countries, usually for business, spending only a few days in the country. Most "tourists," on the other hand, came from Europe (46 percent) and North America (22 percent). They tended to stay longer, for about 14 days, and spent more money—about US$176 per day.
Tourism is now the leading export earner for Uganda, bringing in about US$1.4 billion annually, which is 26 percent of its total foreign exchange earnings and 9.9 percent of its GDP. The sector employs about 520,000 people directly, and one million more indirectly, 70 percent of them women and youth.
Still word-of-mouth
But, until recently, little was being done in the way of promotion for Uganda's tourist attractions, despite the country rating as one the world's top ten destinations by industry giants such as Lonely Planet and National Geographic Traveler. The 4 out of every 10 visitors to the Queen Elizabeth park who are non-resident foreigners hear about Uganda and its attractions by word-of-mouth. "They visit because someone they know lived in Uganda and recommended it," Charles Sempebwa, a tour operator says.
To tap into more of the leisure tourism traffic that flows into Africa, Uganda is moving away from relying solely on word-of-mouth recommendations by spending US$1.5 million with three international, public relations firms. The firms are promoting Uganda as a tourist destination in the United Kingdom and Ireland, North America, and German-speaking Europe.
The campaign, led by the Uganda Tourism Board, is being carried out with financial backing from the World Bank-supported Competitiveness and Enterprise Development Project, which aims to improve the visibility of Uganda's unique tourism products to attract up to 4 million tourists a year. Some of its support is going toward revamping curricula and training facilities at the Uganda Hotel and Tourism Institute to improve training for the pool of local staff for the hospitality, leisure, and tourism industries.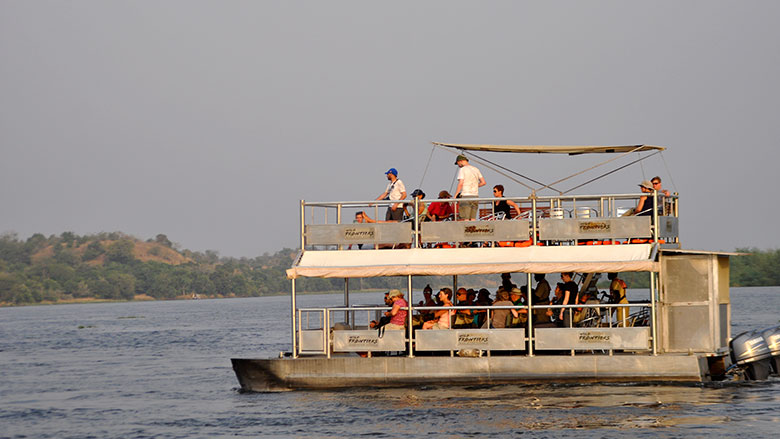 On the Nile River above Uganda's Murchison Falls. Photo: World Bank
Marketing a tourist destination
There is also more information about Uganda being provided through media coverage (worth £1.2 million in the British market, and Euro 2 million in other European markets), and through over 1,300 multi-media placements with an audience reach of 990,925,768 in North America.
In June 2016, NatGeo broadcast live content of Uganda's mountain gorillas. It was watched in more than 10.4 million homes in Britain. This was Uganda's first tourism campaign in Britain for decades, ironically perhaps, as Britain first sent explorers to Uganda in the mid-nineteenth century. Through it, viewers learned about Uganda's rare mountain gorillas, now found only in densely forested areas straddling the borders of southwestern Uganda, the Democratic Republic of the Congo, and Rwanda.
Besides gorillas, lion, and buffalo, Uganda has other attractions, too, as a country with one of the world's highest concentration of different species of birds, as a source of the River Nile, and as a country with Rift Valley lakes and the spectacular Mountains of the Moon (or Ruwenzoris)—a country rich in flora with idyllic islands, safe, vibrant urban centers, and legendary nightlife.
Bookings with tour operators are interpreted as a sign the campaign may be bearing fruit. One operator in Uganda says she has seen bookings up for 2017/18. "We have had more inquiries from German-speaking markets, and more bookings from the Netherlands, Belgium, and Australia," says the Operations Manager of Matoke Tours, Anne Grodzki.
More tourists should mean more revenue and jobs in Uganda, and more tourists with stories to share.