BRAZZAVILLE, April 3, 2017—A stocky woman who gestures animatedly, Adèle Banzouzi displays the natural infectious bonhomie of these Congolese mothers who do not seem to be discouraged by any adversity. Her boundless energy and entrepreneurial spirit are a source of inspiration. However, this 55-year-old "mother courage" has endured some really tough times. After losing her husband of 23 years in 2009, she was left alone to raise the six surviving children of the eight that she carried. To make matters worse, in a country where women do not have the same land rights, losing a spouse is often tantamount to deprivation of property. Her in-laws seized the plot of land belonging to her late husband, sending Adèle and her children packing. She was taken in by her family who live in a two-room shack in Ngangouoni, a working-class neighborhood in Makélékélé, the first district in Brazzaville. "I had a small grocery shop that helped me eke out a living with my children. But without my husband's financial support, I could no longer make ends meet. The debt was just piling up," she says.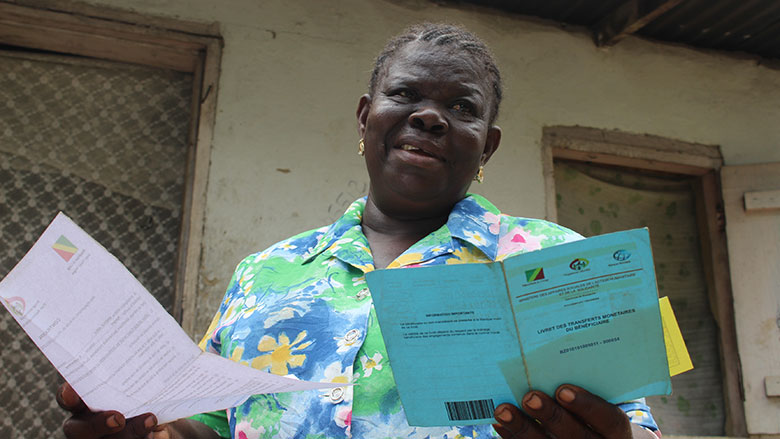 Adèle Banzouzi displays the moral contract she signed with Lisungi, as well as her beneficiary cash transfer booklet and payment schedule. Photo Franck Bitemo/World Bank
It was then that she was contacted by the targeting community committee, which was set up by the World Bank-financed Lisungi – safety nets project. In December 2015, she was summoned to the local social assistance office (CAS) in Makélékélé to sign her moral contract with the LISUNGI team and receive her cash transfer beneficiary booklet. She then received her first payout of CFAF 60,000 (approximately US$97), subject to conditions pertaining to her children's education and health. "This was such a relief for me and I was so happy that I can't even describe it," says Adèle. With this small sum, her first order of business was to settle a portion of her debts, and pay for the fees, uniforms, and other school supplies for her three youngest children who were still living with her. Her other three children believed that they were old enough to fend for themselves. She invested the rest of the money in a bread business, and gradually managed to break even and turn a profit.