Although a vibrant, dynamic Small and Medium Enterprise (SME) segment is needed to diversify the economies of the Gulf Co-operation Council (GCC) countries and generate jobs, limited access to bank finance is hindering the segment's growth. Only 11% of SMEs in the Gulf are estimated to have access to credit; about 40% of them acknowledge it is a major constraint. The gap between the credit SMEs could absorb and what they are currently being given is estimated at $250 billion.
Weak competition in the GCC's banking sector is one supply-side factor that may be preventing SMEs from obtaining more credit. The GCC's banking systems are among the least competitive in the world. Comparisons over a ten-year period indicate banking competition hasn't improved and, in many cases, has actually worsened. The Figures below present the pattern of traditional competition indicators such as concentration ratios and the Lerner index for GCC economies and their peers.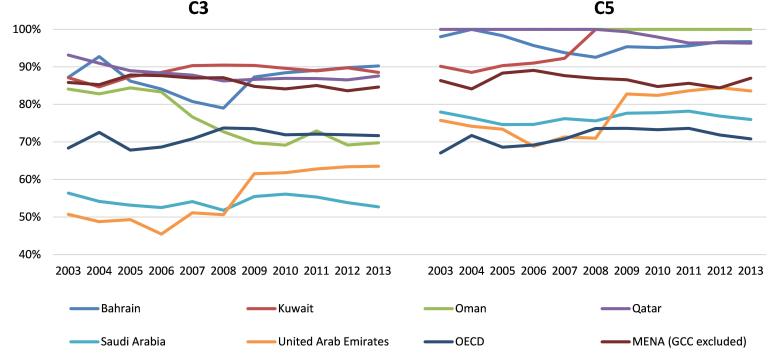 Source: Global Financial Development Database (World Bank)
*Ck: Total banking assets held by the largest banks
Weak bank competition in the GCC is the result of stricter entry requirements, restrictions on bank activities, weak credit information systems, and a lack of competition from foreign banks and from non-banking financial institutions. The relatively large presence of state-owned banks exacerbates this pattern.
Lerner index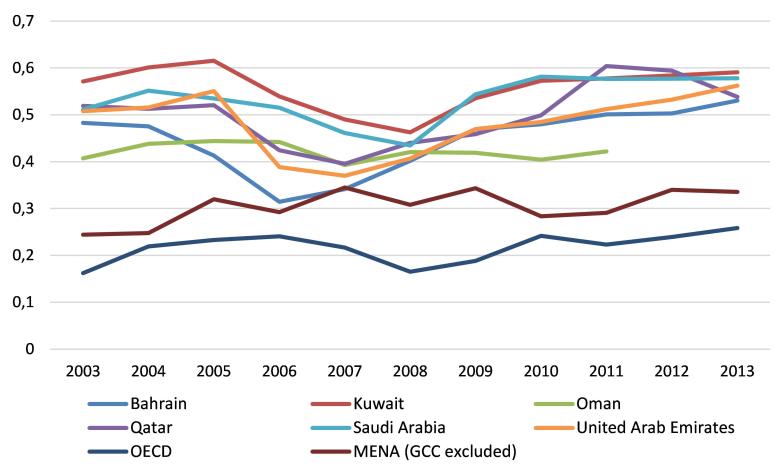 Source: Global Financial Development Database, World Bank
In a recently published paper, the World Bank investigated the impact of bank competition on the external financing constraints of SME firms in the GCC.
Predictions on the effect of bank competition on access to finance and growth, especially for firms, can be ambiguous: On the one hand, more competition can reduce the cost of finance and increase the availability of credit, ultimately contributing to stronger economic growth; on the other hand, because of information asymmetries and agency costs, competition can reduce access by making it more difficult for banks to internalize returns from investing in lending, especially for opaque clients such as SMEs.
Although the relevant empirical literature doesn't clarify the ambiguity of the theory, more recent evidence—based on direct measures of market power as opposed to traditional market structure indicators—is in favor of a significantly positive association between competition and access to finance, including for SMEs.
Using a sample of 23 manufacturing sectors during the period 2002–2010, we provide evidence on the extent to which competition in the GCC banking system affects the economic growth of financially dependent industries.
Here are the main findings of the report:
Industries that are more dependent on external finance experience higher growth performance if competition in the banking sector is higher. This result holds true when both structural and direct indicators of market power are used.
The impact of bank competition on growth is unambiguous: it doesn't depend on the initial level of competition. The relationship is linear.
The report's results are robust to alternative measures of financial dependence. Moreover, sectors dominated by small-scale firms suffer more when the banking sector is less competitive.
Relaxing restrictions on banks' activities, improving the credit information environment, and implementing an effective competition law, could all play an important role in fostering growth in sectors that depend on external finance.
These results have important implications for policy makers in the GCC as they move toward economic diversification and seek options to improve financial access for firms, especially SMEs. The report's findings indicate that bank competition is an important aspect of financial sector development and, in turn, of non-oil economic growth in the GCC economies, and that there are benefits to promoting bank competition for helping firms gain access to finance.
Further research is required to investigate the specific policies that policy makers in the GCC could implement to increase competition in the banking sector, and to analyze any potential trade-off between increased financial access and systemic stability.
Reference: Caggiano, G. and P. Calice. 2016. Bank competition, financial dependence, and economic growth in the Gulf Cooperation Council. Policy Research Working Paper no. WPS 7687. Washington, D.C.: World Bank Group.