Urban Development: Sector Results Profile
Harnessing Urbanization for Growth and Poverty Alleviation
April 14, 2013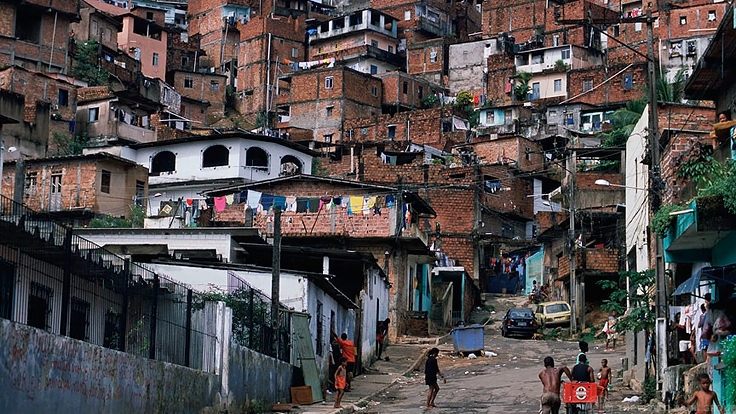 Our planet is undergoing a profound demographic shift from rural to urban areas. Urbanization—if managed properly—offers the potential for poverty alleviation, prosperity, and economic growth. Almost 80 percent of global GDP is generated in cities. Importantly, no country has ever reached middle-income status without industrializing and urbanizing, and none has reached high-income status without vibrant cities, which are centers of innovation, entrepreneurship and culture. In support of sustainable urban development, the World Bank has significantly increased the number of projects and lending volume for urban development over the last decade, helping countries to improve the lives of urban dwellers.
2.5 million
low-income residents benefitted from urban upgrading in Vietnam
Challenge
Today's urban population of about 3.5 billion people is projected to reach 5 billion by 2030; fully two-thirds of the world's population will then be urban. Ninety percent of this growth is taking place in developing countries. Around 5 million people migrate every month to cities in developing countries, in search of jobs and better access to services.
This rapid urban growth is increasing the demand for basic services, infrastructure, land, and affordable housing. These needs must be met, particularly for the nearly one billion urban poor, many of whom live in informal settlements with limited access to services.
Cities need to build resilience because of their vulnerability to extreme weather events and other natural hazards. For example, almost half a billion urban residents live in coastal areas, increasing their risk of exposure to storm surges and sea level rise. If climate change is allowed to continue unabated, the world is likely to warm by 4° C by the end of this century, and the corresponding impacts are expected to exacerbate many existing urban vulnerabilities. Within cities, the urban poor are the most vulnerable as they tend to occupy locations that are more exposed to hazards and have limited adaptive capacity.
Cities are critical for achieving sustainable and inclusive green growth. Fifty-two percent of the world's population is urban. Cities occupy 2 percent of the world's land, yet consume 75 percent of the world's resources and are responsible for as much as 80 percent of global greenhouse gas emissions. Denser, energy-efficient cities with integrated transport and land-use development can deliver economic, environmental, and social benefits, including improved mobility and accessibility to services, housing and jobs, better air quality, and increased quality of life.
The need for action is immediate, and delay is costly. The physical structure of cities—buildings and infrastructure—lasts for decades or more. Getting the 'right' solutions is not only important for making cities successful today, but also for creating a sustainable foundation for future generations to build on at later stages of development.
Solution
The World Bank is responding to the challenges presented by urbanization at many levels. The Bank's work on urbanization is guided by its Urban Development Strategy, and organized along five business lines: city management, finance and governance; urban poverty and slum upgrading; cities and economic growth; urban land, housing and planning; and urban environment, climate change, and disaster management.
These business lines focus particularly on decentralization of governance (which devolves control over resources closer to the urban challenges themselves); forecasting and preparing for urban growth (as the basis for providing more urban land and affordable housing and reforming regulations, to pre-empt slum formation); and helping cities to build resilience and adapt to climate change.
Within these business lines, key initiatives include:
Urbanization Review: The Urbanization Review provides a robust sustainable policy framework and diagnostics for city leaders to assess specific urbanization challenges, and informs policy responses on the location and types of infrastructure to connect across cities and to global markets. Urbanization Reviews have been undertaken in 15 countries so far, including Brazil, China, Colombia, India, Indonesia, and Vietnam. Additional studies are being initiated in countries including Nigeria, Ghana, and the Philippines.
Urbanization Knowledge Platform: The Urbanization Knowledge Platform aims at creating a global urban community of practice and represents a network of 70+ partner organizations. The platform provides a tool for global knowledge exchange and peer-to-peer learning between policymakers, practitioners.
Solid Waste Management: A global initiative on solid waste management is building collaboration between a range of partners in order to work at the city level. This includes a strong focus on co-benefits for the reduction of short-lived climate pollutants (SLCPs), specifically methane emissions from solid waste. To address the chronic underfunding of solid waste operations in developing countries, the Bank is also working on applying results-based financing and output-based approaches in the sector.
Results
Some examples of results of projects achieved with International Bank for Reconstruction and Development (IBRD) and International Development Association (IDA) support are as follows:
Bangladesh: The Municipal Services Project (1999-2012, US$205.6 million, IDA) improved the urban environment, infrastructure, and service delivery in selected municipalities by (1) strengthening the institutional capacity of cities to plan, finance, implement, operate, and maintain urban infrastructure services in an efficient and sustainable manner; (2) improving resource allocation and fiscal discipline through the establishment and operation of a municipal development fund; and (3) financing critically needed urban infrastructure and services to reduce urban poverty and improve environmental conditions for urban communities. The project's investments included the construction of 1,381 kilometers of urban roads, 11 bus and truck terminals, 24,960 street lights, 230 kitchen markets, 287 solid waste collection vehicles, 260 drains, 173 water supply pipelines, and flood damage rehabilitation works in approximately 350 municipalities.
Macedonia: Citizens in municipalities participating in the Macedonia Municipal Services Improvement Project (2009-2017, US$75 million) have benefited from better quality of municipal service delivery, while local governments have realized cost savings and additional revenue generation, in turn enabling more investments in municipal services and infrastructure.
In Skopje, for example, 17 new waste collection vehicles and 60,000 standardized waste bins have reduced operation and maintenance costs, while extending collection coverage to 11,500 additional households, hence providing 55,200 households with more frequent and reliable waste collection services. In Kočani, 11,615 inhabitants now benefit from 24-hour water supply, and for the first time, citizens in Bogdanci have 100 percent coverage of public street lighting. In addition, replacement of outdated mercury light bulbs with modern energy efficient bulbs has generated annual savings of 10 percent in electricity costs for the municipality. Overall, 40 percent of participating municipalities have improved their financial performance reflected by increased revenues and/or reduced costs as a result of completed sub-projects.
Brazil: The Programmatic Loan for Sustainable and Equitable Growth: Housing Sector Reform (2005-2006, US$502.5 million) coupled with a Technical Assistance Loan (2006-2010, US$1.3 million) supported the government in several areas of housing sector and urban development policy reform. The program helped the government put together its National Housing Plan and create a strong institution, the Ministry of Cities, to foster reforms, thus creating the policy, regulatory and institutional foundations for the establishment of the following two government programs: (1) a housing program called Minha Casa Minha Vida (My Home, My Life) whose first phase (US$15 billion) was launched in 2009 and has already delivered one million new housing units for low-income families as of December 2012. Phase two (US$35 billion) was launched in 2011 with a target of enabling the supply of an additional two million new housing units by 2014. (2) Programa de Aceleração do Crescimento - Urbanização (Growth Acceleration Program - Slum Upgrading, PAC) whose first phase (2007-2010) cost BRL15 billion or US$7 billion and helped improve social and urban infrastructure in informal settlements, and its second phase (US$30 billion) is currently under implementation.
Thus far, the PAC urbanization program has assisted 1,818,449 families. The number of municipalities that implemented municipal regularization programs went up to 1,744 in 2012 from 387 in 2009 and 65 in 2005. The Housing Sector Program also supported the introduction of the trust deed instrument, which contributed to driving the increase of mortgage value for existing and new homes from BRL$5.4 billion in 2004 to BRL$66.1 billion in 2012.
Morocco: The Solid Waste Development Policy Lending (DPL) was a novel project that focused on improving municipal solid waste management (SWM) through development policy operations, and accompanied the transformation of Morocco's solid waste sector from an emphasis on cleanliness in the cities to broader social, environmental and economic sustainability considerations. The project's novelty lies in incentivizing municipalities to establish modern and integrated SWM systems.
The Bank-supported program contributed to substantiating the sector policy and providing the necessary regulatory framework to establish the foundations for integrated and affordable municipal solid waste management systems. The project resulted in: (a) 66 percent of the urban population benefiting from professional collection services, compared to less than 40 percent before the project, (b) 32 percent increase in disposal of collected waste in sanitary landfills, as compared to a low 10 percent in 2008, (c) the closing or rehabilitating of 21 open dumpsites, (d) an increase in the municipal service tax, from MAD 1.4 million in 2008 to 2.6 million in 2011, (e) the establishment of the National Commission of SWM to coordinate sector policies and government actions in the framework of a 15-year national solid waste program, (f) a fully operational environmental impact assessment (EIA) system consistent with international good practices, and (g) the development of a carbon finance program under the Clean Development Mechanism with a potential to generate revenue from 6 million tons of CO2 equivalent by 2020.
Vietnam: The Urban Upgrading Project (2004-2014, US$382.4 million IDA) improved the environmental and living conditions of the urban poor in four large cities: Ho Chi Minh, Can Tho, Hai Phong and Nam Dinh. The project involves infrastructure upgrading and the provision of affordable housing loans to women living in low-income areas. As of August 2012, neighborhood upgrading has directly benefited over 2.5 million low-income residents, and improvements in primary infrastructure will benefit over 2 million more. About 60,000 women have been able to improve their houses and an additional 35,000 women have received loans for income generation. Repayments rates are almost 100 percent. The project introduced a new participatory approach towards working with communities at planning, design and implementation stages, in addition to cash and in-kind contributions.
The success of this project encouraged the government to scale it up by developing a National Urban Upgrading Program (NUUP), approved by the Prime Minister in 2009. Under the NUUP, IDA has approved a second Urban Upgrading Project for the Mekong Delta Region (US$292 million), which started implementation in August 2012.
Bank Group Contribution
The Bank's urban portfolio has expanded considerably over time: IDA commitments under the Urban Development theme nearly tripled from an annual average of US$0.56 billion during FY2003-07, to US$1.56 billion during FY2008-12. For the same periods, IBRD commitments under the Urban Development theme nearly doubled with the average annual amount growing from US$1.31 billion to US$2.58 billion. Such lending aimed specifically at urban development has also grown as a percentage of total IDA new commitments, from 5.9 percent in FY2003-07 to 10.9 percent in FY2008-12.
Investment financing is provided for basic services, housing, infrastructure, slum upgrading, municipal governance, environmental improvements and adaptation, and local economic development including cultural heritage. Technical assistance and analytical work have also grown, including through the World Bank Institute, where the urban program helps build client capacity for urban development.
Partners
Many urban development projects are funded and implemented in collaboration with partner organizations, including Agence Française de Développement(AFD), Australian Agency for International Development (AusAID), Austria-World Bank Urban Partnership Program on Strengthening Local Governments in South-East-European Countries, Bank-Netherlands Partnership Program (BNPP), Cities Alliance, Climate Investment Fund, German technical cooperation (Gesellschaft fuer Internationale Zusammenarbeit, GIZ), Global Facility for Disaster Reduction and Recovery (GFDRR), Haiti Fund, Japan Policy and Human Resources Development Fund (PHRD), German Development Bank(KfW), Multi-Donor Trust Fund (MDTF) for Sustainable Urban Development, and Spanish Trust Fund for Latin America and the Caribbean (SFLAC).
The joint work program between the Cities Alliance, the World Bank, theUnited Nations Human Settlements Programme (UN-HABITAT) and the United Nations Environment Programme (UNEP) aims to help cities address challenges to climate change by capturing current knowledge on the issue and help local and national decision-makers incorporate climate change adaptation and mitigation into their urban planning. Under the Urbanization Knowledge Platform, the World Bank has interacted with more than 70 organizations from academia, civil society, and the public and private sector, including national and municipal government, to create a global network for knowledge exchange on urban issues.
Moving Forward
The World Bank is focusing on several initiatives to address development challenges associated with urbanization:
Urban environment and resilience: The Bank is building on existing work programs in disaster risk management and on cities and climate change to bring together expertise on disasters and climate change adaptation. Key areas of focus include urban risk assessments and standardized metrics to support decision-making and investment in cities that will increase urban resilience.
Urban land, housing, and planning: The Bank is developing diagnostics and practical policy advice to help policy makers find evidence-based solutions to providing urban land and affordable housing for the billions of people moving to cities in the coming decades, and reforming regulations to pre-empt slum formation.
Cities and economic growth: The Bank is working with both city and national governments to harness the gains from density and agglomeration economies. The sustainable urbanization policy framework formulated in the Urbanization Reviews, for example, informs policy and investment priorities to enhance the contribution of urbanization and cities to economic development.
The Bank is also partnering with external institutions to engage in knowledge exchange and capacity building activities in areas including metropolitan strategic planning, municipal finance and governance, urban service delivery, and safe and resilient cities.
Recognizing the need for credible, globally comparable open data on cities, the Bank is also pushing for an open city data platform. This platform will improve the "interoperability" of city data, and enable global benchmarking across regions. "Smart" and innovative solutions, such as the use of information and communications technology (ICT) tools for better governance and service delivery through technology-enabled citizen engagement will further help in addressing a city's challenges.
Beneficiaries
"Before the road reconstruction, it took us a long time to travel. I'd go to the market to purchase some stuff for my shop, and my car often broke down on damaged roads. It affected my family budget a lot," said Grigol Berishvili, a shop owner in Tbilisi, Georgia, about the Municipal Development and Decentralization II Project. "Now my car is not breaking down so often and a thirty minute trip has been reduced to 10 minutes."