Environment: Sector Results Profile
Delivering Sustainability
April 13, 2013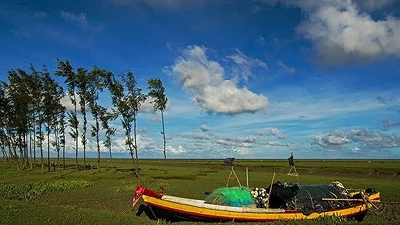 Environment has been integrated into the World Bank's knowledge work, policy dialogues, country and sector strategies, and investments since 2002. Support to climate change adaptation and mitigation increased more than tenfold from 2002 to 2012. In many countries, the Bank contributed to pollution control and environmental health programs, including in more than 600 cities in China. Environmental policies and institutional frameworks were strengthened through 41 country environmental analysis and US$9.3 billion on environmental policy loans. The World Bank also has been the largest supporter of biodiversity conservation in the world.

41
country environmental analyses (CEAs) have been undertaken since 2005 to strengthen environmental governance
Challenge
While the world has made progress in reducing global poverty over the past decade, less progress has been made in managing the environment sustainably. Pollution, overexploitation of fish stocks, biodiversity loss, and overuse of water and land threaten countries' development efforts. The world's population has grown larger, passing 7 billion people, and more prosperous. Global trade has more than tripled since 1992, while developing country gross domestic product (GDP) has nearly doubled, allowing for a proportional increase in consumption. As a result, agriculture has intensified, leading to agrochemical pollution, soil exhaustion and deforestation. Food demand has also stimulated water withdrawals that have tripled over the last 50 years. With over half the population now living in cities, and developing countries urbanizing rapidly, many regions also face serious air and water pollution. Carbon-intensive and often polluting industries have grown, contributing to climate change and freshwater resource depletion. The immediate and long-term consequences of climate change, from a warmer planet to more-acidic oceans, further threaten progress on poverty reduction and development. Current growth paths are clearly putting too much pressure on an already stretched environment.
Solution
Over the last decade, the World Bank has contributed to improving quality of life by:
• Enhancing livelihoods through promoting sustainable management of environmental services of ecosystems and natural resources, helping clarify and establish property rights and reforming incentive systems;
• Preventing and reducing environmental health risks through reducing people's exposure to indoor and urban air pollution, waterborne diseases, and toxic chemicals; and
• Reducing people's vulnerability to environmental hazards.
The Bank's approach to improve the quality of growth has been supporting policy, regulatory and institutional frameworks for sustainable environmental management. This support included facilitating partnerships to address environmentally sensitive issues and to agree on benchmarks for environmental management. To protect the quality of the regional and global commons, the World Bank has focused primarily on local environmental benefits, and building on overlaps with regional and global benefits. To meet the costs of generating global and environmental benefits not matched by national benefits, the Bank facilitated the transfer of financial resources to developing countries and focused on addressing the vulnerability and adaptation needs of developing countries.
Results
Some examples of results of projects achieved with International Bank for Reconstruction and Development (IBRD) and International Development Association (IDA) support include:
Expanding policy analysis at the country and sector levels: Forty-one country environmental analyses (CEAs) have been undertaken since 2005. In Ghana, the CEA became a catalyst for the creation of the IDA US$40 million Natural Resources and Environmental Governance Project (NREG) budget support program. In Colombia, the CEA helped to identify priority areas of reform that were included in the 2006-10 National Development Plan. The CEA also informed the preparation of a series of development policy loans which supported, among other topics, water, solid waste and air pollution legislation; national policies on environmental health; climate change; and monitoring and evaluation systems on environment. In Brazil, transport operations such as the São Paulo Feeder Roads and Brazil Road Transport Project coupled investments with technical assistance in strategic environmental management.
Strengthening environmental policies and institutional frameworks supported by policy loans: The average annual development policy lending for environmental issues increased from US$328 million in FY03-07 to US$1.5 billion in FY08-12. The Peru environmental development policy lending program supported the creation of the Ministry of Environment in 2008, the setting-up of the agency for national parks and its sustainable financial strategy, air quality monitoring networks and public disclosure of air quality information. It also supported remediation of legacy pollution on mining and, managing overcapacity and inefficiency plaguing the anchoveta fishery, while supporting social protection for fishers.
Helping strengthen civil society capacity in developing countries to engage governments: Supported by the Global Partnership for Environmental Governance, The Access Initiative (TAI) moved from preparing assessments on access rights in matters relating to the environment to catalyzing changes on the ground. This partnership contributed to law reforms that improved the structure, powers and procedures of the new Green Tribunal in India and in Malawi, a TAI partner worked to enhance access to environmental justice by facilitating the establishment of an Environmental Appeals Tribunal.
Funding biodiversity conservation: The Bank has supported biodiversity protection in productive landscapes, including forestry, coastal zones, and agriculture. The first phase of the Amazon Region Protected Areas program (ARPA) helped double the area of the Brazilian Amazon under strict protection, from 12 million hectares at the start of the project to about 25 million hectares in 2008. An additional 10 million hectares were set aside in sustainable use areas to conserve biodiversity and provide improved livelihoods for traditional forest dwellers. In Africa, through the Strategic Partnership for Fisheries, the Bank is supporting a program of investments and partnerships to increase sustainably the net economic benefits generated by Africa's marine fish resources and the portion of benefits captured within the region. The program includes regional fisheries investments, starting with the West Africa Regional Fisheries Program (WARFP) from Mauritania to Ghana.
Reducing pollution risks and environment-related health issues: The World Bank has contributed to improved air quality and health outcomes throughout more than 600 cities in China; managed hospital waste in Vietnam; had coastal zone and river basin management projects in India, Vietnam, and Pakistan; addressed indoor air pollution in Madagascar, Bangladesh and Uganda; addressed industrial pollution in India and air pollution through the Clean Air and Safer Mobility project in Dhaka, Bangladesh; and reduced particulate matter concentrations in Ulaanbaatar, Mongolia, which has one of the highest concentration levels of particulate matter in the world. The Bank has also helped to strengthen the institutional capacity of state pollution control boards in India and promoted industrial pollution control through financial intermediaries in Egypt and Brazil.
Helping countries to implement natural capital accounting: Through the World Bank-facilitated partnership – Wealth Accounting and Valuation of Ecosystem Services (WAVES) – Botswana, Colombia, Costa Rica, Madagascar, and the Philippines have embarked on natural capital accounting systems for more informed development planning analysis, and 62 countries have signed a communique that a communiqué that calls on governments to strengthen the implementation of natural capital accounting around the world.
Significantly expanding climate action support: The World Bank is supporting mitigation and adaptation to climate change activities in 130 countries and disaster risk reduction work. From 2009, 100 percent of Country Assistance Strategies of IDA countries discussed climate risks, while US$7.7 billion in development policy lending supported climate change actions in 17 countries.
Bank Group Contribution
Over the past decade, the World Bank (IBRD/IDA) committed loans for US$30.5 billion, from which IDA's contribution was US$7 billion, to support investment in environment and natural resource management. By far, climate change has been the fastest growing environment and natural resource management area where the Bank is supporting client countries.
A sizable portion (17 percent for IBRD and 12 percent for IDA) of the Bank's environment and natural resource management commitment went to environmental policy and institutions for improving governance and strengthening environmental policy and natural resource management. In terms of areas of focus, in addition to climate change, the World Bank's environment and natural resource management loans were directed in large part to water resources management (24 percent) and pollution management and environmental health (21 percent). As for the types of loans provided over the decade, development policy lending accounted for 30 percent and investment lending 70 percent of the Bank's environment and natural resource management portfolio.
In addition to funding projects directly, IDA has leveraged additional funds through the Global Environment Facility (GEF) and other agencies and organizations. Specifically, the GEF provides grants to IDA countries to address global environmental issues while supporting national sustainable development initiatives.
Partners
Solving the world's environmental challenges are beyond the means of any single institution. Partnerships with multilateral funds such as the GEF and the Multilateral Fund for the Montreal Protocol have focused on global and trans-boundary environmental issues. Close partnerships with civil society organizations have allowed a greater focus on biodiversity and social accountability in particular. The partnerships with the Trust Fund for Environmentally and Socially Sustainable Development and the Bank-Netherlands Partnership Program supported key analytical work. Other trust funds have focused on key subsectors, such as the Program on Forests (PROFOR) or the Global Program on Fisheries (PROFISH). Partnerships with the United Nations Environment Programme have allowed the Bank to broaden its analytical base. Through the Climate Investment Funds, the multilateral development banks are working in collaboration and demonstrating scaled-up climate action.
Because the private sector plays a key role in creating jobs and technological development, it can contribute to sustainable development in ways that complement the public sector. Public-private partnerships have increased over the last decade and are likely to continue growing in the near future because they are essential for achieving sustainable development in a fiscally constrained world.
Moving Forward
Launched in 2012, the Bank's new Environment Strategy seeks to promote a green, clean and resilient development path. The green agenda focuses on nurturing more inclusive growth, while protecting biodiversity and ecosystems by:
enhancing countries' decision making through the Wealth Accounting and Valuation of Ecosystem Services global partnership that supports valuing countries' natural capital assets and incorporating them into their systems of national accounts;
finding ways to restore the world's oceans to health and economic productivity through working with a broad coalition of governments, international agencies, nongovernmental organizations and private companies through the Global Partnership for Oceans; and,
testing the market's willingness to encourage protection of critical habitat areas while also providing carbon storage benefits through continuing innovative work on forests and land use linked to the Reducing Emissions from Deforestation and Forest Degradation program.
Under the clean agenda, the focus is on continued support to countries to find low pollution and low-emission development paths through:
South-South exchange on best practice for managing pollution;
scaling up use of cleaner stoves to help reduce indoor air pollution;
supporting countries on river cleanup and legacy pollution issues; and,
improving energy efficiency, encouraging a shift to renewable energies, finding climate- smart agricultural solutions, and building cleaner, lower-carbon cities.
The resilience agenda aims at reducing vulnerability to climate risks through:
supporting countries to find climate change adaptation solutions, such as better coastal zone management;
minimizing the damage of natural disasters in terms of loss of life and structural damage;
improving the resilience on small island states; and,
increasing the resilience of infrastructure and restoring protective coastal ecosystems such as mangroves.