Pricing Carbon
The voluntary emissions trading simulation uses live corporate data, auctioning and bonds markets, and fines for non-compliance to engage Brazilian companies in discussions around building a robust carbon market. Read More »
Statement
Putting a Price on Carbon
June 3, 2014

Climate change poses one of the greatest global challenges and threatens to roll back decades of development and prosperity.
The latest report from the United Nations Intergovernmental Panel on Climate Change makes clear the importance of putting a price on carbon to help limit the increase in global mean temperature to two degrees Celsius above pre-industrial levels.
Depending on each country's different circumstances and priorities, various instruments can be used to price carbon to efficiently and cost effectively reduce emissions, such as domestic emissions trading systems, carbon taxes, use of a social cost of carbon and/or payments for emission reductions.
Governments are taking action. In 2014, about 40 national and over 20 sub-national jurisdictions have already implemented or scheduled emissions trading schemes or carbon taxes. Together, these jurisdictions account for more than 22 percent of global emissions. Many more countries and jurisdictions are advancing preparation for pricing carbon. Together, these represent almost half of global GHG emissions.
Corporations are responding. A growing number of companies are already working within carbon pricing systems and are developing expertise in managing their emissions. Others are incorporating greenhouse gas reduction targets in their business planning. In 2013, over 100 companies worldwide publicly disclosed to CDP that they already use carbon pricing as a tool to manage the risks and opportunities to their current operations and future profitability. Businesses see that carbon pricing is the most efficient and cost effective means of reducing emissions, leading them to voice support for carbon pricing.
The momentum is growing. Pricing carbon is inevitable if we are to produce a package of effective and cost-efficient policies to support scaled up mitigation.
Greater international cooperation is essential. Governments pledge to work with each other and companies pledge to work with governments towards the long-term objective of a carbon price applied throughout the global economy by:
• strengthening carbon pricing policies to redirect investment commensurate with the scale of the climate challenge;
• bringing forward and strengthening the implementation of existing carbon pricing policies to better manage investment risks and opportunities;
• enhancing cooperation to share information, expertise and lessons learned on developing and implementing carbon pricing through various "readiness" platforms.
We invite all countries, companies and other stakeholders to join this growing coalition of the working.


Download the statement (pdf): English | Español | Français | 中文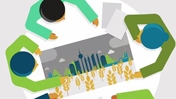 These countries and companies signaled their support for carbon pricing through a series of initiatives announced at the UN Secretary-General's Climate Leadership Summit.
Supporter Quotes
Province of British Columbia
Christy Clark, Premier
"In 2008, we put a price on carbon through a revenue-neutral carbon tax. Since then, our energy-related greenhouse gas emissions have dropped by more than 5 percent and emissions are down across the board, all while our economy has continued to grow. And we still maintain some of the lowest personal and corporate income taxes across Canada. Here in British Columbia, we are proving that you can grow the economy and protect the environment at the same time." Read More »
Expressing Support for the Statement
What does it mean to express support for the statement on Putting a Price on Carbon?
Through the statement, to be launched at the United Nations Secretary-General's Climate Summit in September 2014, countries and companies are announcing their support for a price on carbon, demonstrating leadership by taking action, and encouraging others to join them.
By expressing support, governments, companies and sub-national jurisdictions signal their belief that carbon pricing is a necessary step to tackle climate change in the months and years ahead.
Supporters will join a growing global coalition of first movers to put a price on carbon. The goal is for over 50 governments, national or sub-national, and hundreds of companies to stand up and be counted as supporters of this vital climate action.
Why do governments and businesses support putting a price on carbon?
Expressing support for putting a price on carbon allows nations, cities, and provincial/state governments to add their voices to their peers to show the growing global momentum toward incorporating the cost of carbon into resilient economic growth.
Governments can also showcase their leadership to the global community and inspire action by other governments as we seek to limit climate change to preserve global prosperity.
Business and government need to support one another in the climate policy arena. Governments need the insights and support of businesses to advance effective climate policy. Businesses need clarity and certainty from governments to invest and act on risks and opportunities in current and future markets. Expressing support demonstrates that business wants government to take action.
Expressing support for putting a price on carbon can be a powerful advocacy tool for companies to influence public policy development and trigger market readiness.
There is a growing body of evidence that putting a price on carbon makes good business sense. More than 100 companies have publicly disclosed that they already incorporate the cost of carbon into their capital decision-making processes. These companies cite the use of a carbon price as a planning tool to help identify revenue opportunities, risks, and as an incentive to drive maximum energy efficiencies to reduce costs and guide capital investment decisions.
How is the statement linked with other organizations and initiatives advocating for a price on carbon?
The statement on Putting a Price on Carbon is supported by a coalition of forward-looking business organizations and builds on previous communiqué sand commitments by uniting them under a common statement that is also supported by governments.
For example, in the lead up to the UN Secretary-General's Climate Summit, the United Nations Global Compact and selected partners in the Caring for Climate initiative are calling on companies to demonstrate leadership via Business Leadership Criteria in pricing the cost of carbon emissions as a necessary and effective measure to tackle climate change. The Prince of Wales' Corporate Leaders Group on Climate Change's Carbon Price Communiqué includes 150 companies that have asked for "a clear, transparent and robust price on carbon." In 2011, the Brazilian group Instituto Ethos issued a similar statement leading up to the Rio +20 Summit.
The statement on Putting a Price on Carbon was drafted through an open and consultative process managed by the World Bank Group. The World Bank Group has consulted with partner countries, subnational governments, and business associations such as the UN Global Compact, the Prince of Wales' Corporate Leaders Group, CDP, the International Emissions Trading Association and the World Business Council on Sustainable Development.
How can my organization express support?
The World Bank Group is not asking supporters to "sign" the statement, but rather to "express support." Organizations can express support for the statement by sending an email from an authorized representative to the World Bank Group. The names of confirmed supporters will be added to the website and to related communications.
Supporters will be featured at the UN Secretary-General's Climate Summit in New York in September and are welcome to send quotes describing their efforts to advance and implement carbon pricing.
Officials interested in receiving more information, or to express support for the statement, may contact: Patrick Verkooijen (pverkooijen@worldbank.org) or Tom Kerr (tkerr@ifc.org) at the World Bank Group. Business representatives may click here to fill out a form expressing their support.
More details, including background notes on public and private leadership in pricing carbon, can be found at: http://www.worldbank.org/en/programs/pricing-carbon
Background Note: Carbon Pricing Readiness
As countries begin to construct their 2030, 2040, and 2050 greenhouse gas mitigation scenarios, they have increasingly identified cost-efficient policies, including carbon pricing instruments, as essential elements of proposed climate action. Countries' activities in this regard differ based on their unique circumstances, and range from improving "carbon pricing readiness" to designing and piloting various carbon pricing instruments. This note provides updates on countries' activities.
Background Note: Corporate Action for Putting a Price on Carbon
Companies in a diverse range of sectors see carbon pricing as the most efficient and cost-effective means of tackling the climate challenge. Many companies are voicing support for government action to put a price on carbon. Many also assign a price on carbon internally.
An ETS is an explicit carbon pricing instrument that limits or caps the allowed amount of greenhouse gas emissions and lets market forces disclose the carbon price through emitters trading emissions allowances. As of early 2014, 35 countries and 20 subnational jurisdictions had adopted emissions trading programs.
A carbon tax is a form of explicit carbon pricing directly linked to the level of carbon dioxide emissions. While a maximum level of emissions reduction is not guaranteed, a carbon tax is a cost-effective economic instrument. Fourteen countries are implementing or have passed legislation on a direct carbon tax.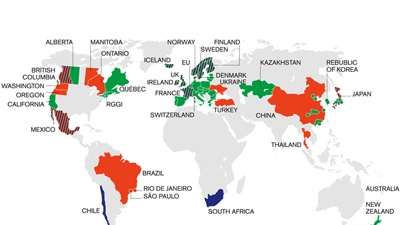 Nearly 40 countries and more than 20 cities, states and provinces already price carbon or plan to do so.