FEATURE STORY
Innovative Modeling for Climate Policy in Poland
November 15, 2013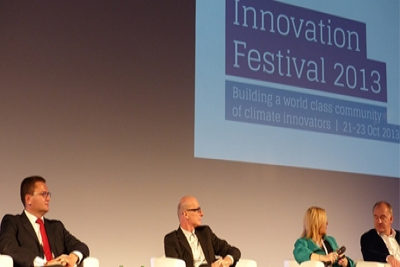 Innovation can be defined as "application of better solutions that meet new requirements, inarticulate needs, or existing market needs. This is accomplished through more effective products, processes, services, technologies, or ideas."
This definition focuses less on the idea of providing new solutions, but more on providing better, more effective solutions. Innovation does not necessarily need to be about creating something brand new - it can also be about doing old things in a new way.
Taking this approach, Leszek Kąsek, a Senior Economist with the World Bank's Warsaw office, and his Climate Modeling Team decided to show their project at an Innovation Festival in Wroclaw, Poland in October.
"Looking at a climate modeling project as a platform to share knowledge, exchange ideas, and discuss new analytical tools is certainly an innovative approach," says Kąsek.
Festival spokesperson Joanna Sabat said that the festival was first and foremost an occasion to meet and discuss the most burning and interesting issues currently on the climate change agenda. Over 600 participants from various organizations, including think tanks, research centers, public institutions and others, took advantage of the two-day festival to come and discuss climate change mitigation and adaptation - and how to manage these two approaches in the most effective and innovative ways possible. They came in order to bring together new ideas and to develop strategic partnerships, especially partnerships between representatives from the science and business communities.
"That is why we organized the Festival: in order to create opportunities for the most interesting, most innovative companies and institutions, such as the World Bank, to meet and to exchange ideas," said Sabat.
During the event, Kąsek and another World Bank representative, Ryszard Malarski, presented findings from the technical assistance project "Poland: Building Economic Modeling Capacity for Climate Policy Analysis." The project's main objective is to create an in-house modeling capacity for low-emission growth analysis. What this means - and what is most important - is that the project is to a large extent based on knowledge developed from cooperation between the World Bank's clients and counterparts.

We [the World Bank] bring together experts from the Ministry of Finance, Ministry of Economy and Ministry of Environment and are a participant - not a leader - in their modeling work. We make sure we can create value by facilitating this two-way knowledge exchange between us, global external experts, and our partners,

By organizing regular technical workshops and also participating in events such as the Innovation Festival, the World Bank team aims to expand its outreach and ensure that the organization keeps its finger on the pulse of what is going on in public climate change debates.
The Innovation Festival was also an opportunity to develop a dialogue with Climate-KIC, the largest public-private innovation partnership in the country. This partnership focuses on climate change and consists of private companies, academic institutions, and representatives from the public sector. Climate-KIC, organizer of the Festival, is one of three Knowledge and Innovation Communities (KICs) created in 2010 by the European Institute of Innovation and Technology (EIT), initiated by European Commission Chair, J.M. Barosso. The EIT is the European Union body whose mission is to create sustainable growth through partnerships.
"The Climate Modeling project consists of three elements: a high quality modeling 'toolbox', dedicated stakeholders, and an efficient and structured mechanism for cross-sectoral cooperation and learning. Cooperation and learning are two keys to the success of this project and sharing it at the Innovation Festival allows us to learn from the participants," says Kąsek.