FEATURE STORY
'Resilience is Not Accepting the Caprices of Mother Nature'
May 2, 2013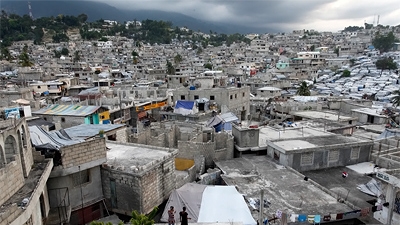 STORY HIGHLIGHTS
Haiti President Joseph Michel Martelly in a video address to the Climate Investment Funds emphasized that climate resilience is "about managing our natural environment in a responsible manner."
The Climate Investment Funds endorsed Haiti's strategic program for climate resilience for $25 million to boost climate proofing efforts in key sectors and vulnerable areas and advance hydromet and climate services.
Haiti is a country at risk. Extreme poverty, severe deforestation and soil erosion, and poor building practices contribute to 96 percent of its population living in jeopardy. The weather also takes a heavy toll. Over the past decade, 17 hurricanes have killed more than 3,600 people and affected 800,000 others. In 2008 alone, losses and damages resulting from tropical cyclones Fay, Gustav, Hanna, and Ike were around 15 percent of GDP.
Increasing tropical storm severity and incidences of drought, along with a growing population (an estimated 16 million inhabitants by 2030), have led Haiti to take a strong stance on climate change resilience. On May 1, the Climate Investment Funds (CIF) stood with the island nation by endorsing $25 million for Haiti's strategic program for climate resilience under the Pilot Program for Climate Resilience (PPCR).
"Resilience is not about accepting the caprices of Mother Nature. Rather, it is about managing our natural environment in a responsible manner, in the quest for a better future, for the sake of all of us," Haiti President Joseph Michel Martelly said in a video address to the PPPCR Sub-Committee meeting.
"In the process of elaborating Haiti's strategic plan for resilience to climate change, we have gotten closer to our Caribbean neighbors and other people of the world. We are fully committed to the principles of resilience," Martelly continued.
A delegation led by Thomas Jacques, Minister of Agriculture, Natural Resources and Rural Development, presented Haiti's strategic program, which aims to support efforts on climate-proofing infrastructure and agriculture in the vulnerable Centre-Artibonite Loop, strengthening resilience in coastal cities of the Gulf of La Gonâve, and advancing knowledge management and capacity building in hydro-meteorological and climate services. The Inter-American Development Bank and the World Bank are working together to help Haiti develop and implement this strategic program.
According to Rose May Guignard of the Comite Interministeriel d'Amenagement du Territoire (CIAT), the government agency overseeing Haiti's strategic long-term land use planning, this program was built upon Haiti's National Adaptation Program for Action (NAPA) with a focus on long-lasting post-disaster recovery. It reflects a balance between urban and rural, and aims to pilot projects in an extremely vulnerable area and one in which benefits can be demonstrated for broader national resilience. It is also designed to seek complementarities with existing and future larger investment projects and World Bank operations in Haiti.

Resilience is not about accepting the caprices of Mother Nature. Rather, it is about managing our natural environment in a responsible manner, in the quest for a better future, for the sake of all of us.

Joseph Michel Martelly
President, Haiti
In a country crowded with a diverse international community driven by a wide variety of projects, Haiti sees the PPCR differently.
"The PPCR really allows us to think through climate change in a transformative manner," Guignard said.
"The PPCR planning process forced us to talk to different ministries, seat different people around the table and see which part they have to play, and see how, as a government institution, we can start systematically mainstreaming climate-related priorities, activities, standards into what we do and how we do business. The PPCR process became a catalyst for us to talk to each other and learn how to better cooperate and coordinate. The PPCR has been a tremendous positive learning experience for Haiti," she explained.
Next steps for Haiti include producing the specific studies, assessments, and climate projections needed to feed into project baselines and guide the detail of each of the investment projects. There is work ahead, but Jacques says Haiti is up for the task.
"As President Martelly said so well, this generation has a duty. We must transmit to future generations a space where we can live better. This program is going to contribute to future generations of Haiti a land where we can live better," Jacques said.
Haiti is part of a regional PPCR effort
Haiti joins five other nations in the Caribbean region—Dominica, Grenada, Jamaica, Saint Lucia, and Saint Vincent and the Grenadines—in implementing national strategic programs for climate resilience, as well as one overarching regional coordination program, totaling over $125 million from the PPCR. The investments are expected to help transform the region's ability to identify, analyze, and address key climate and weather risks through improved geospatial data and adaptation planning, consolidated regional climate monitoring platforms, downscaling climate projection models and maps, and sharing of adaptation lessons within and among key groups and sectors.
As Haiti's program moves forward, all 20 strategic programs under the PPCR are endorsed; many have already launched proposed activities. To date, 26 projects have been approved for $399 million in PPCR funding that is expected to leverage an additional $512 million in co-financing.
The PPCR is one of four funding windows of the CIF. At $7.6 billion, the CIF is the world's largest financing mechanism for climate finance, helping 49 countries worldwide pilot transformations in clean technology, sustainable management of forests, increased energy access through renewable energy, and climate-resilient development. CIF financing is channeled to countries through the public and private sector arms of the five multilateral development banks – the African Development Bank, the Asian Development Bank, the European Bank for Reconstruction and Development, the Inter-American Development Bank and the World Bank Group. A mix of grants, highly concessional and near-zero interest credits, and risk mitigation instruments from the CIF are expected to leverage over $43 billion in co-financing.