FEATURE STORY
Assisting Russia's educators to bolster development skills
February 13, 2013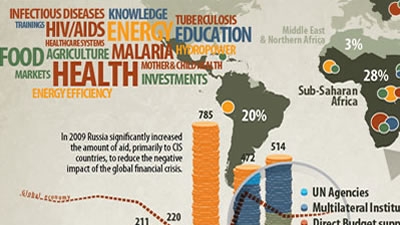 STORY HIGHLIGHTS
The World Bank is collaborating with the Russian Federation as the country works to gain experience in international developmental aid through the "Russia as a Donor" initiative.
The Bank coordinated a study course preparation to familiarize Russian educators with the topic of international development.
The course can be used as the foundation for preparing a variety of training programs.


February 13, 2013 - A new learning course named "Set of Lectures on International Development Cooperation", prepared by Russian professors with the World Bank's support for the Russian Federation, an important donor country to the institution, has introduced an advanced curriculum for Russian universities to strengthen national programs of international development training for experts.

This learning plan is amazing. It not only summarizes all approaches and knowledge we used to collect from different sources, but suggests new ways. It's like training the trainers - we could start building our own institutional capacity, fully tailored to country specifics and strategies.

Prof. Anatoly Gromyko
School of World Politics, Moscow State University

The course is part of the Bank's efforts to offer access to global experience, recommendations and technical support under the "Russia as a Donor Initiative" (RDI) program since 2009, as the country undertakes efforts to build capacity for international development aid.
A key objective for this Initiative is to support Russian academic institutions, including universities, and help them to develop national-level training programs related to developmental aid. The Bank has led the preparation of the course, and the effort to share similar experiences from other academic institutions worldwide.
The course covers the most relevant topics of the Official Development Assistance (ODA):
Evolution of development assistance doctrines
Composition and distribution of assistance flows: latest trends and challenges
Emerging donors: commonalities and particularities
Russia as an emerging donor
Organizational aspects of international development assistance
Monitoring and impact evaluation of development assistance programs
Practical aspects of international development cooperation in different sectors



This course is to be used as a basis for preparing a wide variety of training programs, from full academic specialization offerings to intensive training for public officials, and is expected to substantially contribute to strengthening Russia's potential as a donor and global partner to the Bank on development issues.
Ultimately the Bank's collaboration with development experts and educators has brought other significant results:
Activated the process of educating development professionals in Russia
Introduced key development topics to Russia's universities
Intensified research and advisory activities nation-wide

The Bank believes that these measures will contribute to significant growth in the impact of Russia's development assistance.
The Bank invites teachers, students, researchers and everyone interested to download these course materials for free and to continue the dialog about international development. Are you interested in international development aid? Will you benefit from this initiative?