FEATURE STORY
Three Latin Americans Aspire To Win the "Apps for Climate" Competition
June 25, 2012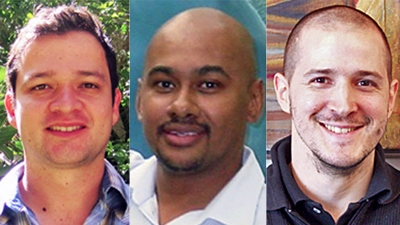 STORY HIGHLIGHTS
The three are competing for the a prize of US$15.000
"Apps for Climate" brings together the best ideas from around the world to raise awareness on climate change using World Bank Data.
The winner will be announced this week in Washington DC.
Want to travel into the future to see what the weather could be like 20 years from now? There's an app for that. In fact, there's more than one. WbPanorama, is just one of three apps by Latin American developers that have been shortlisted for the World Bank Climate Change Application competition.

Using World Bank data, earlier this year the World Bank challenged participants to develop apps which raised awareness and improved preparedness for the consequences of Climate Change. The winner will be announced in a special ceremony in Washington, DC this week.

Launched as an open competition, "Apps for Climate" was designed to attract the best ideas from software developers, civil society and those involved in development issues. And judges were impressed by the quality and creativity of the dozens of proposals presented to them.

The winners —competing over a US$15,000 main prize— will be chosen among 14 finalists, three of whom come from Latin America. Meet the finalists:

Bolivia: Alvaro Molina, Telecommunications and Systems Engineer at Bolivia's Universidad Catolica

Alvaro's app, FuelECOnomics compares 45,000 cars by their fuel consumption and carbon dioxide emissions, allowing users to map out routes, estimating fuel costs and the journey's carbon footprint.

"Users are able to see the way their car, and its fuel consumption, affects their country's total carbon dioxide emissions, as well as their impact on climate change. Having a fuel efficient car is good for the wallet, but also for the environment," Molina maintains.
Colombia: Ernesto Giron, Consultant, International Tropical Agriculture Center
WbPanorama, the app created by Ernesto, allows users to travel in time on board Climate Change data, enabling comparisions between the current climate in any given city with the future climate in another, according to their carbon emission.
"Having easily available online information can help adaptation or at least knowing what is in store for the future, or knowing what happened in the past," Giron explains.

Argentina: Andres Quijano, Licentiate, Computer Sciences, University of Buenos Aires

Andres tells us that his EcoFacts app, aims to raise awareness of climate change through comparisons within countries, the region they belong to and the rest of the world.

"My idea is for the user to interact with data the way they prefer best and to be able to search any option in terms of three indicators: per capita carbon dioxide emissions, energy consumption and energy sources," Quijano said.

The winners of "Apps for Climate" will be announced on Thursday, June 28th at World Bank HQ in Washington, DC, USA.