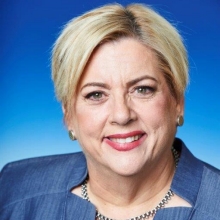 Margaret QUIRK, MP, Australia
Chair of the Committee on Corruption and Crime
"My focus as a parliamentarian has always been to address inequality & assist the marginalized.
I had the privilege for a short period to be Minister for Women's Interests. During that time, we introduced a program to give women greater financial literacy. Also, we started a bi-annual women's report card which (assessed) government performance on service delivery to women. In other ministerial roles I have implemented education and employment pre-release programs for women in prisons and for women operating in small business.
As an MP I have lobbied for laws on female genital mutilation and chaired a committee which examined police's performance in responding to domestic violence. A theme throughout my career is the need for equal opportunity in education. In schools in my electorate, children learn coding and have a STEM (science, technology and math) focus from an early age This can only help to improve outcomes for girls.
Since being elected, many women have joined our ranks. In my party this has been achieved through affirmative action. The caliber, diversity, range of backgrounds and skills that these members bring to the job has dispelled critics of affirmative action (who say) that it is not merit-based. Our target is 50% representation and we are close to achieving it.
It is also important that women MPs are not consigned to "female" issues but can equally pursue issues of interest and be given responsibilities where their skills lie. It is vital too that we mentor younger women and encourage their participation to secure a more equal and truly representative future.
In terms of the impact of women, the sky is the limit!
I see women activists on a daily basis in many spheres of life. They have a great impact locally in their communities. It is part of our role as MPs to encourage, support and assist in resourcing their important efforts."