A recent World Bank Group study finds that small-scale cross-border trade may be a worthwhile avenue for income generation and empowerment of Cambodian and Lao women, although they may not benefit directly from trade facilitation efforts.
The study, "Gender Dimensions of Small-Scale Cross-Border Trade in Cambodia and the Lao People's Democratic Republic," looks at trade by individuals using vehicles powered by humans, such as hand trucks and carts, or vehicles with fewer than four wheels. The study is based on 158 interviews at checkpoints of Bavet and Poipet in Cambodia, and Vangtao in Lao PDR.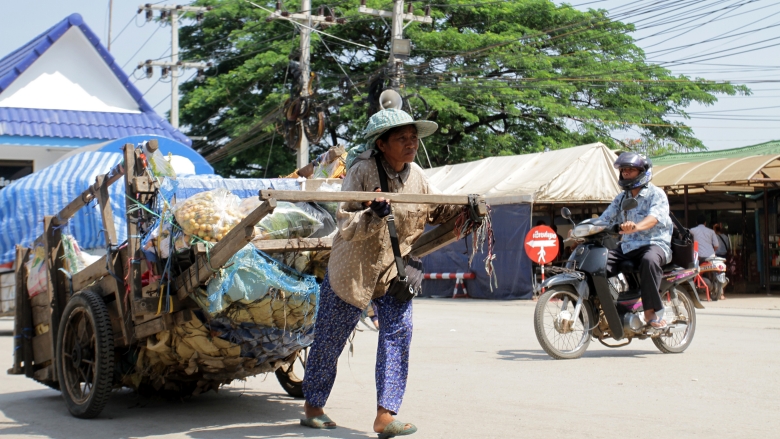 Moa Mieng, 52, has been transferring goods across the Thai-Cambodian border for more than 15 years. (Photo: Chor Sokunthea / World Bank)
One of the interviewees, Moa Meing, 52, pulls a cart loaded with goods across the Thai-Cambodian border, as she has done almost daily for the last 15 years—for the monthly equivalent of about US$110. The work is hard and does not earn much, but it allows Moa Meing to be self-sufficient, unlike most women in Poipet.
"Women's employment here is often restricted by cultural norms, constraints on mobility, and household responsibilities, but petty trade is considered an acceptable occupation for the women in the Mekong sub-region… It could be an opportunity to promote women's empowerment," Julian Latimer Clarke, team leader for the study, said.
Hoeun Srey, 34, from Poipet, started a used-clothing-trading. She now wants to earn more to achieve a better living standard and is supporting her husband, a construction worker. Like Hoeun Srey, most of the women traders are the primary breadwinners in their households.
Women traders, however, have more competing demands on their time and less access to capital compared with men, which may explain why they are underrepresented in cross-border trade versus other similar, profitable activities. They are also more often "own-account traders," rather than brokers.
"Female traders face huge obstacles. Caring for family members means they can make fewer trips to the border, and restrictions on means of transportation do not allow them to make up the difference," Clarke said. Women traders are therefore disproportionately affected by poor infrastructure, such as narrow roads and lack of public transport, as well as by curbs on what types of vehicles are allowed to cross.
To cope with these restrictions, women traders hire porters to help carry goods to the border, which eats into their business margins, or market smaller quantities. Based on traders' reports, female traders pay on average double per crossing in transportation costs compared to men.
Furthermore, time-constrained female traders have less time to negotiate lower fees and taxes at the border than male-traders. Clarke noted, "This eats into their profits—and since we know that when women earn money they invest it in their families, this represents a significant lost opportunity to reduce poverty."
The study provides suggestions on how to alleviate some of these constraints to support women traders:
Formulating a charter for cross-border traders and brokers, reminding all parties of their rights and duties. The World Bank is piloting such an initiative at the border between Malawi and Zambia;
Streamlining taxation at the border to prevent women traders being charged higher tax rates than men and displaying tax levy rules and tariffs at each checkpoint; and
Investing in transport infrastructure and loosening restrictions on transportation means: widening narrow checkpoint roads and increasing the size of parking lots to allow the use of larger vehicles for women traders to achieve maximum earnings per trip.
The study was supported in part by the World Bank Group's Umbrella Facility for Gender Equality (UFGE), a multi-donor trust fund investing in evidence, knowledge, and data needed to identify and address key gaps between men and women to deliver better development solutions that boost prosperity and increase opportunity for all.