Some 450 policy makers, government officials, academics, development practitioners, and representatives from civil society and the private sector from 39 countries gathered in Dar es Salaam, Tanzania for the first-ever Africa Open Data Conference. During the event, earlier this month, participants discussed and shared their experiences on Open Data in Africa, how it can be best put into use, how to build the necessary technical skills, and how successes can be translated across sectors and countries.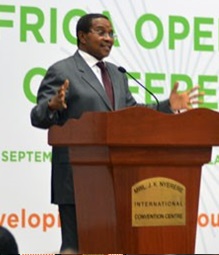 Tanzanian President Jakaya Mrisho Kikwete spoke on the importance of data for African Development, saying: "I totally subscribe to the idea that data is an important tool for development. No successful and meaningful development will take place without the use of data. There is no doubt that Africa needs to embrace open data in her development agenda. It is an idea whose time has come. It is the best way forward to a better Africa where democracy, good governments and development reign."
Kikwete noted that Tanzania's efforts to make data open have received support across government departments and from civil society partners to an extent never seen before. It has also brought different government departments to work together, in some cases for the first time. Open Data is also making a significant contribution to the country's service delivery strategy, "Big Results Now", as well as its involvement in larger transparency and governance initiatives such as the Open Government Partnership and African Peer Review Mechanism.
"For us, Open Data is the way to go if we are to transform our country from Least Developed Country to a Middle Income Country, and ultimately to become an advanced economy. We are looking at the future of Open Data in Tanzania with much optimism," President Kikwete explained. "There is no reason or intentions of back tracking. You can count on us."
Open Data helps inform evidence-based policy making and improve government services by enabling a more transparent environment. For instance, publicly available data on school or hospital performance can enable local communities to compare the public services they are receiving, and to demand improvements where inequities exist.
In addition to the political interest in Open Data, its economic and financial benefits have also been recognized by the private sector. At a global level, McKinsey is estimating that Open Data can help unlock between US$3 trillion to US$5 trillion in economic value annually across seven sectors, including education, transportation, consumer products, electricity, oil and gas, healthcare, and consumer finance. Finally, Open Data can help boost employment and create jobs, by providing vital information about available jobs, which can help employers to better match skills to available positions.
Tanzania has been one of the first African countries to commit itself to Open Data under the Open Government Partnership framework, given the important role it can play in fostering growth, creating jobs and improving development outcomes.

"Open data is about opening government, making data accessible to everybody." says Dr. Albina Chuwa, Director General of the National Bureau of Statistics. "Open Data is good for Tanzania as we are moving towards the Sustainable Development Goals. If we don't have quality statistics to respond to we won't reach where we want to go."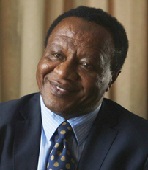 Tanzania's commitment to Open Data is not just a recent phenomenon. In fact, the use of Open Data can be traced as far back as the mid-1990's, recalls Dr. Hassan Mshinda, Director General of the Tanzania Commission for Science and Technology.

"Tanzania is actually the leading country in using evidence to make informed decisions," Mshinda explains, referring to the Tanzania Essential Health Intervention project in the Rufiji and Morogoro rural districts, which tested the relationship between making data available to district officials, the allocation of resources, and disease burden. As a result of the intervention, "the number of children who die in that particular district actually started to decrease because they allocated resources based on the burden of diseases and cost effectiveness of the intervention," says Mshinda. "The Minister of Health used that approach to scale up…into other districts in the country."

In June 2015, Tanzania signed an Open Government and Public Financial Management (OGPFM) development policy credit with the World Bank Group that supports Tanzania's commitment to promote access to information, open budget, and open data in Education, Water, and Health in addition to reforms that aim to improve budget planning and execution. While the OGPFM promotes policy actions that enable the access to information and open data to evaluate sector performance, the Support to Open Government, Data and Accountability in Tanzania (SOGDAT) — a complementary technical assistance program financed by DfID—promotes the use of Open Data and trains civil society, think tanks, media and other organizations to help monitor information uptake by citizens.

The project also supports the National Bureau of Statistics, the e-government Agency and key ministries and agencies to release good quality data on basic education, health and rural water services in ways that allow it to be easily accessed, used, and re-used by anyone interested in these sectors, and also to help improve the data if needed.

There is a great deal of optimism regarding the future impacts of Open Data across the country.

"I see the impact on the economy. I am seeing the impact in education improvement. I am seeing the impact on the water situation improvement immediately. I see the impact on health service improvement." says Dr. Jabir Kuwe Bakari, the CEO of the e-Government Agency in Tanzania, which has the responsibility to oversee and ensure that e-Government is being implemented across Government agencies and ministries, as well as independent departments and local Government. "I am seeing the impact also in improving the decision making process and overall it will bring impact to the overall economic growth."

Needless to say, there are challenges as well. These include technological divides between segments of society, data literacy, internet connectivity, enabling legislation, and overall political economy issues, just to name a few.

The first African Open Data Conference in Tanzania, however, helped to lay the groundwork for the road ahead — not just in Tanzania but for other countries in the region trying to improve the production and use of Open Data in order to become more transparent, accountable and effective in their process of national development.