Public investment choices on green actions can be guided by findings generated by macroeconomic modelling. Analysis shows that the impact on GDP differs across climate action measures. Among mitigation measures, those aimed at increasing energy efficiency have stronger positive effects driven by savings on energy. Less energy use means more resources available for other sectors.
Lower energy demand translates into a decrease in energy commodity prices, which stimulates other sectors to expand output over time. On the other hand, transport measures constitute a negative impact on real GDP as they require not only higher initial expenditures than the baseline, but also higher outlays on the maintenance.
In the short run, the effects of adaptation interventions are similar to those of mitigation measures, but they start to bring benefits to the economy soon after their introduction through the expected value of avoided losses.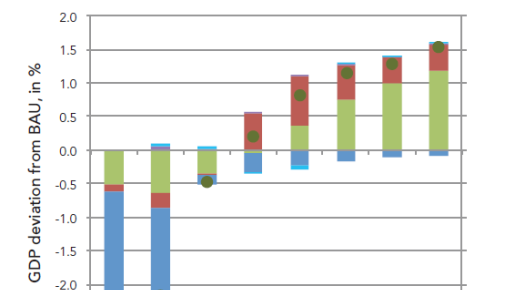 In practical terms, some useful insights for policy and investment decision-making include: public investments needed to prevent losses in agricultural production are significantly higher than those needed for maintaining various infrastructure services. The investments in infrastructure resilience can be interpreted as a type of insurance against the risk that a changing climate will disrupt the infrastructure services and derail the country's growth in future.
More specifically, the greatest investment potential in the water and agriculture sectors lies in optimizing agronomic inputs, rehabilitating drainage infrastructure, expanding irrigation systems and promoting hydropower. Moreover, from the viewpoint of cost efficiency and economic performance, FYR Macedonia should focus on energy efficiency when it comes to reducing greenhouse gas emissions.
Relative to the business-as-usual scenario (BAU), green measures enabling 40 to 70 % reduction in emissions by 2030 costs about 1 to 2 % of GDP in incremental investment costs, while adaptation measures in the water and agriculture sectors are profitable even at a high discount rate. Implementation of green policies and investments will dampen GDP by 2.7 % in the short-term but boost GDP by 1.5 %of GDP by 2050.
Greening and growing may seem at odds at first glance, but a closer study shows that smart decisions today will better position FYR Macedonia to achieve both. The country should aim not merely to survive "going green." Rather, the country should aim at enhancing connections to global knowledge, fostering local technological innovation and building green jobs, to better position itself for "riding the green wave."
The full text of the FYR Macedonia Green Growth Country Assessment can be found here.