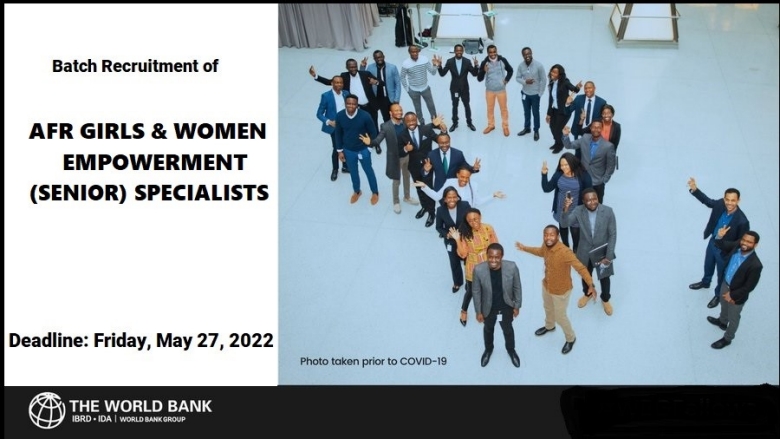 WASHINGTON, May 16, 2022: The World Bank Group, in collaboration with the Global Financing Facility, and Global Affairs, Canada, is recruiting 13 Extended Term Consultants/AFRICA (AFR) on Girls & Women Empowerment (Senior) Specialists. Hiring units HAEH1, HAEH2, HAWH2, HAWH3 will be driving the recruitment processes and the selection of the ETCs/(Senior) Specialists will be consistent with the World Bank Group's recruitment policies and procedures,
The recruitment of these positions aims to build the capacity of the next generation of African changemakers in project design, research, and policymaking to improve the impact of investments in girls and women and preserve Africa's human capital.
KEY FEATURES OF THE RECRUITMENT
The WB will be hiring 7 Girls & Women Empowerment Specialists and 6 Girls & Women Empowerment Senior Specialists. Candidates from all countries are eligible to apply.
The ETC/(Senior) Specialists will be based in 12 countries across Africa and will support 31 countries in the region. (See below for the list of countries).
The ETC/(Senior) Specialists will work within the Africa Human Development Practice Group focusing on research, economic policy, technical assistance, advocacy, and lending operations that contribute to investing in girls and women, which is important for protecting and preserving Africa's human capital.
The ETC/Senior Specialists will support country task teams on policy dialogue on girls and women empowerment cross-cutting issues championed by the Bank's Human Development initiatives and activities, spanning multiple sectors including education, health, nutrition and population, social protection, and labor.
All eligible candidates must have a master's degree (or an equivalent or higher degree) with a minimum of 5 years of relevant experience for these ETC/Specialist vacancies and 8 years for the ETC/Senior Specialist vacancies.
Successful candidates will have specific expertise on addressing gender inequality and enhancing women's empowerment.
ETC/Senior Specialists will also require expertise in sexual and reproductive health and rights.
These ETC positions offer one year employment with the World Bank Group with renewable for an additional one year, as well as future career growth opportunities within and outside the Bank.
The (Senior) Specialists will work on several Sub-Saharan African countries and within different sector teams in line with the World Bank Group's "4 Es" girls and women empowerment approach: (1.) Education; (2.) Employment; (3.) Enhanced access to sexual and reproductive healthcare,' and (4.) an overall Enabling environment conducive to girls and women's social and economic autonomy.
OPENINGS
For these ETC/Specialist recruitments, we are looking for potential candidates with strong skills for the following roles. Click individual links for further information on eligibility and selection criteria (including location specific requirements) and how to apply.
The deadline for applications is May 27, 2022, 11:59pm UTC.
Candidates and women from Sub-Saharan Africa are highly encouraged to apply.