Background:
The Financial Inclusion Support Framework (FISF) is a World Bank Group (WBG) initiative that aims to accelerate and increase the effectiveness of reforms and other country-led actions to achieve national financial inclusion goals. Launched in April 2013 and welcomed by the G20 Finance Ministers and the Alliance for Financial Inclusion, FISF helps scale up and leverage the WBG's policy dialogue, analytical work and financing for financial inclusion FISF has initial funding of $25 million from the Netherlands Ministry of Foreign Affairs, and $7.1 million from the Bill & Melinda Gates Foundation.
FISF supported activities aim to help catalyze private sector financing, knowledge and innovation, resulting in the usage of a broad range of financial services – payments, savings, insurance, credit -- by low-income individuals and micro, small and medium enterprises (MSMEs), that are currently un- or under-banked.
Design
FISF has two main components: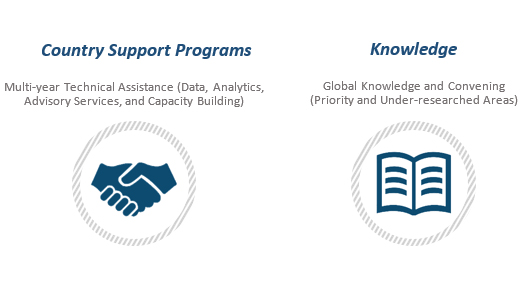 The Country Support Programs (CSPs) are structured as three to four year-long technical assistance programs organized under four thematic areas:
1. National financial inclusion strategy, monitoring and evaluation;
2. Financial infrastructures, such as payments and credit reporting systems;
3. Diversified financial services for individuals and enterprises; and
4. Financial consumer protection and financial capability.
Technical assistance provided under the CSPs build on and contribute to public and private sector commitment to financial inclusion. They support the design and implementation of key policy and regulatory reforms, financial infrastructure development, the increased effectiveness of programs in strategic areas such as Government-to-Person payments, and help improve the financial capability of key population segments.
The Knowledge component supports analysis, synthesis, and knowledge sharing in key underserved areas, such as the financial inclusion of women and individuals engaged in agriculture, and efforts to leverage digital payments to provide access to a broader set of financial services.
Implementation and early results:
Country Support Programs: CSPs have been in implementation in Rwanda, Indonesia, and Mozambique since 2014, in Ethiopia and Zambia since 2015, and in Pakistan, Cote d'Ivoire, and Vietnam since 2016.
Early results that have benefitted from the analytics and advisory services provided under the CSPs include:
The preparation and adoption of National Financial Inclusion Strategies in Ethiopia, Mozambique, and Indonesia;
In Rwanda, the adoption of updated off-site and on-site SACCO supervision manuals that follow international best practice.
The design, testing and rollout of a financial education program for members of savings and credit cooperatives in Rwanda. Management and leaders from 135 SACCOs, who received training and financial education materials developed with FISF support, trained nearly 70,000 individuals, mostly SACCO members, 53 percent of whom were women.
Strengthened capacity of key departments and units within critical national institutions, including: banking supervision and payment departments in the Rwandan Central Bank and the financial services department in the Rwandan Ministry of Finance, the new financial complaints unit at the Rwanda Office of the Ombudsman; payments and behavioral supervision departments in the Bank of Mozambique; the Agricultural Steering Committee, Financial Consumer Protection Institution (Observatoire) in Cote d'Ivoire; the payments department in the Indonesian Central Bank and Financial Consumer Protection department of the Indonesian Financial Services Authority.
Work is underway in to support several legal, regulatory and policy actions in the program countries. These include support for the development of laws and strengthened requirements on disclosure, financial consumer protection and credit reporting in Rwanda; agent banking regulation in Indonesia; and, national financial inclusion strategies in Zambia and Vietnam. Work to improve availability of high quality data on financial inclusion and improved understanding of impact of key activities is also underway. These include the diagnostic review of financial consumer protection and financial literacy (Ethiopia); a financial capability survey in Zambia (publication forthcoming); cost and volumes of payments (Pakistan); an impact evaluation to assess the impact of financial education (Rwanda); an agrifinance diagnostic and options appraisal in Cote d'Ivoire (publication forthcoming).
Knowledge: Knowledge activities under implementation include: financial inclusion for agriculture-dependent households, women and finance, and two activities related to leveraging technology for financial inclusion.
Since individuals engaged in agriculture are estimated to constitute more than 25 percent of financially excluded, improving their access to financial services is critical to achieving the Universal Financial Access. A global experts workshop on Financial Inclusion of Agriculture Dependent Households was held at The Hague, Netherlands on June 23rd and 24th, 2015, and a report on the workshop has been published and disseminated. Two key takeaways from the workshop were: a) need to focus on broader array of financial services rather than just credit or insurance for agricultural production, and to improve the quality of data on financial inclusion of agricultural households; and, b) the opportunity to facilitate increased use of transaction accounts to send government payments and remittances to agricultural households.
The potential impact of extending digital financial services through widespread acceptance among small retailers is substantial given their ubiquitous presence in most countries and the frequency of purchases by their customers. However, most of them typically do not use electronic means to make payments or to accept payments. A report on innovations in electronic payment adoption for small retailers has been published and disseminated. The report estimated the global market opportunity for expanding electronic payments adoption of small retailers to be USD 19 trillion (the estimated value transacted in cash and checks in the form of retail sales, supplier payments and wage payments), identified key obstacles to electronic payment adoption, and public and private sector actions to overcome these obstacles to expand financial access.
Last Updated: Nov 08, 2017