World Bank Launches Live Wire Energy Notes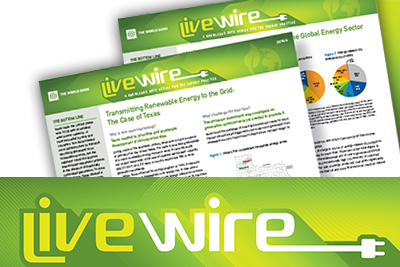 LIVE WIRE SERIES INCLUDES
Topic briefs that offer technical knowledge on key energy issues
Case studies that highlight lessons from experiences in implementation
Global trends that provide analytical overviews of key energy data and Bank Views that portray the Bank Group's energy sector activities
The World Bank Group's Energy Practice is launching Live Wire, a series of concise knowledge notes, available online here on the Energy Portal and through the Open Knowledge Repository of the World Bank Group. Each issue of Live Wire, to be produced and peer-reviewed by energy experts on a monthly basis, will focus on issues facing front-line energy development practitioners. Issues of Live Wire will also be featured in the bi-monthly Newsletter World Bank Energy Digest.
The first issues of Live Wire focus on:
Live Wire is a unique vehicle for Bank Group staff to share findings drawn from project and analytical work. This is a published format that is at once accessible, rigorous and concise enough to be produced quickly. And if you need some physical copies of Live Wire for a particular event you are organizing, all you need to do is contact GSDPM Customer Service Center at (202) 458-7479 or send a written request to cgsdpm@worldbank.org, to order a customized print run that meets your needs.