Education Year in Review 2013: Smarter Education Systems for Brighter Futures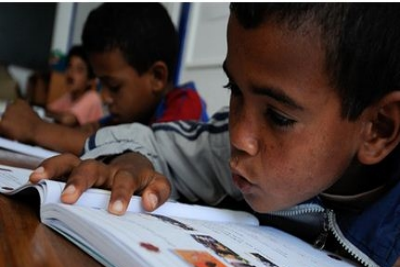 2013 At A Glance
Strengthening education systems is at the center of the World Bank's Learning for All strategy.
The Bank recognizes the need to ensure that the 57 million children out of school today not only attend school, but also receive a quality education.
In fiscal year 2013, World Bank financing for education reached $2.9 billion, up from $1.8 billion in 2011.
Guaranteeing the human right to a basic education means little unless schooling leads to learning for all children and youth. Growth, development, and poverty reduction depend on the knowledge and skills that young people acquire—not just the number of years they sit in a classroom.
The urgency of improving the quality of education and accelerating learning globally has never been greater. In low-income countries, many young people complete basic education without acquiring fundamental literacy and numeracy skills. Even in middle-income countries, many students do not acquire the basic skills that are expected by employers and needed to secure a job. Today, an estimated 250 million children around the world are unable to read and write, even after spending three or more years in school.
Learning for All, the World Bank Group's education strategy, responds to this growing challenge. The Bank is working towards expanding educational opportunities for children, youth, and nations alike by providing policy advice, technical support, knowledge of what works in education, and financing totaling $2.9 billion in fiscal year (FY) 2013, up sharply from $1.8 billion in 2011.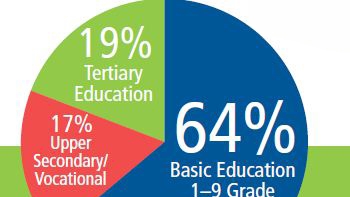 Learning for All calls for education system reform—beyond simply providing inputs. An education system's ability to transform resources efficiently into better learning outcomes depends not only on having enough classrooms, teachers, and textbooks, but also on having the policy environment, resources, and accountability mechanisms that can promote—and not obstruct—education results.

The Systems Approach for Better Education Results (SABER) provides detailed system assessment of country capacities in a wide array of education policy areas. To date, the Bank's SABER team has analyzed 104 countries and published 55 country reports that are being used to inform investments in education at all levels.
Investing Early

Jump-starting learning through Early Childhood Development (ECD) - The Bank is undertaking efforts to boost ECD in country programs and in the global development agenda. This year, we financed eight new projects with an ECD component in Guinea, India, Jamaica, Nepal, Nicaragua, Peru, Uruguay, and Vietnam. Additionally, the Bank's Education Staff Development Program launched a learning course for staff and development partners, including an eLearning module.

Generating new research – The Bank is expanding the global knowledge base by bridging research, policy, and practice. To date, SABER tools have been used to assess ECD policies in 31 countries. The Strategic Impact Evaluation Fund (SIEF) program, which promotes impact evaluation research and training, is supporting the evaluation of nine promising ECD and nutrition programs.
Boosting readiness for learning - In Uganda, where only 14% of preschool age children attended preprimary school in 2010, a Bank project is supporting teacher training and policy reforms to support and provide ECD services for children aged 3-5 years. A project in Vietnam is helping improve school readiness for 5-year-old children, with a special focus on those most at risk of being marginalized, by expanding full-day preschool enrollment while ensuring quality education. In Russia, the Bank is working to develop a more flexible regulatory policy environment to allow for the expansion of pre-primary education.
Creating a Robust Learning Environment

Measuring learning – As part of its ongoing engagement with the Learning Metrics Task Force, the Bank recently brought together technical experts and policy researchers to discuss existing student assessment tools and how to respond to the challenge of the post-2015 development agenda.
Focusing on the classroom – A series of initiatives zero in on the classroom—where learning happens. A study in seven countries in Latin America and the Caribbean is assessing the quality of teacher training programs through classroom observation. So far, data have been collected in more than 14,000 classrooms in Brazil, Colombia, Honduras, Jamaica, Mexico and Peru and a pilot effort is underway in the Dominican Republic.
Understanding what improves learning – In Yemen, weak demand for education among low-income families, especially for girls, is a hurdle. Through a conditional cash transfer program, the project is reaching more than 39,000 female students. A second phase of the project will extend it to an additional 25,000 students.
Improving accountability – Several projects addressed governance and accountability in 2013. In Kyrgyz Republic, basic education outcomes are improved through teacher training program while strengthening the leadership and financial management of schools. A project in Pakistan is tackling secondary education by focusing on improving governance and accountability, strengthening administrative systems, and measuring student achievement.

Building Skills for a Relevant Workforce
Creating tools to measure skills - The new STEP Skills Measurement Survey is shedding light on skills gaps and mismatches by generating new, internationally comparable data on adult workers' skills. In Vietnam, despite high levels of adult literacy and numeracy (93% of adults were literate in 2011), employers say that there are simply not enough skilled workers to fill available jobs. The survey finds that 80% of job applicants lack the required skills for professional and technical positions. It also documents that employers value not only technical skills, but also cognitive, social and behavioral skills. These results should inform educational reform at all levels, from early childhood through tertiary education. To date, STEP household surveys are underway in 13 countries.
The STEP framework shows that skills needed for productivity and economic growth require a combination of education, training, and labor market activities.
Supporting access to training - Several projects addressed skills development in 2013. The Africa Higher Education Centers of Excellence Project is helping countries meet their labor market demands for skilled workers by strengthening 10 to 15 Centers of Excellence training and applied research in areas that are relevant to the region's development. In Afghanistan, the Bank helped to establish the National Institute of Management and Administration (NIMA) and revitalize the Afghanistan National Institute of Music, whose first cohort of NIMA graduates was able to find employment within six months of graduation. The project also provided short-term training in technical and business development for over 9,000 youth, more than a third of whom are women.
Strengthening Education Systems Through Partnerships
The Bank is a member of the UN Secretary-General's Global Education First Initiative, which aims to put every child in school, improve the quality of learning, and foster global citizenship.
In support of this initiative, the Bank co-hosted in April 2013 the Learning for All Ministerial event, which brought together ministers of education and finance from a number of countries, along with global development leaders and other partners, to accelerate progress toward schooling and learning for all children. A follow-up meeting re-convened ministers of finance in October 2013 alongside the World Bank Group/International Monetary Fund Annual Meetings.
The Global Partnership for Education (GPE) has been a critical partner in basic education since 2002, when the Bank was instrumental in creating this multi-donor partnership.
The Bank partners with a number of bilateral donors as well, including Australia, Russia, and the United Kingdom, which have been strong supporters of our SABER work; and other donors such as the European Commission, Ireland, Korea, the Netherlands, Norway, Japan, and Spain have provided generous support for operational and knowledge work in education.
Private foundations such as the Children's Investment Fund Foundation have also been important partners for our knowledge work. The Bank is also working with new partners including Teach for All, the Arab World Initiative, the Early Childhood Consultative Group, the Building Evidence in Education (BE²) Group, and the Global Compact on Learning Donor Network to help these learning-focused programs have a global impact.
Past editions: