Moldova: Art Classes and New Choices for the Vulnerable
Social Investment Fund 2 Project
August 27, 2013
With support from the World Bank, Moldova is reaching out to the needy and vulnerable by bringing those who were formerly excluded into mainstream society.
In the town of Anenii Noi, kids, some with mental, some with physical disabilities, have a new place to learn and play. Open for a year, the new Social Rehabilitation and Integration Center aims to bring disabled children classes and companionship. And sometimes it provides a refuge for kids and their mothers, says Svetlana Balan, the center's director. "These children didn't have anywhere else to go, this is actually the first such center in the district and the kindergartens wouldn't accept kids like this, they'd have to stay home."
This is just one of several projects aimed at bringing those who were formerly excluded into mainstream society. With support from the World Bank, Moldova is reaching out to the needy and vulnerable.
Decisions From the Bottom Up
In Transnistria, Moldova, this means including the poor in community decision-making. 98 percent of the residents of Parcani voted to put a much-needed roof on the local school. The school's principal worked hard to round up the votes for the roof. Up until the last minute, she says, she wasn't sure she would pull it off.

It was very unusual, the community voting, it is unusual to vote. We put teachers out throughout the whole village trying to convince people to vote for the roof.

Liubovi Jecova
General Education School #3's principal
Until two years ago, the school had no roof at all, just an abandoned third floor. "We couldn't use the third floor or the second floor, really," says Carolina Gaidari, who is in 9th grade. "It was impossible to concentrate because of the damp and the mold in the classrooms."
Her classmate Dmitrii Nicolaev agrees. "We like it very much now, there is no leaking water and we don't have to work with buckets everywhere."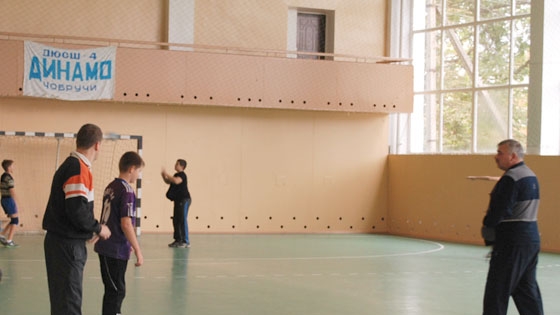 Votes for Kids' Handball and Ping Pong
Not far, the villagers of Ciobruci voted for a sports center for local kids. Like their neighbors in Parcani, they contributed 15 percent of the cost. Children from three nearby villages use the center both before and after school; about 600 kids a week. In the late evenings, especially in winter, adults use the sports center for Ping-Pong matches. More people use the center during the long, cold winters than do during the summer, but it is almost always busy.
Dmitrii Bordeian is a 12-year-old handball enthusiast. "We like handball, me and my friends, and we play a lot of competitions here. I like meeting new people and new teams."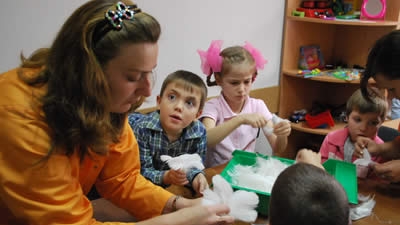 Being Included
At the center for inclusion and rehabilitation in Anenii Noi, there are also beds for mothers and children running from abuse, or those without anywhere else to go. Right now, the center is a temporary home for a 14-year-old girl. A mother with three children stayed there not long ago.
During the day, there are computers, sports and art classes for about thirty children. 5-year-old Camelia Postoronca comes here to free speech therapy three days a week. "We think the center is important for all these kids, and particularly for us it is really helpful, my daughter's made a lot of progress," says , Camelia's mother. Without it, she says, the family would have to drive to Chisinau, the capital, and pay for the therapy.
The goal of the project is to help kids, the disabled, women and older people as they navigate life. And it is also to empower the poorest to vote and to make their own choices about what they need. Inclusion, support, a voice for those seldom heard before; it is a big change.