Belarus: Country Economic Memorandum Outlines Country Reform Options
Economic Transformation for Growth
June 6, 2013
Mr. Victor Maksimov's private factory on the outskirts of Belarus capital, Minsk, employs one hundred people and produces up to 70 tons of chicken sausage per day.
Maksimov says that with more support and less constraints, he could increase the number of workers and produce even more.

I would like to see equal economic conditions for the companies of different types of ownership and, unfortunately, we don't have these at present.


Victor Maksimov
Private factory owner

Maksimov's sausage enterprise and other private businesses in Belarus are examples of what is needed to spur entrepreneurship in support of economic growth in the country.
The World Bank's Country Economic Memorandum presented in 2012 states that, despite a significant reduction in poverty during the last decade, Belarus existing growth model has reached its limit and needs restructuring to ensure lasting and sustainable growth.

The report argues that in order to meet rising economic challenges, Belarus' new growth strategy should encourage development of the private sector and the services sector. It recommends that Belarus establish business environment, and ease the obstacles to business and operation for private and state firms.

We have a job, and you know what this means. When you have a job, you have the money needed to live.


Ludmila Solyanik
Factory employee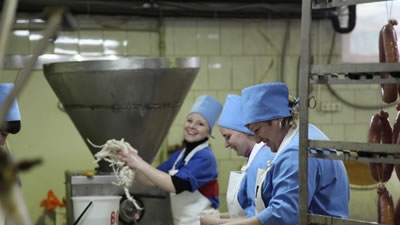 "There is no example in history when state-owned companies outperform and do better in terms of competition with private companies. That is why I believe that the future is for the private companies and the private sector," he says.
Creating incentives for move of capital and labor toward more productive areas, in addition to encouraging private sector development, are essential for inclusive and sustainable growth in Belarus. The report adds that such reforms can make Belarus exports less dependent on energy intensive production, and provide opportunity for the supply of competitive products to new markets.
Reducing the role of the state in the economy would lead to more global integration, higher incomes and better jobs, say Belarus business owners, who welcome what they say is recent progress towards more open markets in the country.
"According to my own experience the situation is changing for the better. Probably a moment came when our authorities realized without (private business) the country can't further develop. I feel that at present it's possible to do business in Belarus; but more can be done," says Maksimov. He has recently agreed with the help of local community officials to open a dairy factory that will produce milk for Minsk and other areas, and eventually export to neighboring countries.
That will mean more work opportunities for locals, like Ludmila Solyanik, who supervises employees at the sausage factory.
"We have a job, and you know what this means. When you have a job, you have the money needed to live," she says.