India: Laying the Foundation for Transformation
Poverty levels have reduced, but more needs to be done to achieve inclusive growth
April 12, 2013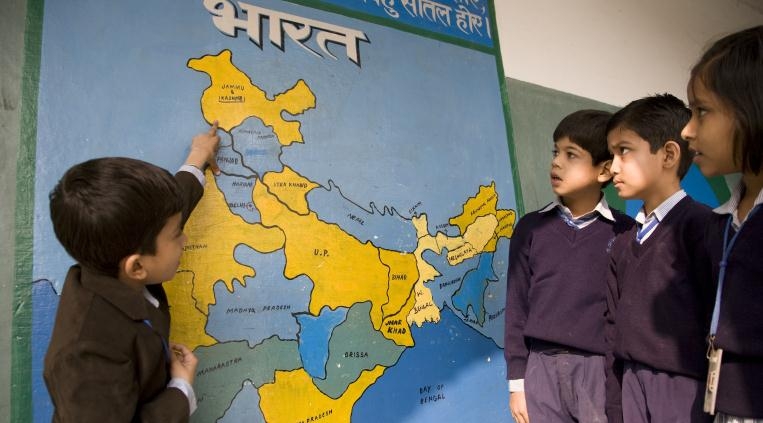 India today is a land of contrasts. While the country has made significant progress in reducing poverty, its poorest states still have poverty rates that are three to four times higher than the most advanced states. Much progress has been made in education, health, maternal mortality, and fertility, but much more remains to be done if global efforts to reduce poverty and enhance human development are to succeed.
Challenge
Although India's development has been one of the most significant global achievements in recent times, its per capita income remains low and its challenges remain deep and complex. Despite having halved extreme poverty, India is still home to one-third (400 million) of the world's poor and many of those who have recently escaped poverty are still vulnerable to falling back. Income inequality is on the rise, and structural inequalities have prevented entire groups (lower castes, tribes and women) from taking advantage of the opportunities that have opened up due to recent economic growth. Rates of maternal and child mortality remain stubbornly high and 40% (217 million) of the world's malnourished children are in India. While primary education has been largely 'universalized', improving quality and learning at all levels remain a challenge. Addressing these challenges is not only central to India and its people, but will also impact global progress on the Millennium Development Goals, and efforts to reduce poverty and boost shared prosperity. Although half of the Indian population depends on agriculture for their livelihood, agricultural growth—at 3.1% over the last decade—has fallen short of government targets. With 10 million people migrating to towns and cities each year, the country is rapidly urbanizing, leading to demands for better services, jobs, infrastructure, environmental management, and affordable housing. Already, a quarter of the urban population lives in slums, often with no or limited access to basic services. Moreover, India's overall infrastructure needs are massive: some 300 million people are not connected to the national electricity grid and those who are, face frequent disruptions.
Solution
The World Bank Group's (WBG) proposed Country Partnership Strategy (FY13-17) supports the government's goal of faster, sustainable, and inclusive growth. It seeks to tackle India's most pressing development challenges, especially in the poorest and most isolated states. To meet the program's overarching goals of accelerating poverty reduction and boosting shared prosperity, the Country Partnership Strategy will mark engagement in three broad areas:
Integration: Improved domestic, regional, and global integration will boost growth, as will more balanced growth across both low-income and more advanced states. WBG support focuses on improving infrastructure, mainly transport and power, strengthening the manufacturing sector (especially small and medium enterprises that are important sources of jobs); developing a skilled labor force that can respond to the needs of a fast growing economy; and improving the business climate to attract more private sector development, especially in India's low-income states. To help India gain the maximum benefit from the potential offered by regional—and global—integration, the WBG will focus on facilitating collaboration in the South Asia Region and beyond, notably on issues related to natural resource management (water and hydropower), as well as on infrastructure and trade.
Transformation: The faster a country urbanizes, the faster it grows and Indian cities are growing quickly. The number of towns increased from about 5,000 in 2001 to 8,000 in 2011, and some 53 cities have a population exceeding 1 million. The WBG will help India address the many challenges of the rural-urban transformation by working to improve the livability of medium-sized cities. This will require improving infrastructure (transport, water and sanitation, and power), access to basic services, and strengthening institutional capacity of urban government. Successful urbanization cannot take place without an equally pronounced focus on rural development, and the creation of strong value chains for agricultural products. Improving the livability of Indian villages, and increasing agricultural growth, while creating more off-farm jobs, is also central to WBG engagement in this area. Urbanization, and sustained high economic growth, can be both a detriment to the environment as well as well as an opportunity for energy efficiency and greenhouse gas reductions. The WBG will support government efforts to promote more efficient environmental management to protect India's natural resources.
Inclusion: Ensuring that everyone reaps the benefits of faster growth, regardless of social grouping, age, gender or where they live will require significant improvements in education at all levels, health and nutrition, social protection, and creation of meaningful rural livelihood opportunities. In addition to these areas, the WBG will work to increase access to financial services for poor households, improve access to electricity, and help enhance disaster risk management systems so people and their livelihoods are protected from natural calamities.
Results
International Development Association (IDA) support to India's development agenda has contributed to improving outcomes in health, education, and rural development, among others. Some results are highlighted below:
Between 2001 and 2009, India's Education for All Program enrolled some 20 million out-of-school children, especially girls and children from socially disadvantaged families. By 2009, the number of out-of-school children had fallen to about 8.1 million. Over 98% of India's children now have access to a primary school within 1 kilometer of their home. The focus is now on improving the quality of learning, retaining children in school, and ensuring that more children are able to access and complete secondary education.
IDA support for vocational training programs in select institutions has helped more graduates to find jobs, with their numbers rising from just 32% in 2006 to over 60% in 2011. Nevertheless, empowering the large numbers of India's youth, especially in rural areas, with skills that are better matched with the demands of the labor market—whether informal or formal—will help them find jobs in the urban areas where better-paid work is more readily available.

Rural livelihood programs have mobilized more than 30 million poor households in 90,000 villages to form 1.2 million self-help groups (SHGs)—up from 8 million in 2009. Ninety-five percent of SHG participants are women. In Andhra Pradesh alone, 10 million SHG women have seen their incomes rise by 115%. Members' savings exceeded $1.1 billion (2011) and access to credit rose by 200% to touch $5.8 billion (2000 -09). Local-level value added activities carried out by these groups and the direct market linkages provided by them have resulted in 30-40% higher prices for SHG products, tilting the terms of the trade in favor of the poor in India.

Over past two decades, IDA projects have contributed over $1.4 billion in financing for rural water supply and sanitation. About 24 million people in over 15,000 villages—with populations ranging from 150 to 15,000—have benefited from these programs. In addition, some 17 million rural people have benefitted from improved sanitation.

India has the largest burden of tuberculosis (TB) in the world. There are an estimated 2.2 million new TB cases in India every year, accounting for a quarter of the global burden. Between 1998 and 2012, two IDA credits totaling $279 million provided significant support to scale-up effective diagnosis and treatment under the national TB control program. During that period, over 15 million people with TB were diagnosed and treated by the program, saving an estimated 2.6 million lives. To date, the IDA-supported National AIDS program has reached about 81% of female sex workers (FSW), 66% of men having sex with men (MSM) and 71% of injecting drug users (IDU), with targeted interventions. However, continued attention is needed to secure these gains.

IDA support for health projects has helped pregnant women to reach medical facilities in time for delivery; in Tamil Nadu, 99.5% of deliveries now take place in medical institutions. However, despite increasing rates of decline, maternal and child mortality rates remain on par with rates in much poorer countries. And while India has recorded impressive economic growth in the past decade, malnutrition rates has declined very little; in fact, stunting rates in India are two to seven times higher than those in other BRICS (Brazil, Russia, India, China, South Africa) countries.

From September 2004, IDA support of some US$2 billion is helping India's National Rural Roads Program to improve connectivity, especially in the economically weaker regions and hill states. Some 24,200 km of all-weather roads have benefitted rural people in the states of Himachal Pradesh, Jharkhand, Meghalaya, Punjab, Rajasthan, Uttarakhand and Uttar Pradesh. However, much more remains to be done; one-third of the rural population still lacks access to an all-weather road.

Over the past decade or so, IDA support for improving farmer incomes from rainfed lands in Karnataka, Himachal Pradesh and Uttarakhand have helped implement soil and water conservation measures and raise agricultural productivity. Lessons learnt have helped shape the Government of India's Common Watershed Guidelines and the design of national watershed programs.

Since 1993, two Sodic Lands Reclamation Projects in Uttar Pradesh have brought more than 260,000 hectares of barren or unproductive lands under cultivation. Over 425,000 poor families have benefitted from a three to six fold increase in crop yields. Around 15,000 SHGs have helped the women pool savings and connect to the formal banking network. In several villages, these SHGs now manage the mid-day meal provided in local state schools under a government program. A $197 million World Bank credit is now supporting the third phase of the project that aims to reclaim another 130,000 hectares of predominantly barren and low productivity sodic lands in about 25 districts of the state.
Bank Group Contribution
The WBG has been a long-term development partner with India, supporting the country's efforts to tackle fundamental developmental challenges and build a modern economy. Since the first IBRD loan to the Indian Railways in 1949, it has provided financing, knowledge, advisory services, and technical assistance where and when it was most needed. Over the years, IBRD/IDA/IFC have together supported India with some $160 billion in financing (at 2010 prices)—far more than any other country.
IDA has contributed to improving outcomes in health, education, and rural development, with cumulative assistance totaling close to $45 billion since 1961 (2010 prices). IDA supported India's efforts to tackle polio (there has been no case of polio since January 2011), tuberculosis, leprosy, river blindness, and HIV/AIDS, improving the lives of millions of people and contributing immensely to global efforts to control these diseases. WBG financing (particularly credits from IDA) and technical assistance played a key role in the Green Revolution—a landmark in India's development that freed the country from dependency on food imports, turning it into a net food exporter and helping millions escape poverty. And in education, IDA together with the European Union and United Kingdom's Department for International Development played an important role in universalizing primary education.
As of December 2012, the WBG portfolio in India included 38 IDA and 10 IBRD/IDA blend projects with total net commitments of $9.9 billion. Of these, $4 billion were in the agriculture and rural development sector, with over $1 billion each for education, health and nutrition, transport, and water supply and sanitation. Trust Funds often complement IBRD/IDA project funding; between FY09 and FY12, Trust Funds provided India with $41.7 million of resources.
Partners
IDA has leveraged its resources through closer collaboration with partners. For instance, it has partnered for over a decade with the United Kingdom's Department for International Development (DFID) and the European Commission in the education sector, first on primary education and more recently on improving access, equity and quality at the secondary level. IDA is also co-financing three national operations in health with DFID. Collaboration with development partners (Asian Development Bank and DFID) has been particularly effective in the low-income state of Bihar. In 2007, a joint donor strategy was developed for Bihar, so that the state would benefit from coordinated support based on a shared vision of the government's development priorities.
Moving Forward
The new Country Partnership Strategy (FY13-17) is guided by the Government of India's new "Finance Plus" approach to working with multilateral institutions. The approach lays out how best to use the financing and expertise from multilateral institutions to address India's challenges and places significant importance on the value-added of the WBG's program that goes beyond financing. The government wants Bank support for projects that have systemic or transformational impact, those that help innovate and pilot new approaches, and finally those that introduce innovative financing instruments and leverage resources. The first theme is its increased engagement on urban development and the second is a more pronounced focus on low-income and special category states. The new approach also calls for a more pronounced focus on India's low-income states and special category states (mostly Northern and geographically isolated), where the vast majority of India's poor and vulnerable live. IDA's increased engagement across all sectors in these states will aim to contribute in the medium-term to India's goal of inclusive growth and poverty reduction. The WBG will address the specific development challenges of these diverse states with an integrated, multisectoral approach that focuses on extensive capacity building, technical assistance, as well as analytical work that underpins lending operations. Increased attention to issues related to India's ongoing and massive rural-urban transformation is also an important strategic shift for the WBG.
Beneficiaries
IDA support has helped Tamil Nadu to establish a network of specialist emergency obstetric and neonatal care centers which service the entire population of the state. "I come every two weeks for a check-up and they give me the medicines and supplements I need." Suniti, a young mother-to-be, in the state.
Fully equipped ambulances are now available to rush women from their homes to hospitals, often making a difference between life and death for mothers and their newborns.
"Pregnant women come for ante-natal checkups from the 12th week of pregnancy, with one check-up every month. I deliver babies day or night. I have all the facilities here and can do normal deliveries. If there is a problem, I refer the case to the Medical Officer. If it cannot be handled at the Public Health Center, then they call 108 and refer it to a Comprehensive Emergency Obstetric & Newborn Care (CEmONC) Services," said K.B. Kalaiarasi, Village Health Nurse, Tamil Nadu.