Indonesia: Expanding Access to Clean Water for the Poor
The PAMSIMAS program has helped millions of families enjoy improved sanitation facilities
April 4, 2013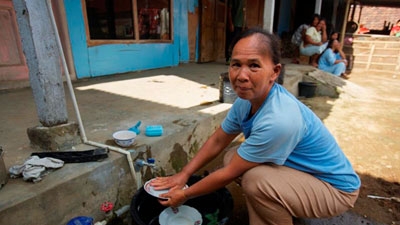 Tapping into global knowledge and local expertise, the World Bank has helped Indonesia's PAMSIMAS Water Supply and Sanitation program exceed its expectations for most indicators related to water, sanitation, and hygiene improvements. As of March 4, 2013, PAMSIMAS has improved water supply access to 4.8 million beneficiaries and improved sanitation access to 5.5 million beneficiaries.

6,833
Villages now enjoy access to clean water and improved sanitation.
Challenge
Over the last three decades, Indonesia has enjoyed substantial achievements in poverty reduction, human development and improvements in service delivery. However, enormous challenges remain. Improving access to safe water and sanitation is a key priority, due to the severe consequences of poor sanitation infrastructure on public health, the economy, and the environment. Of the four most important causes of under-5 mortality in Indonesia, two—diarrhea and typhoid—are fecal-borne illnesses directly linked to inadequate water supply, sanitation and hygiene issues. Difficult access to improved water supply also means that poor households, particularly women and children, spend too much time fetching water. The 1998 financial crisis led to little to no investments in water infrastructure, and the government has struggled to maintain upkeep of existing facilities. PAMSIMAS strives to improve existing facilities and expand sanitation access, through a community-based approach.
Solution
PAMSIMAS seeks to increase the use of water and sanitation facilities, and improve hygiene behaviors, by expanding and mainstreaming the community-driven approach. The project provides grants directly to communities for local water and sanitation infrastructure and technical assistance to enhance the role of the community with capacity building planning, procurement and management, including community monitoring with a web-based complaint handling mechanism. Advisory services and training is also provided for communities to improve their sanitation and hygiene behavior and practices.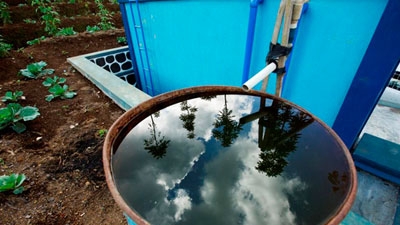 Results
As of March 4, 2013, the number of additional people with sustainable access to improved water facilities is 4,826,595 and with access to improved sanitation facilities is 5,516,847. Approximately 49.83 percent of beneficiaries are women. The scale of the program is being doubled to include an additional 17 provinces and 100 districts. The project's achievements since 2006 are:
Nearly 7,000 (6,833) villages across Indonesia now enjoy access to clean water and improved sanitation.
More than 44.91 percent of target communities have become Open Defecation Free (ODF), in line with the worldwide OD trend rate of 40 to 50 percent.
More than 66.60 percent of communities have adopted hand-washing programs.
The program has freed up the hours women once spent fetching water.
The Complaint Handling System is increasing accountability, with an improvement in case resolution from 70 percent in July 2012 to 90 percent in December 2012.
In terms of capacity building, the program has benefited 3,680 local government personnel, more than 3,827 water boards, and 2,140 facilitators. (in total 17,482 people).
Performance has improved in terms of community procurement and financial management, influencing the community's overall fiduciary capacity.
Water and sanitation facilities are fully functioning in 72 percent of locations, partly functioning in 22 percent, and non-functioning in 6 percent, with a changing shift from the use of public facilities to household connections.

We are so happy that we don't have to eat yellow rice anymore. Thanks to PAMSIMAS, we can enjoy healthy white rice and it tastes really good

Lian Nur
Jambu Baru village in South Kalimantan
Bank Group Contribution
The total cost for PAMSIMAS is US$275.10 million for 2006-2013. The Bank contributed US$135.5 million through an International Development Association (IDA) credit; 92 percent of this amount has been disbursed. The rest of the funds were provided by development partners, including the Australian Agency for International Development (AusAID).
Partners
The success of PAMSIMAS relies on strong collaboration between the three key development partners in the water and sanitation sector in Indonesia: the Government of Indonesia, the Bank, and the Australian government. The World Bank provided US$135.5 million through an IDA credit, complemented by US$46.6 million from AusAID and US$101.1 million from the Government of Indonesia.
Moving Forward
In 2013, PAMSIMAS will be expanded in response to the government's national programs, namely "Water for All" under the management of the Ministry of Public Works, and "Community Based Total Sanitation," managed by the Ministry of Health. The costs of expanding the program will be US$252 million. The Bank will contribute US$100 million, the Government of Indonesia will contribute US$100 million, and AusAID will contribute nearly US$50 million. When the expansion occurs, PAMSIMAS will serve an additional 5.6 million beneficiaries, covering 200 districts in 32 provinces.
Beneficiaries
Before PAMSIMAS, the people in Jambu Baru village in South Kalimantan province could not enjoy healthy and clean rice, because they used unclean river water to wash and cook rice, as well as for other household needs. Jambu Baru resident Lian Nur explained that the water from the Barito village caused the rice to turn yellow, to emit an unpleasant smell, and to taste of river pollutants. "We are so happy that we don't have to eat yellow rice anymore. Thanks to PAMSIMAS, we can enjoy healthy white rice and it tastes really good," said Lian Nur.