Moldova: Improving the City Infrastructure in Chisinau
Investing in water and sanitation services to help the disadvantaged areas of the city
March 28, 2013
As a result of the project, the newly built and rehabilitated water supply and sewerage networks, with pumping stations and treatment facilities, will now provide more reliable and higher-quality water supply and sanitation services to about 80,000 inhabitants, or 10 percent of Chisinau's population. Moreover, about 5 kilometers of the city's main streets have been rehabilitated to handle the most intense traffic flow.

30 km
of a new water supply network constructed, along with 4 pumping stations and 4 wastewater treatment facilities

Challenge
Over the past 20 years, investments in the city's infrastructure have been almost nonexistent. As a result, streets with the highest concentrations of traffic have significantly deteriorated, imposing economic costs on road users and having negative consequences on the city's growth potential and competitiveness. The water supply and sanitation networks required urgent rehabilitation or, in some suburban areas, did not even exist, causing frequent interruptions in service and significant environmental consequences.
The situation was further hindered by the absence of reliable data on the existing networks' layouts, which resulted in poor quality technical designs and estimates that were not realistic.
Solution
One of the lessons learned is that solid technical designs based on reliable data, as well as proper technical supervision, are essential for project success. The International Finance Corporation (IFC) investment, requested by the municipality of Chisinau, includes measures and incentives to improve both.

People will get continuous water. Also, the quality of the water will improve, and that will have a good impact on the population.


Vitalie Midari
Deputy technical director for the water supply project
Results
As a result of the project, the following have been put into operation:
about 30 kilometers of a new water supply network;
4 kilometers of the rehabilitated water supply network;
14 kilometers of a new sewerage network;
4 pumping stations and four wastewater treatment facilities.
Combined, these improvements will provide a more reliable and higher-quality water supply, as well as enhanced sanitation services, to about 80,000 inhabitants, or 10 percent of the city population. The new pipes will reduce leaks and evaporation, saving both water and maintenance costs, as the city currently loses about 35 percent of its water supply to leaks and spills. In addition, about 5 kilometers of the city's main streets that handle the highest traffic flow have been rehabilitated.

This work means there will be no more breakdowns on water. For some people, in the past, the water supply would sometimes shut down.


Histor Grozavu
Chisinau's deputy mayor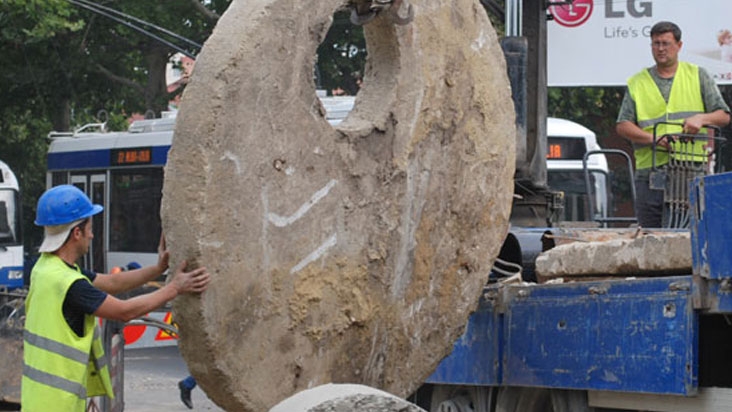 Bank Group Contribution
Long-term debt financing for infrastructure projects is not available from commercial sources in Moldova, and financing from international financial institutions is limited. Thus, the IFC loan of US$10 million is critical to the project, as the municipality of Chisinau would not be able to implement it without access to long-term funding.
Moving Forward
Current IFC investments address only the initial part of Chisinau's longer-term plan to provide more reliable and safer water supply and sanitation services to the city population. The city has requested IFC to consider a follow-up project that would extend the reach of the original project to more areas of the city.