BRIEF
Roma
February 24, 2015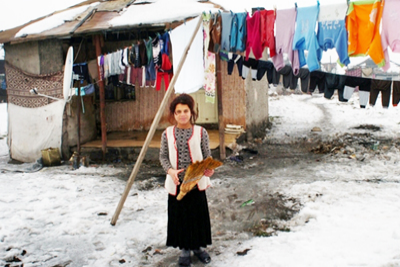 Overview
Roma make up the largest and most vulnerable minority group in Eastern Europe.
Addressing the deep inequalities for the Roma is both a human rights issue as well as smart economics - with young Roma consituting 10-20% of new labor market entrants.
The World Bank Group is engaging with Roma in a number of areas, including policy lessons for inclusion, scaling up best practices, and partnership development.
Background
The Roma make up the largest and most vulnerable minority group in Eastern Europe. Although exact population estimates vary, Bulgaria, Hungary, Romania, and Slovakia have the highest shares of Roma within the overall population in the entire European Union. Roma communities are subject to considerable economic vulnerability, reflecting a complex set of interrelated challenges. In Eastern Europe, for example, 71% or more of Roma households live in deep poverty. Although many of these families reside in highly developed countries they nonetheless have to cope with levels of poverty and deprivation on par with the poorest areas of the world, and face bleak economic prospects due to persistent unemployment and low levels of education. The gap between a Roma family and an average European family broadens every day.
In all Roma households, household members suffer from hunger. The odds of graduating secondary school are 29 percent at the highest, and much lower in some of the countries in the region, especially among girls. In addition, less than half of all Roma men and a quarter or less of all Roma women can find jobs. At the root of these unequal outcomes lies a fundamentally unfair playing field, starting at birth and continuing throughout the lives of most Roma individuals. This spurs a self-perpetuating cycle of unequal opportunities, ethnic discrimination and stifled aspirations.
Addressing these deep inequalities for the Roma is a key human rights issue, but also a smart economic strategy for the countries concerned: with the rapidly aging populations in Eastern Europe, up to 10-20 percent of new labor market entrants in these countries are young Roma. Getting this group into jobs would increase national GDP levels as well as government revenues substantially.
The World Bank Group is working with partner organizations to redress many of the main economic and social issues faced by Roma around the globe. The World Bank focuses on three key areas to address Roma issues in the context of its work on poverty and economic development in Eastern Europe by:
building evidence through data collection, analysis and field work, and provide evidence-based policy lessons for Roma Inclusion;

developing partnerships and strengthening institutions;

scaling up viable approaches and mainstreaming ethnicity into policy;
In all of its work, the World Bank emphasizes partnerships with international and local organizations, bringing diverse interests and stakeholders together. Partnerships have been established with the European Commission, UNDP, UNICEF, national governments, and civil society organizations like the Open Society Institute and REF. Many areas of engagement are also at the heart of Europe's 2020 strategy for Smart and Inclusive Growth.
Results

The Story of Gizi - Queen of the Nomads

Handbook for Improving the Living Conditions of Roma

Promoting Access to Productive Employment for Marginalized Roma




Life-Changing Grants for Kosovo Roma

Educating All Children Equally in Serbia



Including Romania's Marginalized Societies



Empowering Romania's Roma in their Villages




Replicating Roma Success Stories in Bulgaria


RELATED REPORTS:

The Diagnostics and Policy Advice for Supporting Roma Inclusion in Romania

Gender dimensions of Roma inclusion : perspectives from four Roma communities in Bulgaria

Diagnostics and policy advice on the integration of Roma in the Slovak Republic (Vol. 1 of 2)

Diagnostics and policy advice on the integration of Roma in the Slovak Republic (Vol. 2 of 2)
Policy Advice on the Integration of Roma in the Slovak Republic
Kiutprogram social microcredit program: case study (English)
A Good Start (AGS): scaling-up access to quality services for young Roma children: case study of the Roma Education Fund Pilot Project (English)
Toward an equal start: closing the early learning gap for Roma children in Eastern Europe (English)
The Importance of Inclusion
Roma exclusion remains a great development challenge. The vast majority of Roma live in deep poverty. Low skill levels (fewer than 1 in 4 Roma complete upper secondary), coupled with frequent segregation and discrimination, lead to extremely low employment, especially among women. Average labor productivity among Roma is comparable to that of some of the poorest countries in the world.
Including Roma into development is smart economics. While majority populations around Europe are aging and the overall labor force is shrinking, Roma populations are young and growing, already representing up to one-fifth of new labor market entrants in some Eastern European countries, making Roma inclusion a macroeconomic necessity. Furthermore, there is a strong desire for more inclusion on behalf of Roma. Data shows that the vast majority of Roma want to work in steady jobs. A large percentage of Roma parents also want their children to go far in school. As increasing evidence on what can effectively be done to address these issues emerges, a greater and greater opportunity arises to close these gaps.
Since co-founding the Decade of Roma inclusion (2005) and the Roma Education Fund (2005), the World Bank continues to support Roma inclusion efforts through advocacy and evidence based analysis through such initiatives as the Decade of Roma Inclusion and Roma Education Fund.
Areas of Engagement
The World Bank Group aims to be an objective information broker in its engagement with Roma. It aims to conduct and support integrative and constructive analysis, in order to identify the economic and social issues that affect the Roma, and to unravel how these issues are interlinked. It also shares innovative approaches, both from within and from outside the region, which could help address these issues. Through this analytical work, the bank also leverages and informs the involvement of other donors. The World Bank Group and its partners are committed to building evidence and providing sound policy lessons which can lead to actionable change for Roma. As part of this work the World Bank is engaged in a variety of different areas, focusing on inclusion, education, employment, social protection, and other key areas for Roma. Some of the recent work in these areas of engagement includes:
Slovakia: Policy Advice on Roma Inclusion - in 2012, at the request of the Government of Slovakia, the World Bank provided detailed analytics and concrete policy advice in the areas of Employment and Social Protection, Financial Inclusion, Education, Housing, Health, Monitoring and Evaluation, and EU Financing.
Why Closing the Early Learning Gap is Crucial - The majority of Roma parents want their children to go far in school, but the challenges start early. The majority of Roma children in Eastern Europe are not enrolled in preschool, with the exception of Hungary. Comparing Roma children in the same communities with the same socio-economic status, It finds that those attending preschool and benefiting from early stimulation at home are much less likely to be streamed into special primary schools, and are much more likely to complete secondary school. The report provides concrete recommendations to close the preschool gap.
A Comprehensive Approach to Financial Inclusion – The vast majority of Roma want to work, and many are interested in starting a business. A comprehensive approach is necessary that not only enables access to much needed start-up capital but also enables aspiring entrepreneurs to use it in the most productive ways. Financial inclusion reforms around the world are demonstrating that excluded groups can be reached with financial services such as bank accounts and savings targeted at educational investments, financial literacy, and microcredit.
Related Content:

How gender affects life choices among Bulgarian Roma
Smart Economics from the Heart of Europe

Supporting Europe's Roma is good for business