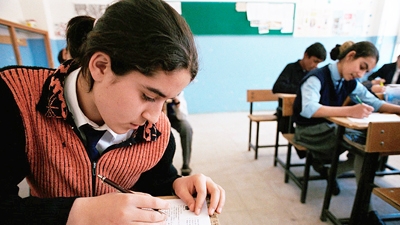 Topic Highlights
Gender gaps are important constraints to the region's growth and income prospects, and for men and women in the areas of economic welfare and social justice.
Due to the aging of region's population, some less apparent gender inequality problems will come to the forefront.
The World Bank is committed to addressing these gender-specific challenges and ensuring that a gender lens is included in its activities to reduce inequalities between women and men.
Gender equality was one of the major achievements of socialist regimes in Eastern Europe and Central Asia (ECA). Though transition has taken its toll on this legacy in some countries, gender gaps in education and labor markets in low and middle income countries of the region are comparable to those seen in high income OECD countries.
But these gaps have not been completely eliminated. They remain key constraints to the region's growth and income prospects, as well as to better outcomes for men and women in economic welfare and social justice.
ECA does suffer from some common gender problems in human capital endowments and economic opportunities. There are "islands" of persistent high gender inequality in human development and labor market indicators, such as in Turkey and among selected minority groups (e.g., Roma). Also, there are concerns regarding lagging male performance in the area of tertiary enrollment rates throughout most of the region and male life expectancy in some Commonwealth of Independent States (CIS) countries.
The ECA region is characterized by a high degree of heterogeneity among countries in gender outcomes. Despite such diversity, countries in the region face some common gender challenges. Due to the aging of the population in ECA, the less apparent (or "second generation") gender inequality problems will soon rapidly come to the forefront.
Firstly, this demographic shift will result in the elderly population being predominantly female (in excess of 60%). Thus, reforming the pension system (including closing the remaining gender gaps in retirement age and wages) and strengthening the safety net for older women who fall outside the pension system will be necessary to prevent widespread poverty among elderly women.


Secondly, a shrinking labor force and falling male labor force participation rates highlight the importance of increasing female labor force participation. This requires addressing constraints such as lack of formal dependent care services (child and elderly care) that discourage women from remaining in the labor force and/or having children.


Thirdly, productivity growth may be restrained by outcomes in quality and quantity of tertiary education. Though women constitute the majority of students in higher education, they are less likely to pursue engineering, sciences, and IT. It is also important to increase male participation in tertiary education.


Finally, women's limited presence in firm ownership serves to exacerbate an already modest level of entrepreneurship in ECA. Women's participation in establishing, and especially in expanding firms is significantly below that of men – representing an unexploited entrepreneurial resource for the region. ECA lags behind other regions in terms of entrepreneurship rates.
In addition to these issues, women in ECA face challenges in a variety of other areas, including: access to finance, land ownership, decision-making in agriculture, urban development and transportation.
The World Bank Group is committed to addressing gender-specific challenges and ensuring that a gender lens is included in its activities in order to reduce inequalities between women and men.
ECA's Regional Gender Action Plan (RGAP) aims to address prevailing gender inequalities in ECA countries. The plan furthers the institutional commitment to inclusive and sustainable development by providing guidance and prescriptions on how to better inform World Bank operations and country-level dialogue. Addressing gender in the operational and analytical work of the region will reflect in more effective project design and implementation. It will also increase the region's capacity to understand how to better serve women and men.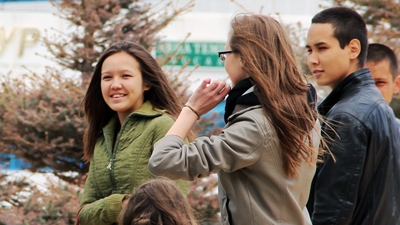 In order to meet its objective, ECA's action plan is built on three pillars designed both to help the region improve its performance and to begin filling knowledge gaps:
The first pillar seeks to ensure that all country dialogue and country strategies are gender informed. The integration of gender issues into the country strategy can translate the policy dialogue into targets and indicators which can be monitored. Additionally, analytical work is an important vehicle for understanding gender issues at the regional, country, and sector levels. Thus, the region has already devoted significant resources to analytical gender work to inform its understanding of gender equality. Some key knowledge products are the gender diagnostic notes and analysis of gender issues as part of poverty assessments, country economic memoranda, and public expenditure reviews.
The second pillar of the RGAP focuses on ensuring that all lending is gender informed. This includes incorporating a gender lens in multiple stages of the project cycle, as well as ensuring that all kinds of activities and products are gender informed. The inclusion of gender in the portfolio means taking into account the different roles, responsibilities and preferences of men and women. Mainstreaming gender in projects begins with having a clear understanding of the direct beneficiaries or the potential impacts on existing gender gaps. The reason for adopting a gender lens is that many times women's—more than men's—specific needs or roles are overlooked. By incorporating gender, the developmental impact of the project can be improved.
The third pillar focuses on data, knowledge generation and innovation products that have a public goods aspect to them—increasing overall information of important issues affecting the region either in part or whole. Notably, availability of gender-relevant data is central to expanding knowledge on gender issues, as well as increasing integration of gender dimensions in project results frameworks. For example, some obvious gaps that exist and limit the integration of gender in projects are in the areas of asset ownership and control, infrastructure utilization, and differential impact of policy reforms. Additionally, studies on specific regional challenges will be conducted to close the knowledge gaps and better inform dialogue and identify potential policy responses. Lastly, new approaches to the inclusion of gender will be undertaken in two ways - in Bank projects, and new stand-alone initiatives via impact evaluations and pilot programs.