East Asia and Pacific Research
Current regulations favor salaried, prime-age males at the expense of women and youth. New report says solid economic fundamentals are first step toward ensuring all people are protected. Read More »
RECENTLY PUBLISHED
POLICY RESEARCH WORKING PAPER

There is a consensus on the need for Thailand to reform its education system to be able to compete with other high performing countries in the region. In terms of learning outcomes, the most recent evidence from ...

BOARD REPORT

An Environmental and Social Management Framework (ESMF) was prepared by Directorate of Water Resources and Improvement of River Systems (DWIR) to cover the environmental assessment process and related social...

BRIEF

China is considering ways to attract additional capital to finance investment in railways. Worldwide, private capital has been attracted to the railway sector through a range of mechanisms including: (i) private ...

POLICY RESEARCH WORKING PAPER

China's national leaders have recently made a priority of changing lanes from a pollution-intensive, growth-at-any-cost model to a resource-efficient and sustainable one. The immense challenges of rapid...

WORKING PAPER

After recording strong growth in the last two years, Philippine economic growth decelerated to 5.7 percent in the first quarter of 2014 (Q1 2014). After many years of slow poverty reduction, poverty incidence ...
Report

Urban population in East Asia is growing twice as fast as the rest of the world. Energy demands and GHG emissions are rising but cities can become global engines of green growth. Read More »
Experts

Chief Economist for East Asia and Pacific and Director of the World Bank Group Singapore Office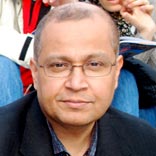 Sector Manager for Transport, Urban and Disaster Risk Management
Report

To sustain economic growth, East Asia's cities need to increase investments in sanitation to at least $250/person annually over the next 15 years. The good news is that investments in sanitation yield high returns. Read More »