More than five years into a painfully slow recovery, high income economies are stirring back into life. Idiosyncratic factors, including weather conditions, have weighed on growth in Q1. But in the three major high-income regions – the US, Euro Area and Japan – there are indications that private spending is beginning to heal, helped by improvements in job markets and progress with balance sheet adjustments which, in the case of the US, have drawn to a close. In the Euro Area and the United States a significant easing in the pace of fiscal consolidation is contributing to the pickup in demand, and business confidence in both remains high (figure 1).
Traditional monetary policy in all three economies remains very loose, though the United States is slowly reducing the scope of its quantitative easing program. In Japan, quantitative easing measures have intensified, while further steps were recently taken in the Euro Area to combat the risk of deflation.
| | | |
| --- | --- | --- |
| FIGURE 1 | Despite some Q1 weakening, business sentiment in Europe and the US signals further expansion | |
Source: World Bank, Markit Economics.
Bad weather temporarily slowed the US recovery
Incoming data in the US suggest that the economy is rebounding strongly after contracting for the first time in three years in Q1, when abnormally cold weather curtailed investment and exports, while firms cut back on inventories. Despite the weakness, more than half a million jobs were added in Q1, with current trends implying that some 2.6 million jobs will be added this year, the most since 1999. This, coupled with reduced fiscal drag, rising household incomes and wealth (stocks are up some 32 percent since the start of 2013) is boosting demand, business productivity, investment and hiring – and is expected to lead to even stronger growth. With deleveraging at an end, consumer lending is also growing at the same pace as in pre-crisis years. Surveys indicate a strong pick up in the second half of the year in business investment, which has so far lagged the recovery.
Nevertheless, although the short-term environment is much improved, medium-term challenges remain. Little progress has been made to bring fiscal policy back to a sustainable path, and, although unemployment is down, participation rates are at record lows raising concerns that workers may suffer from de-skilling and permanent labor market-scarring.
The recovery in the Euro Area remains hesitant
Growth has meanwhile remained tepid in the Euro Area following its exit from recession in 2013Q1, with the currency union growing at a 0.8 percent annualized pace in Q1 (figure 2). In part, the data reflect genuine economic fragility—Portugal's and Italy's economies contracted after pulling out of recession during 2013. But data has also been noisy, reflecting one-off factors that should fade over time, including unusually strong contraction in gas production in the Netherlands due to warm weather, that led to a contraction in GDP, and a VAT increase in France that undermined consumption.
Importantly, soft Q1 data mask signs of strength in Germany, the Euro Area's largest economy and a key source of demand for the rest of Europe. Growth in Germany accelerated to a solid 3.3 percent annualized pace, the strongest in 3 years led by private domestic demand. Euro Area-wide manufacturing and service PMIs also show a broadly-based improvement in activity that is gathering momentum in Q2.
| | |
| --- | --- |
| FIGURE 2 | Economic activity is strengthening from very weak levels in the Europe |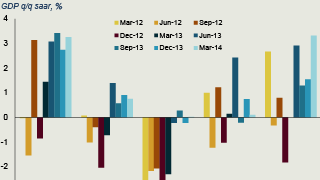 Source: World Bank, Haver Analytics. High-spread countries comprise Italy, Greece, Portugal, Ireland and Spain.
The Euro Area is still in the early phases of recovery. GDP and private consumption spending in some periphery economies remain nearly 10 percent below pre-crisis peaks and investment is 40-50 percent lower in Spain, Portugal and Ireland. To date the recovery in the periphery has been driven by exports, reflecting competitiveness gains earned painfully through weak or even negative wage growth that have brought down unit labor costs. Competitiveness gains continue to remain strong, supporting underlying activity. Encouragingly, there are signs that the labor market may be bottoming out, with unemployment rates throughout the Euro Area beginning to inch down, albeit from extremely high levels. Financial conditions have also eased considerably, reflected in the fall in periphery sovereign debt spreads to pre-crisis lows.
In addition to substantial progress in restoring fiscal balance within the Euro Area, the establishment of a pan-European banking supervision regime and bailout rules represent important achievements. However there is some way to go before full backstop measures are in place to cope with large-scale banking sector distress. Bank lending also continues to contract, although this weakness partly reflects a transition from a loan-based financing model to increased use of bond markets as an alternative source of financing for the corporate sector (ECB, 2013). Persistently low Euro Area-wide inflation also remains a concern (figure 3), complicating the task of dealing with high public debt burdens and still high levels of private sector indebtedness in some periphery economies. As a result, the ECB loosened monetary policy substantially in June, via cuts in its benchmark rate and a substantial injection of liquidity and credit easing measures including a Targeted Long Term Refinancing operation (TLTRO) in a bid to restore bank lending to households and firms (see box 1).
| | |
| --- | --- |
| FIGURE 3 | Inflation and unemployment trends are on divergent paths across the major economies |
Source: World Bank, OECD, ECB, Consensus Economics. *2014 Q3 and 2015Q3 estimates are from Consensus Economics. ** NAIRU refers to non-inflationary rate of unemployment: 6.1% in US, 9.1% in Euro Area and 4.3% in Japan.
In Japan, spending in advance of the sales tax increase boosted Q1 growth but will eat into Q2 outturns even as structural reforms get underway
Japan's economic cycle remains out of sync with other high income economies, reflecting domestic policy factors. The extremely strong acceleration in Q1 GDP (to 5.9 percent annualized) reflected a one-off front-loading of demand by consumers before the April sales tax hike, and extremely strong business spending which may also have been influenced by the tax increase. Business confidence indicators slid sharply in April but have since slightly recovered, suggesting activity is stabilizing.
The structural reform agenda—necessary for boosting productivity and potential growth—has begun to advance. Special economic zones, where business and labor regulations are to be eased, have been announced covering 38 percent of economic activity and corporate tax reforms are expected to be announced in June, which should help boost investment.
Nevertheless, the near term outlook remains challenging. Fiscal drag from the April tax increase will likely slow growth, although the effects of this will be partially offset by the fiscal and monetary stimulus which is currently being implemented. Finally, over the medium-term, the pace of growth will depend on how successful structural reforms are in increasing productivity growth and investment and in mobilizing labor supply.