The monetary policy tightening induced by the volatility of the past year generated a welcome tightening in the stance of monetary policy in many developing countries, which, by restraining domestic demand, helped diminish both internal and external imbalances.
Policy tightening contributed to a slowing in the pace of real credit growth in East Asia (Thailand, Indonesia, Malaysia and China) and in Brazil as well as in smaller economies such as Armenia. However, adjustment remains partial and credit continues to expand very rapidly in Turkey, and available data show no significant slowing in South Africa. This trend seems to have reversed in May when a number of countries, including Turkey, Hungary, Armenia, and Serbia cut policy rates. Overall, and despite what have been some substantial rate hikes in some cases, real interest rates in many developing countries remain very low and even negative in some cases (figure 20).
| | |
| --- | --- |
| FIGURE 20 | Despite recent rate hikes real interest rates remain low in many countries |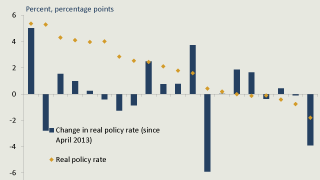 Source: World Bank, Haver.