FEATURE STORY
Hacking Local Challenges in Myanmar
August 22, 2014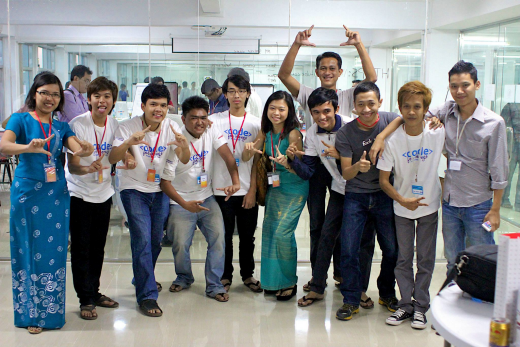 Story Highlights
As Myanmar lags far behind its neighbors in Internet penetration, the World Bank is striving to help improve access and local innovation
Earlier this year, a Bank-sponsored hackathon convened a portion of the country's technology community to solve practical problems
This event is the first-ever hackathon in Myanmar, helping to continue and expand its "connectivity revolution"
Information and communication technologies hold enormous potential to transform countries, strengthen economies and tackle poverty. But in order to catalyze that change, citizens first need to be connected to those technologies, and then begin to create an ecosystem that encourages entrepreneurship and collaboration.
For many years, Myanmar has struggled to gain its technological footing. In 2013, the country had the third-lowest Internet penetration rate in the world: just 1.2 Internet users per 100 people, far behind the neighboring countries of Thailand (28.9) and China (45.8). The World Bank is helping address this challenge, pledging $31.5 million in February to help Myanmar expand telecommunications access, improve quality and lower costs.
However, infrastructure is just part of the solution; transformative potential also requires gathering a community to develop the tools that will drive positive change. That's why, in March, the World Bank partnered with Code for Change Myanmar, Internews and Ooredoo to hold the country's first-ever "hackathon."
Hackathons are events that empower developers, designers and entrepreneurs to meet and work together – typically over a short amount of time – to find and build solutions to specific social challenges.
"Myanmar is on the cusp of a revolution in connectivity," explained David Madden, founder of Code for Change Myanmar. "The purpose of this hackathon is to help the technology community use its skills and talents to solve practical problems in Myanmar."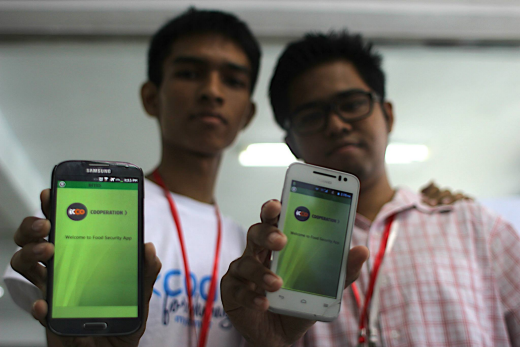 Six non-governmental organizations submitted eight challenges they're facing in their work throughout the country. Then, over the course of an intense 48 hours, the hackathon brought together 76 young innovators to address these issues, including how to use mobile technology to:
Help women manage birth spacing;
Reduce the spread of HIV/AIDS; and
Translate important educational videos into the languages used in Myanmar.
The winning team, "NilBug," built an Android-based app to help farmers share and receive alerts about nearby agricultural pests and diseases. Team members had just three minutes to demonstrate their product to a judge's panel of veteran technology and development experts.

Ko Arkar Min Aung, the presenter for "NilBug," said that the team's success stemmed partly from their familiarity with one another.
"We have known each other for a long time. We subconsciously formed a team as soon as we heard about the event. We just had fun like we always do; we coded day and night. It was the power of team."
When asked why his team chose the agricultural challenge, Ko Arkar answered: "Light bulbs went off in our heads, with different cool ideas like using GPS fetched from mobile phones and group chat discussions. It was a great chance to apply our skills and address important problems in Myanmar."
With the success of this first hackathon, Code for Change Myanmar is planning a second event in early September, focused on business solutions to help the country's small and medium enterprises benefit from the "connectivity revolution."
"We've seen around the world how technology can be used to lift people out of poverty," said Tenzin Norbhu, Senior ICT Policy Specialist for the World Bank. "We hope this event can show the potential of technology to help with development in Myanmar."