FEATURE STORY
Africa in China: New Knowledge-sharing Effort Kick-starts Collaboration in Agricultural Productivity
July 28, 2014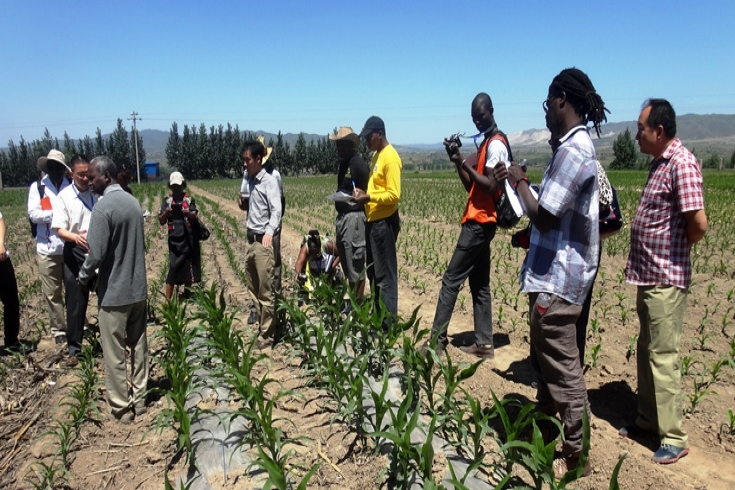 STORY HIGHLIGHTS
Yields on African farms are one-third those achieved by Asian and Latin American farmers
African farmers, policymakers, scientists and others recently visited China to learn from that country's successes in the agriculture sector
China's transformation is due to political commitment, investments in capacity building and technology generation, and land tenure reform
WASHINGTON, July 28, 2014—Stories about "China in Africa" abound, and regularly make headlines. Now, thanks to a new push, an "Africa in China" narrative has begun to take root with a group of 40 African farmers, equipment producers, policymakers, scientists and researchers visiting China. Their objective: see first-hand that nation's legendary successes in transforming its agriculture sector, including attaining food self-sufficiency, for adaptation back home in Africa.
The numbers are compelling, and speak both to the severity of the challenge facing the agriculture sector in Sub-Saharan Africa (SSA) as well as the opportunity for transformational change.
Currently, because of low technology, lack of irrigation and power, African farmers are able to provide only five percent of all cereals consumed on the continent. Yields on African farms are one-third those achieved by Asian and Latin American farmers. Thailand exports more food products than all SSA countries combined. In comparison, China is a remarkable success story: it feeds over 20 percent of the world's population using only seven percent of the arable area. To unlock the untapped potential of African agriculture, greater Africa-China cooperation is vital.

We are taking a continental approach to achieving transformational change in Africa's agriculture sector.

The knowledge exchange, billed as a "South-South" sharing of experiences, brought the African visitors to the Chinese Academy of Agricultural Sciences (CAAS), China's pre-eminent agricultural research and development agency.
"We came to see, to listen and to learn from China's remarkable success story in meeting the food needs of its people," said Francis Wachira, Deputy Executive Director, Association for Strengthening Agricultural Research in Eastern and Central Africa (ASARECA). "What became clear to me and my fellow visitors is that China's achievement did not come from a single intervention or overnight results. Rather, it is the result of decades-long commitment to bringing the benefits of modern science to the rural economy and clear recognition at the highest levels of government about the potential of agriculture to alleviate poverty and improve people's lives."
China's dramatic experience in scaling up agricultural technologies along the value chain – with a focus on rice, wheat, maize, vegetable production as well as conservation agriculture technologies – and the associated use of small scale mechanization is a remarkable achievement. The African visitors were impressed by the rapid evolution of the agriculture sector in China which experienced a profound transformation in less than 30 years due to strong and sustained political commitment, significant investments in capacity building and technology generation, and land tenure reform.
The tour featured visit to research fields, in-depth discussions with CAAS scientists and researchers, many of whom are grappling with the same set of issues as the African visitors. All the visitors are involved in implementing the three regional agricultural productivity programs financed by the World Bank -- WAAPP, EAAPP and APPSA – which support agricultural research and technology dissemination across 19 African countries.
Toward Transformational Change
The study trip grew out of a series of discussions on possible Africa–China partnerships. An earlier visit to China in 2013 by Makhtar Diop, Africa Region Vice President led to discussions between the Bank, sub-regional African agriculture R&D organizations and project counterparts about possible areas of collaboration. Chinese and African partners thought China's experience in technology development and adaptation within smallholder agricultural systems would be particularly well suited for sharing lessons of experience.
Following the signing of agreements between the Chinese Academy of Agricultural Sciences and ASARECA, Center for the Coordination of Agricultural Research and Development in Southern Africa (CCARDESA) and West and Central African Council for Agricultural Research and Development (known by its French acronym, CORAF) – the three sub-regional organizations that facilitate implementation of the regional Bank projects – the first 10 day South-South learning and knowledge-sharing sharing event was launched.
"We are taking a continental approach to achieving transformational change in Africa's agriculture sector," said Severin L. Kodderitzsch, Practice Manager for Southern Africa in the new Agriculture Global Practice. "We were delighted that representatives from the three sub-regional organizations leading the agriculture-for-development charge in Sub-Saharan Africa took part in the study visit which will be helpful for a new push to disseminate knowledge and ideas gleaned on the trip."
Participants identified a large stock of technologies which can be adapted and transferred to Africa and discussed the way forward for collaboration with China. In his closing remarks, Professor Zhang Lubiao, Director of the Department of International Cooperation of CAAS commented on China's strong interest in seeing this collaboration continue through different ways. He said that, as one example, a concrete next step would be to implement a capacity-building program to train young African scientists in agronomy at the Graduate School of CAAS.
"The study visit turned out to be a two-way exchange benefiting both parties," said Abdoulaye Toure, Lead Agriculture Economist, Agriculture Global Practice and Task Team Leader of the West Africa Agricultural Productivity Program. "It helped Africa to learn from China and for China to learn from Africa."
The visit concluded on June 13, 2014.