FEATURE STORY
Afghanistan Moves to Connect Afghans with Each Other and with the World
January 10, 2014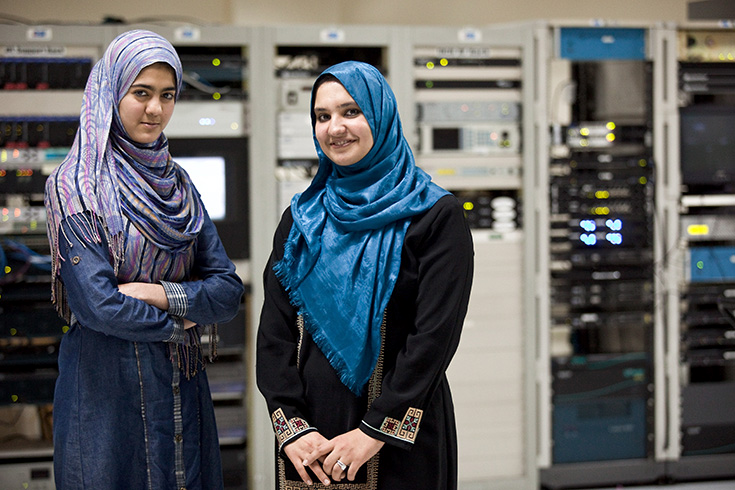 STORY HIGHLIGHTS
Use of mobile phones and Internet services is increasing dramatically within a short period in Afghanistan thanks to several initiatives to update the country's communications and IT capabilities.
Projects, supported by the World Bank and the Afghanistan Reconstruction Trust Fund (ARTF), are expanding connectivity as well as building capacity in the public and private sector to use ICT.
Mobile phone subscriptions alone cover well over 60 percent of the population.
KABUL, Afghanistan – The phone on Wais Payab's desk is ringing, and so is his mobile. An ironic smile spreads across his face as the 33-year-old director of technology and innovation for Afghanistan's Ministry of Telecommunications and Information Technology juggles two calls between incoming SMSs and email.
"Sorry, I guess this is my fault a little bit," says Payab with an apologetic grin. "My work makes it easier to reach people in my country now."
This wasn't the case just 10 years ago. Three decades of conflict left Afghanistan far behind during the global communications revolution. In 2002, there were fewer than 60,000 phones in use across the country.

"We went from almost zero to the modern age here in no time. This is an incredible, dramatic change for our country."

Wais Payab
Director of Technology and Innovation, Ministry of Telecommunications and IT
By 2010, mobile phone subscriptions alone connected more than 13 million people and covered at least 60 per cent of the population. Internet services are expanding as well, and a wide range of other IT improvements are underway.
"We went from almost zero to the modern age here in no time," says Payab. "This is an incredible, dramatic change for our country. We've been very fortunate to have the World Bank and the ARTF supporting us for so many key projects."
Since 2003, the World Bank has funded numerous initiatives to help update the country's communications and technological capabilities. First, under the Emergency Communications Development Project, at a cost of some $24 million, connectivity was established between all 34 provinces. Voice, internet, fax and video conferencing facilities were created for all provincial capitals.
Under the ARTF support, microwave links to the eastern provinces and Pakistan were created at a cost of $2 million, a satellite earth station was built in Kabul, and new billing systems were supported.
More private sector participation
In 2011, the World Bank approved a further grant of $50 million for the Information and Communications Technology Development Project (ICTDP), run by the Ministry of Telecommunication and Information Technology. The ICTDP is further expanding connectivity and linking the central and northeastern provinces to the country's existing fiber optic backbone, which already connects 20 provinces and most neighboring countries.
ICTDP is also supporting a service delivery platform for mobile 'e-Government' initiatives, running an innovations support program, enrolling about 1,500 young IT professionals in a skills development program, and providing intensive training to public officials.
Also key to the country's progress is the international community's support for the creation of policies, procedures, and regulations for the mobile sector and IT industry, enabling more private sector participation. Already, the market has four mobile phone companies and seven internet service providers. State-owned Afghan Telecom operates fixed and mobile phones, internet, domestic and international networks. The aim is to develop a sustainable system with Afghan Telecom already generating revenue.
"Since the beginning the World Bank has supported us in so many ways, so now we are standing on our own feet," says Gul Ahmad Rastman, Afghan Telecom chief executive officer and president. "For this, we are very appreciative."
Another figure at the helm of these changes is Baryalai Hassam, deputy minister, technical, for the Ministry of Telecommunications and IT. "I can't even compare these times to before 2002. It is like another world," says Hassam. As a child, Hassam remembers only a few pay phones scattered around Kabul city. "There were always very long queues, and you couldn't even call outside Kabul," he says. "Back then, there was no communication system in place in Afghanistan. Our people went hundreds of kilometers, even to neighboring countries like Pakistan and Iran, when they wanted to talk with relatives. Now everything is possible with mobile phones and computers."
"We are bringing development to our country, changing the lives of people and creating a new society," says Hassam
Support for innovation
Preparing for an important role in that new society are Spozhmay Ikhlas, 22, and Somaya Mahbooby, 20. Both are fourth year computer science students at Kabul University who recently took part in a three-month IT skills development program for young professionals. They are members of the first group of 450 participants who attended classes run by private contractors to develop a pool of skilled, qualified IT specialists in Afghanistan.
Clutching her cell phone as she chatted, Somaya couldn't imagine the world without advanced technology. "It would be so boring and difficult."
Spozhmay says she is determined to use her IT skills to help her country because "when there is no communication, you can't reach out and solve problems. With technology today, we can all share knowledge and ideas very easily."
Originally from southeastern Paktia province, Spozhmay says she frequently phones her cousins and other relatives there. "We could not do this before, but it is very important because I can't go to them but we can still communicate and know they're okay."
Meanwhile, at the National Data Center, Payab is overseeing development of the e-Government initiative aimed at streamlining and sharing infrastructure by various ministries, and using mobile phone applications to broaden their reach and improve public services.
Eventually, Payab hopes new mobile applications might issue SMS alerts about polio inoculation clinics, weekly advice on pre-natal care for pregnant women, or crop disease tips for farmers. "We are hoping to have 10 new apps up and running later this year, and they should be very exciting," promises Payab.
In addition, the Innovations Support Program is running a competition for Afghan citizens to submit innovative ideas and solutions for nine government challenges. A winning idea will receive a $2,000 prize, while a solution could net $5,000. One challenge involves using mobile phone technology to get Class 12 exam results to students in remote villages, says Payab.
"We are trying to encourage our people to think innovatively and help us with these developments," says Payab, who spent his early career in Pakistan and the United Kingdom. "This is why I came back to Afghanistan because it is like a green field here with so many possibilities. If we put the cornerstones in the right places, we should have a very bright future."