FEATURE STORY
Mexico City Open Database Improves Transit Efficiency, Helps Commuters
November 5, 2013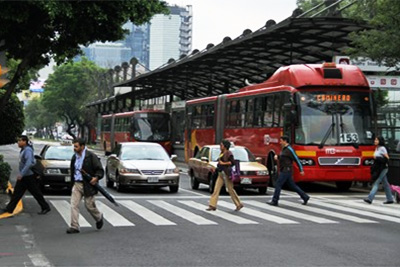 STORY HIGHLIGHTS
Mexico City mobilizes urban transport data
Open-source system saves travelers time and money
Data management sharpens transit planning
Mexico City residents make 32 million vehicle trips a day, of which over 20 million are via public transport. These use 12 subway lines, four rapid transit lines, eight trolleybus and light rail lines, a suburban rail line, a hundred formal bus routes and over 1,400 "colectivo" minibus routes, along 260 public bike stations.

Since the 1970s, five separate agencies have supervised this network, grouped under SETRAVI, Mexico City's public transit authority. And although each agency has made attempts to collect and store data on passenger counts, route licenses, travel times, and stop locations, these data have never been assembled in one place.

Until today, there has never been an integrated transportation map of Mexico City, meaning the public-transit user is faced with a range of individual services rather than one system.


Maria Catalina Ochoa
World Bank Urban Transport Specialist
Maria Catalina Ochoa, a World Bank Urban Transport Specialist, said the lack of centralized data has limited SETRAVI's ability to coordinate different modes of transport and has prevented transit users from planning seamless trips.

"Until today, there has never been an integrated transportation map of Mexico City, meaning the public-transit user is faced with a range of individual services rather than one system," Ms. Ochoa said.

In November 2012, the Bank's Latin America and Caribbean Transport Unit—with support from the Energy Sector Management Assistance Program (ESMAP)—began providing SETRAVI with technical assistance to develop a new digital platform to collect and manage urban transport data. This new system is built to the General Transit Feed Specification (GTFS), the de facto standard for cities in recording transit data.

GTFS, created in 2005 by Google and the US city of Portland, Oregon., is an open standard that can be shared and used by anyone. It enables the collection, storage, publication and updating of information on transit routes, times, stops and other important public transport data.

Representatives from each transit agency were enrolled by SETRAVI to crisscross the capital, using TransitWand, an open-source app on their mobile phones, to collect real-time data such as routes, speed, location of bus stops and frequency of train departures. The data collected were then fed into a data management portal and converted into GTFS.

Despite its simplicity and ease of use, there was one major hurdle to adapting GTFS for Mexico City. The standard was too rigid to incorporate data related to non-scheduled services such as the thousands of colectivo minibuses traversing the city. As such, another objective of the World Bank scheme was to pilot a "GTFS-Lite" specification that could measure forms of transport that operated with flexible routes and stopping points.

With "GTFS-lite", Mexico City's urban planners have access to comparable data on minibuses. This helps them visualize route configurations to determine where best to add or eliminate services, how to plan for integration with more structured transit services, regulate and improve service, and plan for the longer-term future.

Mexico City's GTFS data have been made public, so that third party software developers can use them to innovate and create applications—such as trip planners and timetable publishers—that can be used on smartphones and other devices.

The GTFS feed for Mexico City will also help the city's transit agencies develop practical open tools. For example, a real-time tracking tool that informs users of disruptions in the system and provides route change options has already been developed with World Bank assistance.

Millions of transit users will soon be able to use these applications to make better-informed trip choices, avoiding long waits at bus and train stops. This will help raise awareness about the benefits of public transportation, Ms. Ochoa said.

"When combined with census and land use data," she added, "they enable governments to consolidate transit routes and better match demand and supply.

SETRAVI joins more than 500 transit agencies around the world using and benefiting from similar open software systems. The GTFS and the applications it enables are saving Mexico City time and money that would otherwise be put into software development. The GTFS project in Mexico City is already being considered in other Mexican states, and is serving as a pilot for cities in other developing countries.