FEATURE STORY
World Bank Tool: A Systematic Solution to Land Governance
September 24, 2013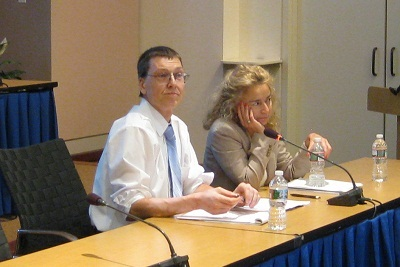 STORY HIGHLIGHTS
The Land Governance Assessment Framework uses 21 governance indicators to help policy makers evaluate and benchmark progress.
The Bank has helped 20 countries complete the assessment, and some countries have begun to use it to monitor progress
Land rights and institutions are key to improving development outcomes.
The food crisis and spate of large land purchases in recent years have highlighted the importance of land governance in development. Without a well-functioning land sector, smallholder farmers and women can lose their land. Good land policy, on the other hand, can boost a country's economic growth, foster social development and protect vulnerable groups, as well as the environment.
"But how can we do it, especially considering that most of the world's poor in rural areas already face various challenges, such as the lack of efficiency, the threat of urbanization and ineffective transportation systems?" asked World Bank Research Director Asli Demirguc-Kunt. "It's time to take a systematic look."
Klaus Deininger, a land expert and lead economist in the Bank's research department, did exactly that on Sept.5 at the Policy Research Talks Series, a monthly event by the World Bank's research department that aims to foster a dialogue between researchers and operational colleagues.
Before a standing-room only audience of more than 100 people at the Bank's headquarters, Deininger discussed possible ways to tackle land governance. Rwanda's low-cost land registration system, for example, helped foster investment. Ethiopia's reform allowed widows to secure their land rights. India's computerization of land registries expanded credit disbursements in urban areas. In China, amid an urban expansion, his team is working with the government to award rights to farmers, so they will gain, rather than lose out, in the process.
One important tool that has gained traction on the ground: the World Bank's Land Governance Assessment Framework, which uses 21 governance indicators in five key areas to help policy makers evaluate and benchmark progress and design land reforms.
The principles are simple. There should be laws – and institutions – that recognize existing rights, and land policies should be clear, equitable and inclusive. Land-use planning and taxation should provide benefits to the public at large, and state land should be acquired – or disposed of – in a transparent process that protects existing rights. Land ownership information should be comprehensive, accessible and reliable. Interested parties should have access to institutions that effectively manage conflicts and disputes. Large-scale land transfers should benefit the local economy.

Land rights and institutions are critical to development outcomes, and governments are realizing the importance of equity and sustainability amid land appreciation, urbanization and weak public services.

Klaus Deininger
Lead Economist, World Bank Research Department
In the last two years, five countries participated in the pilot and 10 more completed the assessment. Currently, 15 countries are undergoing the assessment. Each country-based systematic assessment, which is often carried out by the Bank's country offices, takes four to six months, with technical support from Deininger and his team, who designed it based on years of research. The ranking is determined in a participatory process by panels of relevant stakeholders, based on background information provided by expert investigators and a country coordinator. Low rankings will lead to policy recommendations for improvement.
So far, the results have been promising. Georgia, which tops the World Bank "Doing Business" survey, conducted an assessment in 2011. The fact that the country completely transformed its land registry in less than a decade shows how much progress is possible under a determined leadership. Meanwhile, there is still room for improving land governance. The technical nature and broad backing of the Land Governance Assessment Framework made it possible for the recommendations to be adopted by the new government. Reforms include lower registration fees, a program to survey and register state-owned land to allow the recognition and transfer of rights to users, and improvements in valuation to increase local governments' tax base.
In the Philippines, an assessment earlier this year highlighted progress in key areas, such as recognizing indigenous and community tenure. But few local governments have established land-use plans that would allow land owners to make the best use of their land. That undermines incentives for tax collection and the use of services financed by such taxes, rather than discretionary incentives, to attract investment. The government decided to set up an informal working group to help implement policy recommendations for policies that boost not only efficiency but equity. For example, it is launching an initiative to allow beneficiaries from redistributive land reforms to get individual, rather than group, title to their land, so they can obtain credits and participate in formal markets.
In Nigeria, where an assessment was conducted in 2011, the government set up a Presidential Technical Committee to revise the country's outdated land legislation. The law, adopted in 1978 under military rule, weakens governance by centralizing control of land among state governors. It is also implementing projects to map and register land in rural and urban areas as a precondition for empowering women, unleashing investment and facilitating more urban expansion.
The Land Governance Assessment Framework highlights the complex and multi-dimensional nature of land issues that cannot be solved by simple fixes, but it also shows that progress is possible. Good examples can be found in every area that can provide the basis for South-South learning and exchange, Deininger said. "Land rights and institutions are critical to development outcomes, and governments are realizing the importance of equity and sustainability amid land appreciation, urbanization and weak public services," he said.
Somik Lall, lead urban economist in the bank's Urban and Disaster Risk Management Department, said Deininger's work has been influential in the policy world. "Getting land evaluations right is the most important issue," he said. "Land governance is more effective when land use and infrastructure are integrated."