FEATURE STORY
Removing the Smoke from Making Tortillas in Central America
September 13, 2013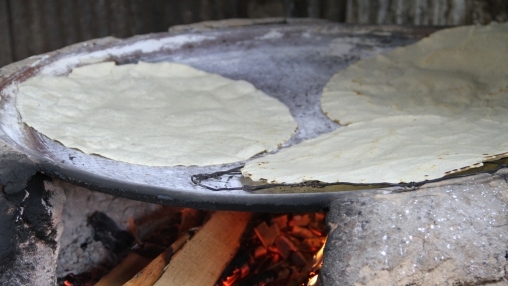 STORY HIGHLIGHTS
20 million people, nearly half the population in Central America, use firewood and polluting stoves for cooking
WHO estimates nearly 37,000 premature deaths per year due to household air pollution in the region.
To provide clean cookstoves to all four million homes affected requires an investment of $600 million and an approach that integrates health, energy, gender, environmental dimensions.
In Central America, making tortillas on a plancha (flat griddle) over a smoky fire is a way of life. Typically, women spend nearly four hours a day preparing tortillas, frijoles (fried bean paste), and guisados (stew) for their families, routinely inhaling air pollutants from burning firewood.
The consequences are deadly. Every year, 37,000 premature deaths are caused by household air pollution. Women and children are most affected. This kind of pollution is linked to pneumonia in children, low birth weight, impaired cognitive ability, and chronic lung disease in women.
According to the World Health Organization (WHO), household air pollution is one of the top five risk factors causing premature deaths and illness in Guatemala, Honduras, and Nicaragua where nearly 86% of firewood users in the region are concentrated. This indoors pollution is a global problem, especially acute in low-income countries; worldwide, 2.8 billion cook with biomass, and about 4 million die prematurely as a result.
Why most families don't use improved cookstoves?
A new World Bank-ESMAP study, What Have We Learned from Household Biomass Cooking in Central America recommends a regional approach to solve the problem. How? By promoting the use of improved cookstoves. Such stoves are designed with a more efficient combustion chamber, reinforced plancha, and a chimney. With proper use and maintenance, they produce less or no smoke, use less firewood, and are better looking than traditional stoves.
However, less than 10% of the 20 million Central Americans, who rely on firewood, use improved cookstoves. Not everyone can afford one. Typical costs range between $60-160, too much for more than half of the 40 million who live on less than two dollars a day and almost a third who live on less than $1.25 a day. In contrast, a traditional cookstove costs about $3-10.
An improved cookstove in most parts of Asia or Africa costs about $5-20, but the design will not suit the unique demands of a large surface area for placing multiple pots and making tortillas.
Liquefied petroleum gas (LPG) is not a viable option for many of the poor either. Except El Salvador, no other country in the region offers subsidies to household LPG consumption. In rural areas, LPG is not always available due to poor road conditions.
Potential fuel savings from an improved cookstove are not always an incentive for families with easy and free access to firewood. Families view smoke as a nuisance but often don't consider the associated serious health risks in their choice of cookstoves. Further, local clinics may not be capable of communicating the negative health impacts of smoke.
The issue is larger than cooking solutions for families. It involves public health, gender, education, and environmental management.

We are striving to clear the smoke over the planchas in Central America

Ede Jorge Ijjasz-Vasquez
Director for Sustainable Development Department of the Latin America and Caribbean Region of the World Bank
How effective have interventions been?
Central America has set a target to provide one million improved cookstoves by 2020. However, this only addresses a quarter of the problem. In Central America, four million of these stoves are needed to provide universal access to clean cooking to all 20 million people affected. Assuming a cost of US$150 per stove installed (including production, distribution, training, certification and promotional campaigns), universal access would require an investment of $600 million.
A new generation of stoves is available in Central America with improvements in design and performance. Many potential users, however, are not aware that such stoves exist. Some early adopters lost confidence when faced with poor quality stoves.
"Quality control for these new improved cookstoves is at a nascent stage." Timothy Longwell of Zamorano University in Honduras, who directs the only certification lab for cookstoves in Central America, says, "We have tested over 13 stove models, and plan to do more. Testing is currently done on a voluntary basis. It is critically important not only for the manufacturers, but also for the consumers who deserve to know what they are buying."
Myriad isolated local efforts were made over the last 10 years to disseminate improved cookstoves. But the lack of coordination, user awareness, quality control, and financing has not resulted in large-scale adoption.
What should be done to achieve universal access?
The World Bank is now leading an effort to develop a regional stove program in collaboration with the Regional Integration Entity (SICA) and country governments. Ede Jorge Ijjasz-Vasquez, Director for Sustainable Development Department of the Latin America and Caribbean Region of the World Bank, says: "Cookstoves were considered an understated development issue for the region. Not any longer. We are working closely with the countries and the ESMAP Sustainable Energy for All (SE4ALL) technical assistance program to seek solutions head-on. We are striving to clear the smoke over the planchas in Central America."
A regional approach was endorsed by Central American countries. Mrs. Lorena Lanza, Vice Minister of Energy and Mines of Nicaragua remarked in a regional workshop that took place recently in Managua, Nicaragua: "We shall take advantage of potential synergy among SICA countries in acting together to formulate a regional action plan and overcome the challenges to universal access to clean cooking solutions."
With awareness campaigns that show how improved cookstoves can help households live healthier lives, financing assistance, and an integrated regional approach, Central America can eventually enjoy tortillas without the smoke.