FEATURE STORY
Watching Over Rio de Janeiro
April 2, 2013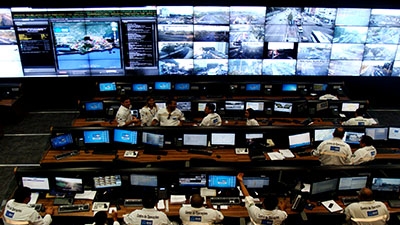 STORY HIGHLIGHTS
At the city's Operations Center, controllers monitor weather and traffic patterns as well as public services delivery.
At Brazil's second largest city, they stand ready to respond immediately to an emergency.
The World Bank and the City of Rio work together to improve early warning systems as well as to develop policies to prevent and manage disasters.
They are not tourists. They are far from the conspicuous and towering Christ the Redeemer. But every day, these 400 men and women have the chance to see Rio de Janeiro like nobody else.
From a single room, they keep a close watch over Rio and its more than 6 million inhabitants. On an 80 square-meter screen they can keep track of much of what is going on in the city at one time, from traffic to emergency calls to waste collection.
Located just 2 minutes away from City Hall, the room is the heart of the Operations Center, which works 24/7 on monitoring life in the city.
Controllers, members of the police force, the fire department, public utility companies and other public institutions, share shifts monitoring videos captured by 900 cameras installed all over Rio.
Physical Integration
If there is an emergency, the controllers are able to easily communicate and coordinate a response. "The operations center enables both a physical and a logical integration of public services," says Pedro Junqueira, the newly appointed chief operations officer at the Center.
"Additionally, from the press room, local journalists can spot and immediately broadcast any relevant information, which helps citizens plan their daily activities," he explains.

A city as dynamic as Rio must also be resilient

Pedro Junqueira
Chief operations officer at the Center
Early Warning and Resilience
From the operations center, opened in December 2010, controllers can also forecast rain and determine whether it poses a threat to dwellers in risk areas, often located in poor favelas or slums.
They rely on a weather radar with a 250km range, on over 100 rain gauges, and on an early warning system that is already operational in several poor areas – the Alemao Community among them.
Whenever rainfall reaches 40mm in an hour, sirens wail and text messages are sent to trained community leaders. This technology helps evacuate the areas most prone to landslides and prevent tragedies, such as the one that took place in 2010 at Morro dos Prazeres, killing 34 people.
Beyond more immediate weather phenomena, the city is also focusing on developing comprehensive policies to prevent and manage disasters for years to come. "A city as dynamic as Rio must also be resilient," says Junqueira.
As the city gears up to host major sports events – the 2014 soccer World Cup and the 2016 Summer Olympics – the Operations Center and the controllers' eyes will only become more pivotal.