FEATURE STORY
Manju's Story: Struggling for a Better Life
March 11, 2013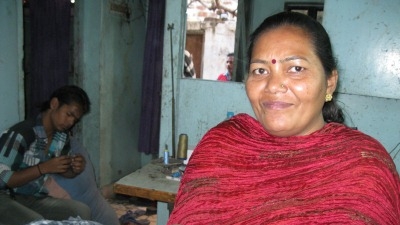 STORY HIGHLIGHTS
Good jobs are the best form of inclusive growth as growing numbers of young people move off the land into towns and cities in search of jobs and opportunity. Most have to take informal-sector jobs, with low incomes, little protection, and no benefits.
With 8 million young people entering the labor force each year, providing the right quality of education and creating the jobs that are needed to meet soaring aspirations are critical for India's growth.
The story of Manju Verma, a fledgling entrepreneur in the city of Kanpur, Uttar Pradesh, sheds light on some of these challenges.
Manju Verma grew up in Gwaltoli, a poor neighborhood in Kanpur, a textile town in Uttar Pradesh, to which her forefathers moved when the old cotton mills flourished and plenty of good work was to be found.
The twists and turns of fate have seen her return to the city, when her father brought her home, battered and broken at the hands of a drunken and abusive husband whom she had wed in an arranged marriage. Just 18 when she returned, she was, by then, the mother of a baby daughter.
Now 41, Verma is carving out a new life for herself and her 23-year-old daughter by setting up a small business of her own, a cog in the wheel of the large tailoring chains that flourish out of tiny workshops in a multitude of modest homes across the city.

The poor never have it easy. They have to flail about just to keep their heads above water.

Manju Verma
Small business owner
'I did whatever I could to survive'
Verma's life epitomizes the emerging new India, where people are pulling themselves up by dint of their own hard work and gender roles are fast being reversed, with women making the most of new economic opportunities.
Seated in the one-room tailoring workshop run by her brothers from the tiny ground floor room of their family home, Verma recalls the struggles she has seen.
"I did whatever I could to survive," she says with a sadness that still lingers, "because I was both father and mother to my daughter." Armed with a high school diploma, she worked a number of small jobs to help put food on the table at her parents' home.
In true Indian tradition, the extended family lived together in a spare two-room house – 12 people in all, including her two brothers and their wives and children. One of her brothers was not up to much, putting the additional burden of sustaining him and his family on her young shoulders.
Then, completing a bachelor's degree alongside her work, Verma landed a steady job at a small textile firm. Over the 15 years that she worked there, she learned the trade and became fluent in English – a language she was never really taught.
Plunging into the world of business
But two years ago, she fractured her foot, leaving her unable to walk or afford to take a cycle rickshaw to work. "If I could no longer earn," Verma recalls, a brief look of terror crossing her face, "who would look after my daughter?"
Too old to get a new job, she struck out on her own. "I took the plunge," Verma says somewhat hesitantly. "I managed to get an order for making mosquito nets for the railways. There was no money to invest, so I sold a small dwelling my father had left me."
"The poor never have it easy," she adds. "They have to flail about just to keep their heads above water." For the dividing line between the haves and the have-nots is a fine one – one small blow and the people on the margins slip under.
Verma is treading cautiously in starting this new venture. So much hangs on its success, especially the future of her daughter Monica, into whose education she has invested all her life's energy and earnings. Scraping by, she has paid tuition fees at a private school, as well as hefty college fees for her master's degree in microbiology. Monica now wants to get the job at a government research center. Competition for the post is stiff, however.
Nevertheless, Verma feels that education is the best investment in the future. After all, she has managed to support herself and her family on the basis of her own education – and, of course, a very large measure of hard work.
If she were to ask the government for something, it would be a good road in the neighborhood, as her old mother has fallen many times near the house. And of course, she would like to see better quality education available to all, with plenty of scholarships for those without much money to spare.