FEATURE STORY
Women at Work, Good for them and the Brazilian Economy
February 22, 2013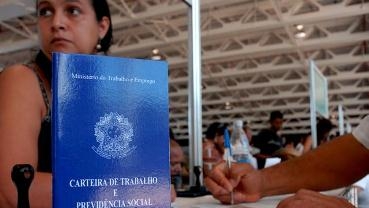 STORY HIGHLIGHTS
Pay equality has positive impacts not only on family incomes, but also on tax revenues and education, according to a new report.
The study works with a hypothetical set of anti-discrimination laws that aims to promote equal opportunities.
In Brazil, however, congressmen and women still struggle to pass such a bill -- and few companies opt into pro-equality programs.
A woman's hour of work is still worth a fourth less than that of a man in Latin America's biggest country. Rather than mirroring differences such as education or experience, the wage gap appears to reflect discriminatory practices and social norms, even though Brazil's Constitution entitles men and women to the same rights.
A new World Bank study reveals that if this inequality is fully eliminated from the job market, not only women – but also the national economy – will be able to feel the benefits.
The report Gender Equality and Economic Growth in Brazil, considers a hypothetical set of anti-discrimination laws aimed at promoting equal pay between men and women. And while the immediate consequence of this policy is an increase in family income, many other effects can be felt in the long run.
A higher income leads to a higher level of private savings, which has a direct positive effect on growth, as well as on tax revenues, according to the report. In addition, higher tax revenues also lead to higher public spending on health and education, which generates positive impacts on the health of kids and adults.
"Thus, in the long run, a reduction in gender bias leads to an improvement in women's health status and an increase of about 0.15 percentage points in the growth rate of output," say economists and authors Otaviano Canuto, Vice President of World Bank, and Pierre-Richard Agénor, a professor at the University of Manchester.

The analysis showed that fostering gender equality may have a substantial impact on long-run growth in Brazil.

Still a minority
Women already make for nearly 44% of Brazil's labor force. In addition, 59.3% of Brazil's firms have a woman among the principal owners. They have outperformed men in all levels of education, too. Even so, Brazilian women are still treated unequally by the job market – and continue to bear the brunt of time allocated to family chores.
A few parliamentarians have tried to pass legislation to bridge the gender gap the labor market, but none of them has succeeded so far. The bill proposed in 2009 (P) by Bahian Congresswoman Alice Portugal, for example, mandates equal pay and the creation of a gender equality commission in every Brazilian company. However, it was never voted by the Chamber of Deputies.
Outside of Congress, an initiative by the Secretariat of Public Policies for Women (SPM, the acronym in Portuguese) proved more successful: a pro gender equity program (P).
Of the 16 companies that joined it in the first edition (2005/2006), 11 were eligible for the "pro-equity seal", which acknowledges businesses committed to ensuring equal pay and opportunities for all. In the fourth edition, which was carried out between 2011 and 2012, 81 companies opted-in. And yet they are a minority among Brazil's businesses.
Combined efforts
Among other topics, the study also analyzes how investments in infrastructure and cash conditional transfers such as Bolsa Família enable greater gender equality. With improved access to water, transport, and electricity, women are able to spend less time on household chores – and become freer to take care of their kids, study, find a job or simply rest.
Additionally, authors stress the benefits of combining these with other pro-growth, pro-gender policies. Canuto and Agénor gauge, for example, the effects of a tax reform as well as of higher investments in health and education. "The analysis showed that fostering gender equality may have a substantial impact on long-run growth in Brazil", they conclude.