FEATURE STORY
Technology-Based Safety Net Program Transforms Lives of the Poorest in Pakistan
October 22, 2012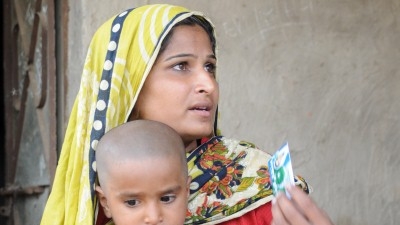 STORY HIGHLIGHTS
The Benazir Income Support Program gives cash grants to 4 million of Pakistan's poorest families.
The grants are paid to mothers, and new debit cards help ensure that the entire grant reaches the intended recipient.
"Before, there was nothing to eat, not even good water to drink," says one beneficiary.
HYDERABAD, Pakistan – When 5-year-old Kiran Iram skips home to her crumbling brick hut at the edge of a farmer's field, she feels good, not dizzy anymore.
"Before there was no food to eat, only tea some days," Kiran explains, shyly twisting the intricately beaded paranda decoration that bounces from her tiny hair braid. "Now the blue and green card is helping my family eat nicely," she says, pointing at a plastic debit card in her mother's hand provided by the Benazir Income Support Program (BISP).
Kiran's family is one of about 90,498 families in the Hyderabad area eligible for the nationwide safety net program. BISP has more than 6 million eligible families in Pakistan, of which more than 4 million of the poorest families are receiving monthly cash grants, paid to the mother.
Created after the food, financial, and fuel crisis of 2008, this social safety net initiative has been giving impoverished families 1,000 rupees (about $10) each month to help them buy basic necessities such as food, clothing, and medicines. The World Bank started supporting BISP with $60 million in 2009 through its Social Safety Net Technical Assistance Project. Additional financing of $150 million was approved by the Bank's Board in 2012 to help expand the coverage of the program as well as provide additional benefit to these families, linked to their responsibility of sending their children to primary school.

The debit cards are a better way to ensure all the money efficiently and transparently reaches those who need it.

Abdul Majeed Soomro
Benazir Income Support Program Director, Hyderabad
'Debit cards' ensure full payment
Recently, after a successful test phase, BISP has started the national rollout of payments through debit cards to eligible families. The cards can be used at any automatic teller machine (ATM) or at the partner bank's agent network to collect the benefit payment.
Called "Benazir Debit Cards," this new mechanism ensures that families receive their full payments. In the past, recipients received their payments in cash through Pakistan Post money orders. But many of the poorest beneficiary families had problems receiving the full amount as some mail carriers demanded kickbacks or baksheesh for delivering the money orders, says Hyderabad's BISP director, Abdul Majeed Soomro.
"We were hearing stories about postmen demanding partial payments, so the debit cards are a better way to ensure all the money efficiently and transparently reaches those who need it," says Soomro.
At one of the four Hyderabad centers set up to issue the cards, Singhar Bibi, 52, says she was forced to pay her postman 1,000 rupees of her first 9,000 rupees payment under BISP. But she couldn't afford to lose any funds because she has six children, her husband is blind and can't work, and she earns little doing laundry and odd jobs, she says. "My friends told me to get this card," said Bibi, "so now there is no more cheating."
Back in Kiran's tiny village, neighbor Noor Bhari, 54, points at a gaping hole in her hut's thatched roof. A few thin mattresses are stacked in the opposite corner, but the room is otherwise empty. Two families with 11 children live here.
Standing nearby, another villager points to her right eye and explains that BISP helped pay for her cataract operation.
"In the night, we sleep outside when we can, but if the rain comes, it is a problem," says Bhari, wrapping an arm around her granddaughter, who starts weeping silently. "She is sad that we are so poor," she explains.
It is only the Benazir Debit Cards that Bhari and her daughter-in-law, Sakina, both have now that make it possible to buy food most days. "Before, there was nothing to eat, not even good water to drink," says Sakina, whose husband struggles most days to find field laborer's work.