FEATURE STORY
Latin America: Bridging the gap in water access
August 30, 2012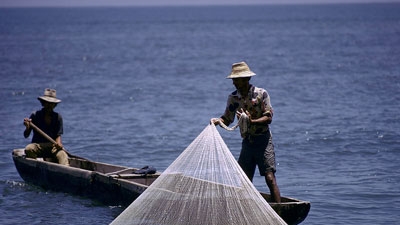 STORY HIGHLIGHTS
Nearly 31% of the world's freshwater resources are found in Latin America, making the region the most water-rich in the world.
A growing urban population and region-wide underfunding of rural water services has led to an urban/rural divide with regards water accessibility.
An initiative to improve transparency in Oil, Gas & Mining offers the potential to find common solutions water challenges.
With nearly 31% of the world's resources, Latin America is the richest region in the world in terms of freshwater availability per person. And yet across the continent, inequality in water supply and sanitation services has led to populations being underserved.
While there will always be areas with an overabundance of freshwater resources, and others which are drier, this inequality is exacerbated due to a lack of awareness of the true cost of water.
"For the general public, there is an enduring belief that the water from the tap doesn't involve any cost to the state, and therefore should be free for all. That is to say, the treatment needed for drinking water and the pipes that transport water direct to homes doesn't cross their minds," explains Yehude Simon, Communications Officer for the World Bank's Water and Sanitation Program.
"There isn't a 'water culture,' which means the water that comes from the tap is often wasted," adds Simon. People aren't aware of water's true worth."
At a regional level 100 million Latin Americans lack access to sanitation and with over 80% of Latin Americans living in cities, this inequality is most keenly felt in the region's rural areas where access to water and sanitation is underdeveloped.
Impacting on health, education, tourism and more, poor sanitation can reduce a country's annual GDP by 2-3% according to a study conducted by the Water and Sanitation Program in South Asia,. And as the region's mega-cities grow, the tendency has been for policies to focus on meeting the needs of a fast growing urban population. But while investment into water and sanitation may be split down the rural/urban divide, for many countries within the region this isn't necessarily a reflection on a lack of financial resources. Rather investments in training are needed to professionalize the skills required to maintain the networks.


For the general public, there is an enduring belief that the water from the tap doesn't involve any cost to the state, and therefore should be free for all.

Yehude Simon
Communications Officer for the World Bank's Water and Sanitation Program
How do the countries compare?
Despite holding much of the region's fresh surface water, Brazil ranks just 23rd in the world with regards to water availability, lagging behind many of its Latin American counterparts.
In Peru, it is estimated that by 2025 the population will have grown to 35.5 million, a figure that will put the country's renewable freshwater resources under considerable stress. Promoting responsible water use, as well as caring and correctly using water and sanitation services is therefore key. Consequently, in 2011, the Water Hackathon—a worldwide mobile hackers competition— identified education and improving awareness as two areas in need of an app, stating that "most people in the country don't understand the real situation of water resources in our own country and because of that, we don't take care of it and waste the resource." This year, the hackers will turn their attention to sanitation.
In Ecuador, ensuring the sustainability of rural sanitation has been the focus of a joint project between the Ecuadorian Government and the World Bank. The project, initiated in 2001, provides poor, rural communities with basic sanitation services—a toilet, septic tank and washbasin—which are more durable than traditional latrines.
Transparency and accountability
Rich in minerals, oil and gas, revenue from extractive sectors in Latin America has increased 20 times over the past decade and with it so has the industry's burden on the region's water sources.
Here, however, a World Bank partnership has the potential to offer unexpected results. The Extractive Industries Transparency Initiative (EITI) aims to promote transparency and accountability in revenues from oil, gas and mining. But Mauricio Oscar Ríos, Communications & Conflict Specialist, explains that the multi-party conversations sparked by this initiative and the trust it engenders between governments, private companies and civil society groups, has the potential to find common solutions on topics such as water.
"Through a multi-stakeholder platform, it is possible to look at government reforms that could potentially facilitate water challenges," remarks Rios. "This is the beauty of the EITI; it is a space for building trust, a space for dialogue that goes beyond reporting revenues. But it is a process and doesn't happen overnight."
So far Peru is the only Latin America country to be fully compliant with the initiative, while Guatemala and Trinidad & Tobago have started the process. But while 15 countries attended a recent event in Lima, Rios warns that participation with the initiative has not been strong within the region.