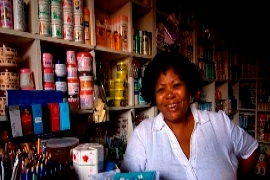 The Impact of Norms on Female Entrepreneurs
April 29, 2014
Washington, D.C.
The Financial and Private Sector Development Group's Innovation, Technology and Entrepreneurship Global Practice, the Gender & Development Group, and the Africa Region (West and Central) invite you to the second session in the series: "Women Entrepreneurs -- A New Approach to Growth and Shared Prosperity."
Event Details
When:

12:30-2:00 p.m.

Where:

World Bank Headquarters, MC13-121

CONTACT:

Maureen Itepu

mitepu@worldbank.org
Female entrepreneurs in developing countries are concentrated in low productivity and informal sectors, characterized by limited growth, according to the recent World Bank report, Gender at Work. As a result they are unable to grow from micro and small enterprises into medium/large productive enterprises and contribute to national economies in a significant way. According to the ILO, 865 million women in the world have the potential to contribute more fully to their national economies and 94% (812 million) of them live in emerging and developing economies. Unlocking the potential of female entrepreneurs would lift millions out of poverty, create jobs, increase incomes, and have important spillover effects that lead to greater economic, social, and household-level outcomes.
How do social norms pose unique barriers to business growth and profitability for female-run enterprises? Norms are shared beliefs about how people should or should not behave and act—and they include gender roles. While these are powerful prescriptions, they can change over time, often in response to markets and new incentives. An experiment in India considers the returns on financial literacy and business skills training for women under differing normative restrictions. The main questions are to what extent societal norms regarding the appropriate behavior of men and women diminish the returns on training and other inputs, and whether the right training and services can help overcome information asymmetries and capacity constraints resulting from biased norms.
Speaker:
Rohini Pande, Mohammed Kamal Professor of Public Policy at Harvard University
Chair:
Philippe H. Le Houérou, Regional Vice President, South Asia Region, World Bank
Discussant:
Varun Gauri, Senior Economist and co-Director of 2015 World Development Report on Mind and Culture, Development Research Group, World Bank