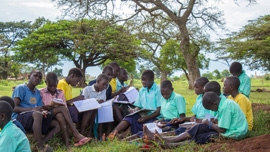 LIVE EVENT: Uganda: Service Delivery Indicators
November 19, 2013
Uganda spends almost a quarter of its national budget on health and education. Ensuring that these resources translate into quality services is critical for the country to build the workforce it needs to achieve a modern and prosperous society. Watch this event live and share your questions/comments with a panel of experts as they discuss new service delivery data and what it means for Uganda.
Details
Date:

Tuesday, November 19, 2013

Time:

9:30 a.m. - 12:30 a.m. UTC

Watch live:

Livestream

Location:

Kampala, Uganda
The Service Delivery Indicators is a bold Africa-wide initiative that tracks performance and quality of service delivery in primary schools and at frontline health facilities across countries and over time. These indicators fill an important gap in the development data architecture and are uniquely suited to inform discussions on accountability for public spending. The initiative is a partnership of the World Bank, the African Development Bank, and the African Economic Research Consortium. The Uganda SDI results come at an important time when the government has recognized the quality of health and education services as a national priority.
Speakers
Opening Remarks:
Ms. Gayle Martin, SDI Program Leader, World Bank
Mr. Moustapha Ndiaye, Country Manager, World Bank
Presenters:
Dr. Sarah Ssewanyana, Executive Director, Economic Policy and Research Centre (EPRC)
Dr. Ibrahim Kasirye, Senior Economist, EPRC
Commentary:
Prof. Julius Kiiza, Department of Political Science, Makerere University
Panel Discussion:
Dr. Abdel Rwendeire, Deputy Chairperson, National Planning Authority
Dr. Francis Runumi, Commissioner, Health Services, Ministry of Health
Dr. Nassali Lukwago, Permanent Secretary, Ministry of Education
Dr. Ben Kiwanuka, CEO, Mukwaya Hospital
Dr. Maria Goretti Nakabugo, Country Coordinator, Uwezo Uganda
Moderator: Mr. Charles Mpagi, Journalist, Nation Media Group
Closing:
Mr. Keith Muhakanizi, Permanent Secretary, Ministry of Planning, Finance and Economic Development
Ms. Ritva Reinikka, Director, Human Development, World Bank